Bike The Site is reader-supported. We may earn a commission through products purchased using links on this page. Learn more about our process
here
For entry-level off-roading with your mountain bike, you may have to choose between Shimano Altus and Shimano tourney groupsets. Both are fairly affordable, with a set of components to match the needs of most buyers at this level. However, unlike most other purchases, you likely won't have the option to try these pieces of biking equipment unless you buy them. This makes the Shimano Altus vs Tourney specs and features comparison necessary. After all, you don't want to buy one or the other only to find it's not up to par with your needs. Fortunately, we've already compared the two groupsets below, and all you have to do is pick up the information before you make a purchase decision.
Quick Overview Table
Here's a quick overview table of the features of the two groupsets. It's worth noting that while the Shimano Altus is only meant for off-roading with entry-level mountain bikes, the Tourney groupset has different combinations for both commuter bikes and entry-level mountain bikes. As such, you might notice the latter has significantly more options in each category.
For instance, in the front derailleur category, there are only four Shimano Altus branded models, while there are 15 Tourney alternatives. It's also worth noting that some groupset components can be paired with other accessories outside both the Shimano Altus and Shimano Tourney lineups.
There are no Shimano Altus branded brakes in the brakes category, although you can use other Shimano options.
Concerning the price and weight of the groupsets, it all depends on the components you decide to go with, as they come in different weights and price points.
| | | |
| --- | --- | --- |
| Features | Shimano Altus | Shimano Tourney |
| Brakes | Mechanical/hydraulic disc brakes | Mechanical brakes |
| Speed | 2/3×9 speed | 3×6/7/8 speed |
| Shifter type | Thumb shifters | Thumb shifters, twist-grip shifters |
| Front Derailleur | Shimano Altus FD-M2000-TS3, FD-M2000-TS6, FD-M2000-DS3, FD-M2000-DS6 | Shimano Tourney FD-TY700-TS3, FD-TY700-TS6, FD-TY710-2-TS3, FD-TY710-TS3, FD-TY710-TS6, FD-TY600-L6, FD-TY600-L3, FD-TY601-L6, FD-TY601-L3, FD-TY606-L, FD-TY500-TS3, FD-TY500-TS6, FD-TY510-TS3, FD-TY510-TS6, FD-TY300-DS6 |
| Rear Derailleur | Shimano Altus RD-M2000 Shadow RD, RD-M370-SGS | Shimano Tourney RD-TY500-SGS, RD-TY300-SGS, RD-TY200-SS, RD-TY200-GS, RD-TY21-B-SS, RD-TY21-B-GS |
Shimano Groupset Hierarchy
Shimano groupsets come in different variations and at different price points. Naturally, the higher your price, the higher the quality of the individual components. As for the cheaper options, they're there to introduce you to the brand, and once you're comfortable and have seen what they can do, you can upgrade to different options.
The Shimano Tourney and Shimano Altus M2000 are two of the most affordable entry-level options in the brand. As such, they have some of the lower-end drivetrain components in the Shimano lineup.
These components may be heavier and less technologically sound than some of their more expensive counterparts. However, they're still good enough for most casual use cases like mountain biking on the weekend.
Other groupsets in the same entry-level bracket include the Shimano Acera M3000 and Shimano AlivioM3100.
In the middle of the Shimano groupset hierarchy are the Shimano Deore M4100, Deore M5100, and Deore M6100. There's also the Shimano SLX M7100. As you can see, you can typically tell where a series is on the hierarchy by looking at the numbers at the end of the series name. The higher the number, the higher the position on the hierarchy.
Above the Shimano SLX M7100 are two other Shimano Deore options. These include the Shimano Deore XT M8050 and Shimano Deore XT M8100. At the top of the line, we have the Shimano XTR M9050 and Shimano XTR M9100.
However, these are only mountain bike groupsets. There's a different hierarchy for road bike and gravel bike groupsets. You have the Shimano Claris, Shimano Sora, and Shimano Tiagra as the entry options for the former.
Further up the line, you have the Shimano 105, Shimano Ultegra, and Shimano Dura-Ace to complete the lineup. Those who opt for gravel bikes instead of road or mountain bikes have the Shimano GRX groupset lineup.
Shimano Altus Overview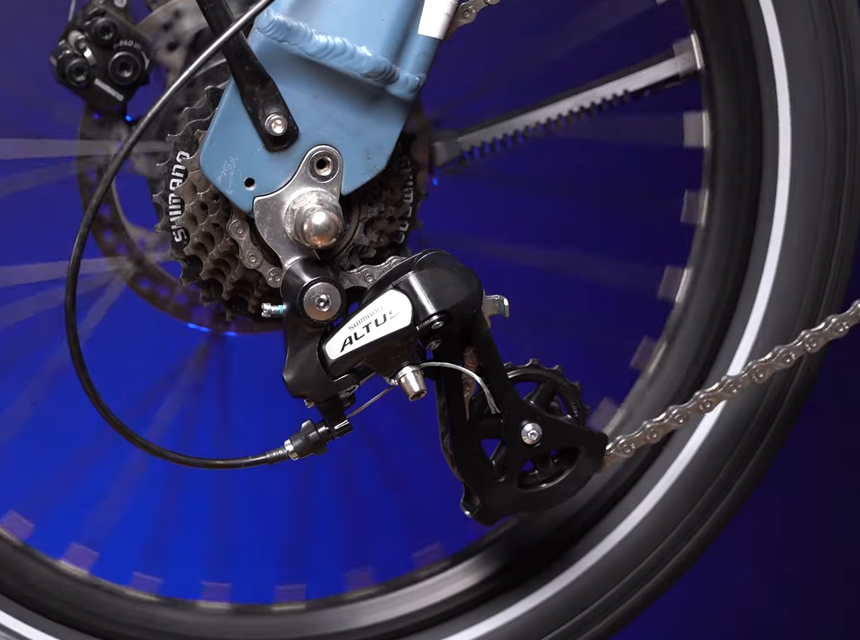 The Shimano Altus comes at a fairly low cost with a choice of several 9-speed cassettes. While you can find it in some city bikes, it's designed for first-time trail explorers who aren't sure whether they'll stick with mountain biking or if it's just a phase. They can try it out without too much of a financial commitment.
However, the components are decent enough to last a while. You shouldn't expect the seamless gear shifting of higher-end products, and it's likely not a good idea to use them on technical trails with lots of rocks that can damage the equipment.
Braking performance is a non-negotiable while going down steep gradients, so you also get this with the Altus. Here are the pros and cons of the groupset. Also, these components are heavier than what you find in higher-end products.
Pros
Affordable
Works with components from other groupsets
Great braking performance
Cons
Fairly bulky and heavy
Not as technologically advanced as more expensive components
Plastic components that may not last long
Shimano Tourney Overview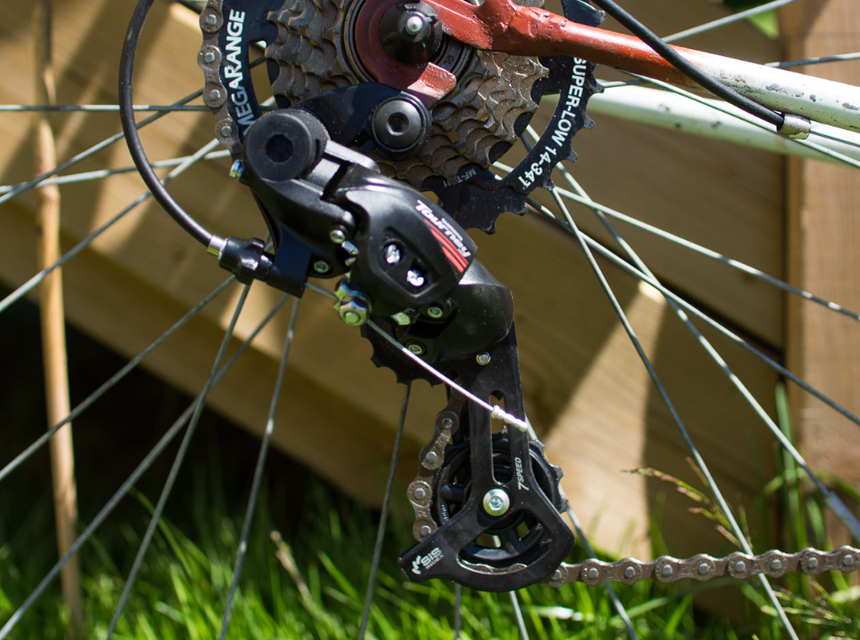 The Shimano Tourney is another entry-level product, and as mentioned above, it works for both commuter and mountain bikes. It's among the cheapest options you can get with a choice of twist-grip and trigger shifters. Given its low pricing, it doesn't have the best gear-shifting performance, and you may find that it skips gears once or twice during use.
If you're a novice cyclist, you may not notice such issues. However, these things may become more apparent once you up your skill level. Nevertheless, it's best to use this groupset with commuter bikes, where you typically ride on flat surfaces.
Pros
You have more speed options to choose from
You can pick between trigger and twist-grip shifter options depending on what you prefer
There's a variety of derailleur options to pick from
Affordable
Works well with components from other groupsets
Cons
It doesn't provide the smoothest gear shifts
It doesn't work well under load
Construction is fairly flimsy
Shimano Altus vs Shimano Tourney Components Comparison
Here's a comparison of the various components from the two groupsets.
Brakes
Concerning brakes, the Shimano Altus groupset doesn't have dedicated brakes. However, it's often paired with the BR-M375 mechanical brakes or the BR-M365 and BR-M315 hydraulic disc brakes.
The mechanical option is designed for quick assembly and allows for light braking action while delivering reliable braking performance. As for the hydraulic disc brakes, they both offer one-way bleeding, which makes replacing brake fluid a cakewalk and allows you to remove bubbles from the system for efficient braking performance.
For the Shimano Tourney groupset, there's the Shimano Tourney TX mechanical disc brake caliper for mountain bikes. It offers similar benefits to the BR-M375 mechanical brakes, including quick assembly, clean cable routing and chain stay and seat stay mount options.
However, it's designed with a center lock system and only works with resin pads. Also, both groupsets can be used with other brakes as well and mostly offer reliable braking performance, so there's not much to separate them.
Gears
Gears are where you find most of the differences. With Shimano Altus, you get 2×9 or 3×9 options which are great for mountain bikes. With Shimano Tourney, you get 3×6, 3×7, or 3×8 options, so you have a wider variety of speeds to choose from. Here, it all depends on preference.
If you don't want a bulky rear cassette, you can choose the Tourney option since you have a six-sprocket option. However, by doing that, you reduce the number of gears you can choose.
Shifters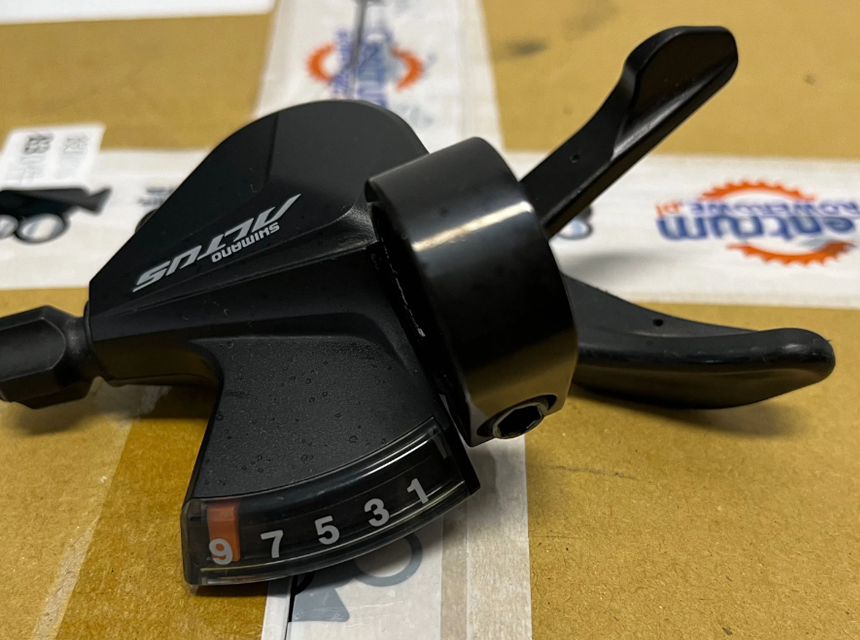 Shifters is another area where there are major differences between the two groupsets. With the Altus, you have trigger shifters like the Shimano Altus SL-M2010 and SL-M2000. However, it's also possible to use the system with different brake and shifter lever combinations from the manufacturer, like the Shimano ST-EF505-9R.
If you pick the Shimano Tourney groupset, you get branded Tourney brake and lever combinations like the Tourney TY EZ Fire Plus EST-EF41-7R for a 7-speed system. Similarly, you get options for 6-speed and 8-speed systems.
There are also choices like the Shimano Tourney SL-FT55-7R Thumb Shifter. Twist grip shifter options include the SL-RS45-7R, SL-RS47-7R, and SL-RS36-6R, all with different designs. Overall, this system allows you many more choices to configure your bike how you like.
Front Derailleur
Front derailleur options for the Altus option come in top swing and down swing variants to match the 2×9 and 3×9 speed drivetrains available with the groupset. The perks of these derailleurs include enhanced cable routing, smooth operation, and light-action gear switching. They're also designed with clamp bands that can mount the derailleurs on wide frames while reducing chain rub in rear-suspension mountain bikes.
Similarly, you get top and down swing front derailleurs for the Shimano Tourney groupset. However, there are a few more options to match the different drivetrains available.
Rear Derailleur
As for the rear derailleur, you get options like the Altus RD-M2000 Shadow RD and RD-M370-SGS with the Shimano Altus groupset, which are great options for mountain bikers. They allow for easy wheel installation and have low profiles to keep them from bumping into obstacles on the trail. This should also allow the derailleur to last longer.
Other possible perks include high-level surface treatment to keep it from element damage and scratching, hyperglide and double servo-panta technology that makes shifting gears seamless and quick etc.
You have more rear derailleur options with the Shimano Tourney groupset, but some are not as suited to mountain biking as the Altus RD-M2000. The RD-TY500-SGS, for instance, may be fairly bulky and may get caught on an obstacle while on an MTB trail.
However, it should work fine if you use your two-wheeler as a commuter bike. On the flip side, you do get multiple design options to choose from.
Weight
The weight of both groupsets varies depending on the individual components. As such, there's no guarantee that either the Altus or Tourney will be lighter than the other.
Target audience
As for the target audience, the Shimano Tourney is a general-use groupset and will work for both commuter bikes and mountain bikes. On the other hand, the Altus is specifically designed for mountain bikers and, therefore, may work better if you're planning to tackle the trails.
Price
In terms of cost, the Altus groupset is typically more expensive. This can be seen in the pricing of the specific components, with the Shimano Altus RDM310 rear derailleur priced at about $22, while one of its Tourney counterparts, the RD-TX800, costs about $17.
FAQ
Who would win in a Shimano Tourney vs Altus vs Acera vs Alivio vs Deore comparison?
For mountain biking, the Shimano Deore groupset is the highest spec out of the five mentioned options. However, that doesn't necessarily make it the best depending on your needs. If you're not planning on mountain biking, for instance, most of the other options listed should work just fine and will likely come at a lower cost. Also don't forget to check our article about the best mountain bikes if you don't have one. They will provide with the best possible experience.
Is Shimano still made in Japan?
Shimano recently invested about $20 billion to build a manufacturing plant in Singapore Trusted Source Bicycle parts maker Shimano invests $179m to build Singapore plant - Nikkei Asia Japanese bicycle parts maker Shimano is investing about 20 billion yen ($179 million) to build a new plant in Singapore amid a surge in demand in the wake of the coronavirus pandemic. asia.nikkei.com to replace the older one built in 1973. It was set to come online by the end of 2022, but there have been some delays due to the pandemic.
Final Thoughts
Regarding the Shimano Altus vs Tourney comparison, the former seems to be better made for mountain biking but costs more. With the Tourney, you get more choices in design, components, and how to style your bike at a fraction of the cost. It all depends on your needs. That said, if you're working with a budget, you can still get a good quality Tourney with the components making for decent entry-level equipment.
References
1.
Bicycle parts maker Shimano invests $179m to build Singapore plant - Nikkei Asia
Japanese bicycle parts maker Shimano is investing about 20 billion yen ($179 million) to build a new plant in Singapore amid a surge in demand in the wake of the coronavirus pandemic.