There are two main types of axles that you can pick from for your bike, though they aren't identical pieces. There are actually some distinctive differences worth noting when comparing thru axle vs quick release models.
Though the quick release version has been around for longer, the thru axles are becoming more popular for a variety of reasons.  They require a tool to remove them from your bicycle in order to change your tire, though they do offer more when it comes to durability and handling. Of course, the quick release axles also have their benefits, such as the weight and price of these pieces. These differences may have you favoring one type over the other. If you're not sure which is the right one for you, let's take a look at what these two options have to offer.
Quick Release Axle Overview
Quick release axles are the standard option for most bikes, from the best beginner road bikes to the models for more experienced, all-terrain riders. The design for the quick release axles was created by an Italian racer named Tullio Campagnolo Trusted Source Tullio Campagnolo biography, list of Tullio Campagnolo inventions Tullio Campagnolo who lived between(1901 – 1983), was an Italian racing cyclist and inventor. www.edubilla.com in 1933, with a new rear derailleur for smoother gear shifting coming along 16 years later. The quick release axles can be removed easily with no tools required, so you can swap out your tire in very little time.
How it works
The quick release axles are made of a metal rod that extends through the hubs of the bicycle wheel, with a quick release lever on one end, a special acorn nut on the other, and a thin metal skewer in between. When you want to remove the axle, you open the lever, unscrew the nut with your hands, and pull the axle free. Once the tire is ready to go back on, you just slide the axle back through the hubs, screw on the nut, and tighten the lever again, which creates enough compression to hold the wheel tightly in place.
Thru Axle Overview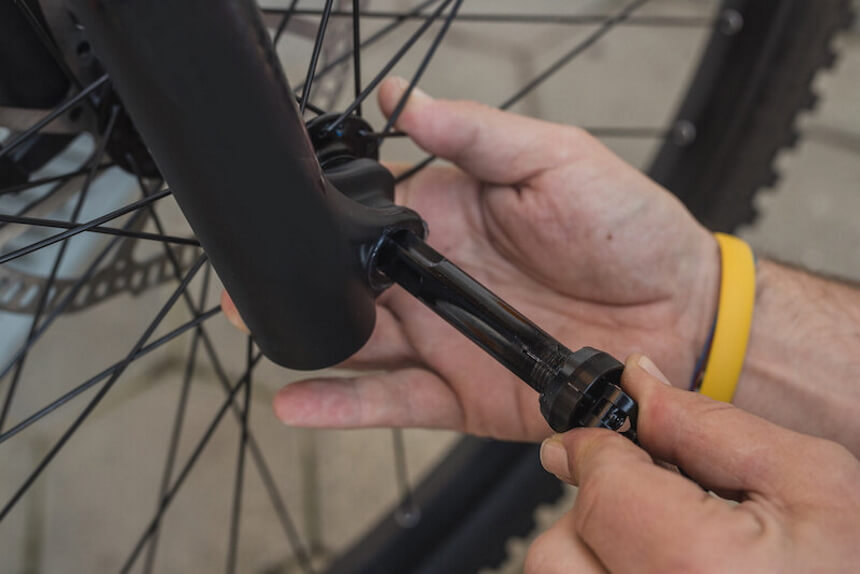 Thru axles are another type of wheel attachment system and are designed to hold the hubs between the frame and dropouts. It can be a bit tricky to find the right type since there are no standard specifications, with several lengths, widths, and interfaces to pick from, depending on the type of bike you're riding. Regardless of which one you need for your specific bike, all thru axles are similar in their purpose and how they are used, plus they all have the same benefits and flaws when used with your bike.
How to it works
Thru axles feature a thick, solid pin with one threaded end and dropouts that have holes instead of slots. To use them, you need to thread it through one dropout, as well as the hub, then screw the axle into the far dropout. This bolts the wheel to the fork and frame of the bike. There is also either a hex bolt or a cam lever on the end of the thru axle that creates enough tension to prevent it from coming loose. If you want to remove the wheel from your bike, you need to remove the entire axle, which can take a bit of time.
Quick Release vs Thru Axle
If you're not sure what the difference is between a bicycle thru axle vs quick release axles, the following sections can help. They cover all of the benefits and flaws each of these pieces has to offer when used on the best gravel bikes under $1500, as well any other bike you have in mind to meet your riding needs.
Safety
When it comes to safety, thru axles are the better option. This is because it is almost impossible for the dropouts to lift off the axles since they use holes instead of u-shaped slots. This ensures that the thru axle is screwed firmly into the dropouts, so there is no chance of the front wheel popping out during your ride. This design also prevents the axle from being ejected when you brake hard.
Quick release axles don't have the same design, so if you don't tighten them enough, they can loosen over time or get knocked loose, causing the dropout to lift off of it. The wheel can then come off, which is extremely dangerous when you're riding, especially when you're going fast.
Durability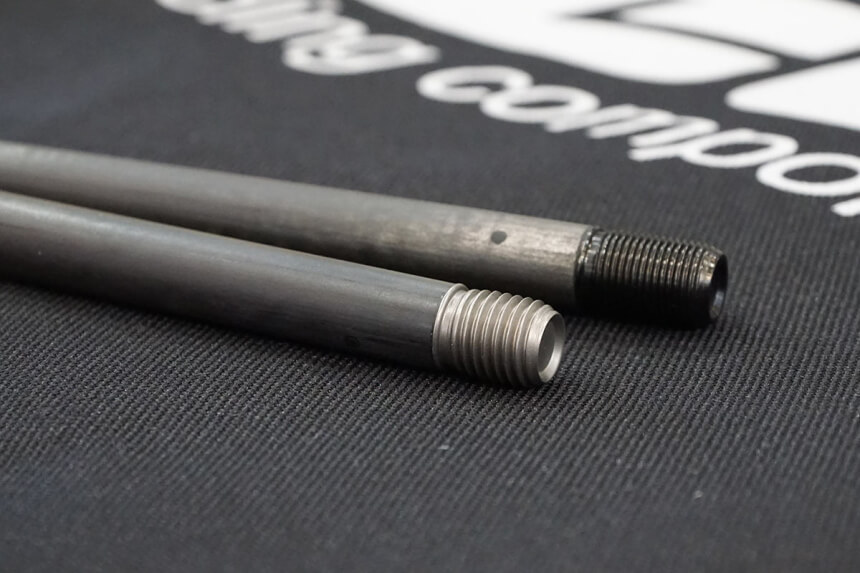 Thru axles are much more durable than quick release models because they tend to be 3 to 4 times thicker. This gives them a much higher tensile strength, ensuring that these pieces won't bend or break, even when put under extreme stress. As well as being stronger, they are also safer to use since they won't fail while you're riding. The Burley Thru Axle is a good example of a quality piece, thanks to the thick aluminum material used, plus it is easy to install.
Being noticeably thinner, quick release axles may not last when you're traveling over rough terrain or doing tricks if these involve hard landings after drops or jumps. They could bend or break when the tire hits the ground, which means disaster for the rider.
Performance in tough conditions
As we mentioned above, the thru axles are much more durable, so they can handle tough conditions without any issues. Even when you're bike is put under a great deal of stress, the thru axle will continue to do its job, staying put to keep you safe on all types of terrain.
The slimmer design of the quick release axles makes them much less capable of handling those rough trails, so they could bend or break with even minimal force, causing the wheel to get caught in the fork or come right off your bike.
Brake action
Another consideration when comparing quick release vs thru axles is the brake action. This is another area where thru axles excel since they reduce fork flex. This prevents the disc brake pads from rubbing on the rotor when you stand on the pedals to ride faster and harder. If the pads rub in this way, it creates drag that slows you down. Thru axles create a more sturdy connection between the fork legs and the hubs, adding strength to the bike's front end, which in turn increases performance by keeping the brake rotor where it's supposed to be.
Due to the thinner design of the quick release axles, they can flex, causing the disc brake pads to rub on the rotors, decreasing your speed while causing an irritating rubbing sound.
Bike handling and control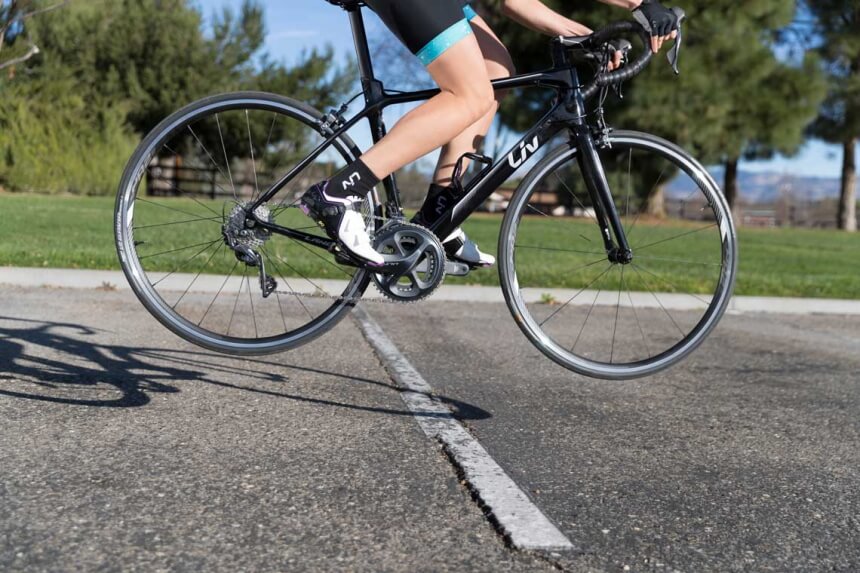 A bike's handling and control are pretty important since these allow you to make those sharp turns and maintain your stability while you're riding over all types of terrain. Thru axles are the best option for this type of control since they secure the fork arms together, increasing the strength of the bike's front end and preventing flexing, even when you're riding hard. The stiffer front end also increases the precision of your steering, even when braking hard, while absorbing more shock due to the even compression.
Quick release axles have the opposite effect on handling since they do not prevent the fork arms from flexing. Suspension forks don't always move together since they aren't firmly connected, so the lack of structural support from the quick release axles reduces your handling and tracking capabilities.
Fork protection
Thru axles secure the fork legs together, preventing them from flexing or twisting when you apply the front disc brake, which prevents fork fatigue or failure since this area can resist torsion forces. Quick release axles don't offer the same type of security since they don't offer as much structural support for the fork legs.
Prices
The cost is one area that the quick release axles come out on top in most cases since they are the cheaper type of axle. In fact, you can usually get a new set of quick release axles for about $10, while the thru axles cost anywhere from $30 to $60 for each one.
Weight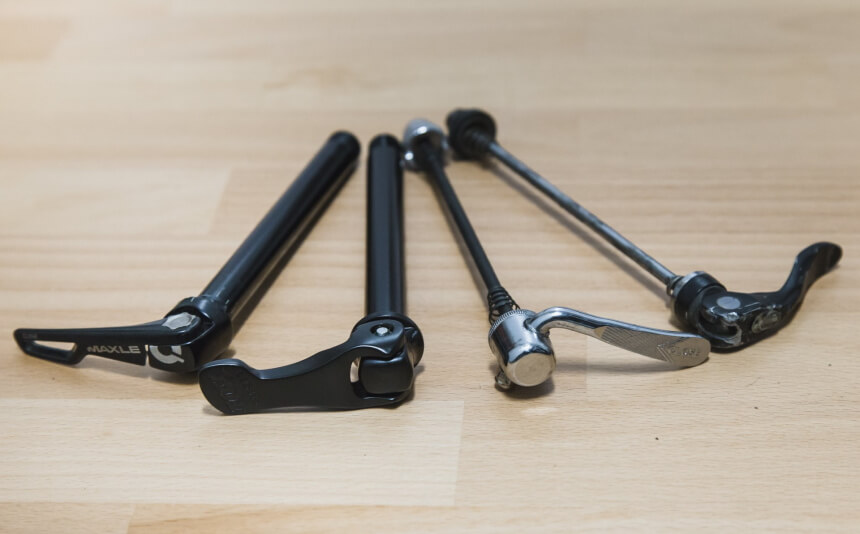 When it comes to the weight, the quick release axles are much lighter than the thru axles. In fact, quick release models are only about 40 to 50 grams each. The Wileofour Quick Release Skewer Set is somewhat heavier at 118 ounces for the pair, though they are stainless steel instead of the lighter aluminum material, making them slightly more durable. Thru axles usually weigh between 60 to 80 grams each, depending on the size of the axles you buy.
Versatility
Quick release axles have been the standard for decades, so you should have no trouble finding one for your bike, no matter what type you're riding.
The fact that they are more common also means that you'll be able to find them almost anywhere, unlike the thru axles, which may not be available in the smaller, more remote areas.
Of course, there are more bike manufacturers that are switching to the thru axles due to their durability and performance benefits, so this may not always be the case.
Maintenance
Thru axles take more time and effort to unscrew and remove from the bike. This requires a bit more time for any maintenance you have lined up, plus it's possible to lose the axle since it is removed completely from the hub. Quick releases don't have this issue, as their name suggests, since you only need to pull the lever and raise the dropouts off the wheel. It doesn't need to come off the hub, so you always know where it is.
Extra features
There are standard sizes for the thru axles, which include diameters of 15mm for the front and 12mm for the rear. Quick release axles measure either 5mm or 9mm. You can find various lengths for both types to get the right fit for your bike's hub.
Thru axles are also easier to line up when removing or replacing wheels since they always sit the same way in the dropouts, so you can't line them up improperly. Quick release axles aren't as efficient since it's easy to misalign them, which can throw off the alignment of the brake rotor or rim or keep the drivetrain from working smoothly.
How to Convert QR to Thru Axle
If your bike uses quick release axles and you want to swap them out for thru axles, the easiest way to do this is to replace the quick release fork with a thru axle fork. You'll also likely need a new front hub to ensure it is compatible with the new thru axles. You can also try an adapter, which lets you fit a thru axle hub in a quick release fork. For the rear wheel, it may be easier to use a bolt-on axle instead of the quick release. This lets you keep the same hub while offering a more stable connection between the frame and the wheel.
Which Should You Choose?
Now that you know what the QR vs thru axles have to offer, it's time to discuss which one is best for your bike.
Quick Release
For most riders who stick to the smooth terrain Trusted Source Why Do You Ride?: A Characterization of Mountain Bikers, Their Engagement Methods, and Perceived Links to Mental Health and Well-Being - PMC Mountain biking is an increasingly popular outdoor activity on the extreme sport continuum. Extreme and high-risk sports have been investigated using a variety of motivational theories with sensation seeking a dominant theme; however, behavioral and motivational homogeneity within these types of populations should not be assumed. www.ncbi.nlm.nih.gov of paved roads and city bike paths, a quick release axle will likely be a good option. There will likely never be a situation where the skewer will come loose or break since these rides won't involve any rough terrain or jumps. These are also a better option during races, when you may need to quickly swap out a tire without sacrificing too much time.
Thru Axle
If you're riding the best full suspension mountain bikes under $2000 or any other bike designed for rugged terrain, you'll likely want to stick to the thru axles. These offer more control, better performance, and increased durability. They keep your bike working as it should without risking any damage to your bike and reducing the risk of injury.
Final Thoughts
With two different types of axles available for your bike, it can be hard to know which one is right for your bike, especially since these two options both have benefits and flaws to consider. The quick release axles are cheaper, lighter, and easier to remove whenever needed without a single tool. The thru axles offer more stability, better handling, and improved brake performance, plus they are thicker and more durable for a safer option. When considering the thru axle vs quick release options, the best way to decide on one is to consider what type of riding you're going to do and pick the one that gives you the performance you're looking for.