This article on how to cut bike lock cable is for people who have lost or damaged their keys, or found their lock either tampered with or faulty. You will also find it helpful if you have been pranked with a cheap cable lock. In this guide, we will discuss the different tools that you will need, the kind of cable that each tool can cut and other related information. This is because some types of premium bike locks will require professional assistance to cut them.
We have featured the step-by-step instructions on cutting bike lock cable using various tools if you ever find yourself in an emergency situation that would require it. We have also included safety advice that will protect you and your bike.
Tools to Cut the Cable
The following are the different tools you can use for cutting lock cable if you cannot open the bike lock. We have explained how to cut the cable with these tools, and also indicated the type of materials they are capable of cutting.
Bolt cutter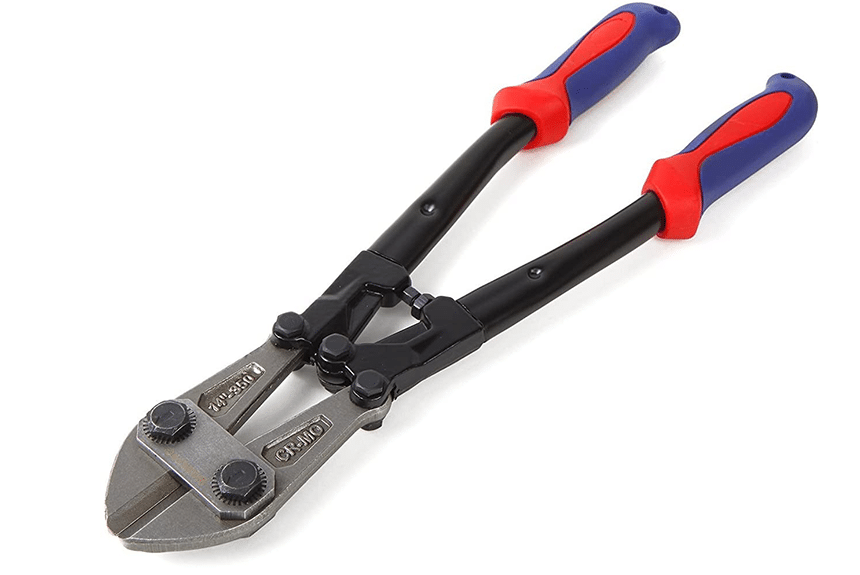 A bolt cutter is available in a variety of sizes, including small ones like WORKPRO W017004A that are sizes 12 to 14 inches and can easily fit in your bag. Those of medium size, 18 to 24 inches, can cut chains and U-locks that are up to 11mm for medium-hard materials and 9.5mm for hard materials. Large-sized bolt cutters ranging from 30 to 48 inches can cut higher end locks as well. They are equipped to cut hard materials such as alloy steel chain, steel rod and copper cable with diameter of up to 11mm.
The cutting capability of a bolt cutter will depend on its quality and strength, especially the jaws. When choosing bolt cutters, consider the strength and thickness of the material you intend to cut to prevent damaging the bolt cutter with dents and buckled jaws when cutting a bike lock cable. Check the packaging of the bolt cutter for specification by the manufacturer on the maximum hardness of the material it can cut.
Angle grinder
When we talk about cutting bike lock cables with an angle grinder, we are referring to the portable ones that are powered by battery. They are generally quick and the most effective instruments for cutting any type of lock cable. You may need an extra battery to cut a thick and sturdy lock since it may take longer. The main inconveniences of using an angle grinder are that it is noisy and generates a lot of sparks during operation.
Wire cutter
A cable cutter is among the cutting tools that bike thieves often use because it is inexpensive, easily available in most households, inconspicuous, and it can quickly cut most cable locks. The small size allows this handheld tool to fit in your pocket for emergency cases that necessitates cutting bike lock cables.
Wire cutters though small, can cut through thicker locks like in the following video:

Bottle jack
Although not as common, a hydraulic bottle jack is effective at cutting bike lock cables made of thin and soft materials. However, you can still fit it inside a U-lock and apply enough force to open it. A smaller U-lock does not have enough space to accommodate a bottle jack, thus it is safer. A great locking system should ensure that there isn't much space to fit a bottle jack in your U-lock.
Hacksaw
Hacksaws like LENOX Tools High-Tension Hacksaw can cut most bike lock cables that are made of thin and soft materials. Their small size will fit in your bag.
Safety Advice
Given enough time, the tools we have featured above can successfully cut most locks of bikes under 500  as well as some of the premium models. Consider a secure lock like Schwinn Anti Theft Bike Lock which a typical bike thief cannot break instantly. Also, make sure that the tool you choose is compatible with the material used to make the cable.

Why Cut the Cable?
In an emergency situation, cutting a bike lock cable instead of breaking or fixing the lock may make more sense because it is generally quicker. Additionally, you can easily cut the cable with tools that are commonly available, and would probably be already at your disposal. It is akin to how you can remove stuck bike pedals with a blow-dryer which you likely have at home.
You may want to cut a bike lock cable in the following scenarios:
Lost keys
Losing your keys is the most common reason for cutting bike lock cables. It seems faster and easier than searching and retrieving the keys, especially if you can't remember where you misplaced or lost them.
Faulty lock
This is also known as bolt lock failure and is often associated with old locks. Natural elements such as rain and very hot weather may also cause the lock to jam. If the lock is faulty, the internal locking system malfunctions and the lock does not open even if you use the right keys or password. In such instances, cutting the bike lock cable would be reasonable as the lock cannot be salvaged
Tampered lock
There are a number of ways your lock can be tampered with. It could be a child putting objects into the lock, or an aborted theft where the thief could not open the lock to steal your
bike
.
Bike theft has become so rampant that now locks like Skunk Lock have adopted a different
anti-theft method
Trusted Source

Click, Beating the Bike Thieves, Bike lock emits stench and other anti-theft tech

Anti-theft bike tech tested: Can it keep your cycle safe?

www.bbc.co.uk
by emitting vomit-inducing stench. According to the
New York Times
Trusted Source

As more people are buying bikes, more bikes are being swiped from sidewalks, garages and basements. Locks are not always a deterrent.

www.nytimes.com
, last year saw an increase in bike theft despite the COVID-19 pandemic. When your lock is compromised in this way during attempted theft, you cannot fit in the key, and even if you can, the lock fails to open. This leaves you little choice other than cutting the bike lock cable.
Prank
Mischievous people abound, especially in this era where pranks, trend online and have been embraced by several social media users. Someone might prank you by installing a cheap cable lock on your unattended bike. If you have read through this guide on cutting bike lock cables, then you are aware of the tools that can help you to quickly fix the situation.
Final Thoughts
No one looks forward to the day they might be forced to cut the cable because their bike lock has failed to open. But considering there are various ways that you could end up in such a situation, it's good to know how to cut bike lock cables. First, you must consider the type of cable material. Next, choose a tool that will be capable of cutting the cable without harming yourself or damaging the tool with excessive force or inappropriate use. We have provided good options that can cut most or all types of bike lock cables. Some tools will require more time than others to open the lock.