There are so many benefits of owning a riding bike, which is why they are becoming more popular. But, just because you have decided to purchase a bike, doesn't mean it's all smooth sailing.
There are many different types of bikes and because they can be quite the investment, you want to make sure you are buying the right product. One decision to focus on is between a cruiser vs hybrid bike. Both options are good for riding around town, running errands, and hanging out with friends. However, they each have their pros and cons. We'll help you break down the difference between a cruiser bike and a hybrid bike so that you know exactly which will work for you.
Cruiser Bike Overview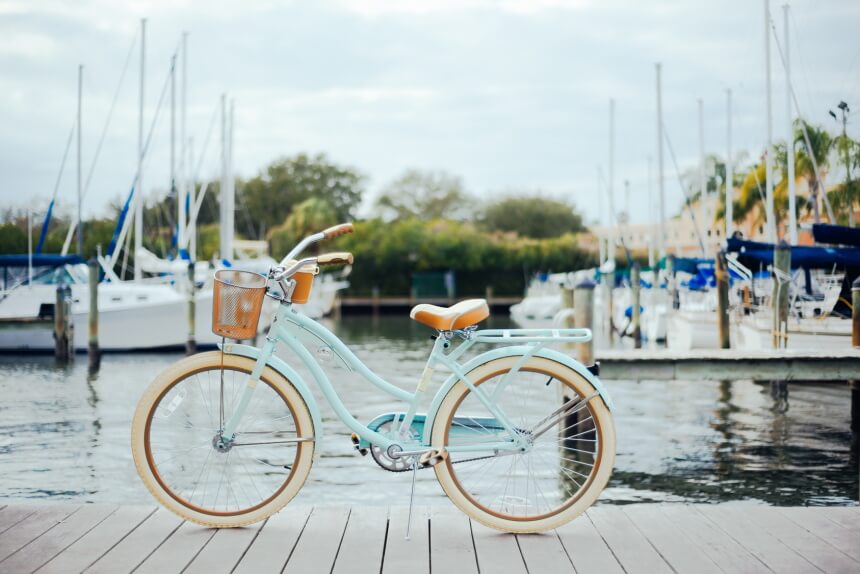 Also known as beach cruisers, a cruiser bike is perfect if you want to pedal around town but not work up a sweat. They are designed in such a manner that you won't really go too far and they are definitely designed for pathways and the road, rather than mountains and bumpy trails.
Cruiser bikes are built so that your back stays in a mostly upright position. The frames are larger, including the wheels, and you can usually attach a basket to the front to store your belongings or purchases.
As you can see with the sixthreezero Around the Block, the handlebars are raised and curved which means you don't have to bend down to reach them. This keeps your back straight which is perfect if you have posture issues.
If you own a beach house or other type of vacation property, having a cruiser bike is a great addition. They are perfect if you are in a small town and want to run errands or if you live near the beach and want to ride there for the afternoon.
Pros
Cruiser bikes have a frame that allows you to sit upright. This is great if you have back issues.
Perfect for exploring as you can take your time to enjoy the scenery.
You can attach a basket to the front to carry your items.
They often come in fun colors that make for a cute aesthetic.
Cons
Cruiser bikes have a larger frame and thus don't go very fast. They are not meant to race or get you somewhere too quickly.
Their frames are bulky and the bikes are not meant for bumpy or uneven terrain.
Cruiser bikes are only meant for one purpose so you may find yourself needing to buy a different, more multi-purpose bike at a later date.
Hybrid Bike Overview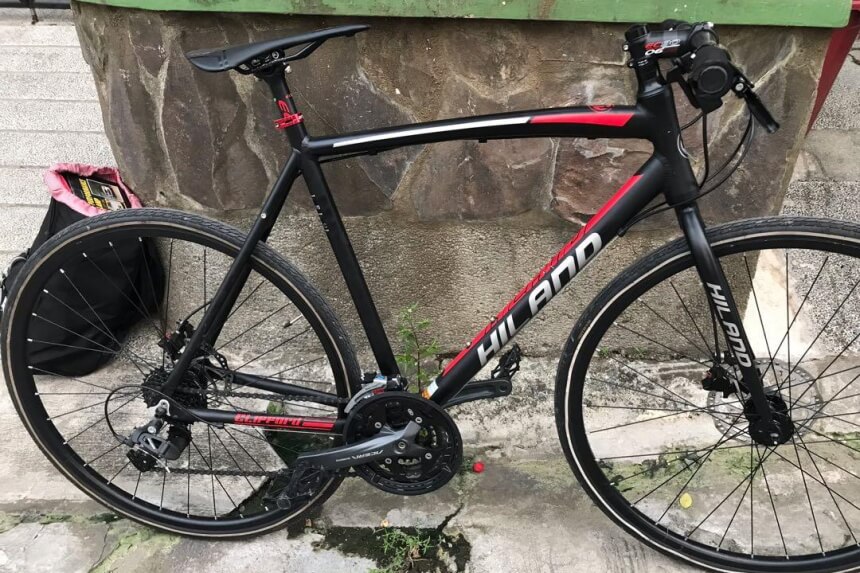 Serious bikes usually fall into two categories: road bikes and mountain bikes. But what if you want a combination of the two? A hybrid bike essentially allows you to own a bike that can go long distances on roads but can also survive bumpy off-road trails.
These bikes are all-purpose and are constructed to be durable. They have powerful hand brakes that are easy to control and the tires are durable for different areas. The price range is pretty vast, so you should be able to find a bike that fits your budget.
The Hiland 700C is a great example of an all-purpose hybrid bike. It comes with 24 speeds, excellent suspension, and a durable frame.
Pros and cons
Due to their construction, you can take a hybrid bike on many different surfaces.
Hybrid bikes are useful for commuting, riding in the city, and some trail riding.
You can sit fairly upright with a hybrid bike, so your bike won't be too uncomfortable.
Pros and cons
You will need a specific bike if you want to transition into road racing or extreme mountain biking.
The design of hybrid bikes is often a bit sportier which may not fit in with everyone's aesthetics.
Hybrid vs Cruiser Bike
Now that we know what exactly hybrid and cruiser bikes are, let's compare them in more detail. Just keep in mind that people all over the world are also looking for a new bike. Thanks to the recent pandemic, the sale of bikes has exploded Trusted Source Great COVID-19 bicycle boom expected to keep bike industry on its toes for years to come Increased demand, disrupted supply has shops across Canada straining to keep up. www.cbc.ca and you might have to put yourself on a wait list to find your ideal bike.
Wheels and tires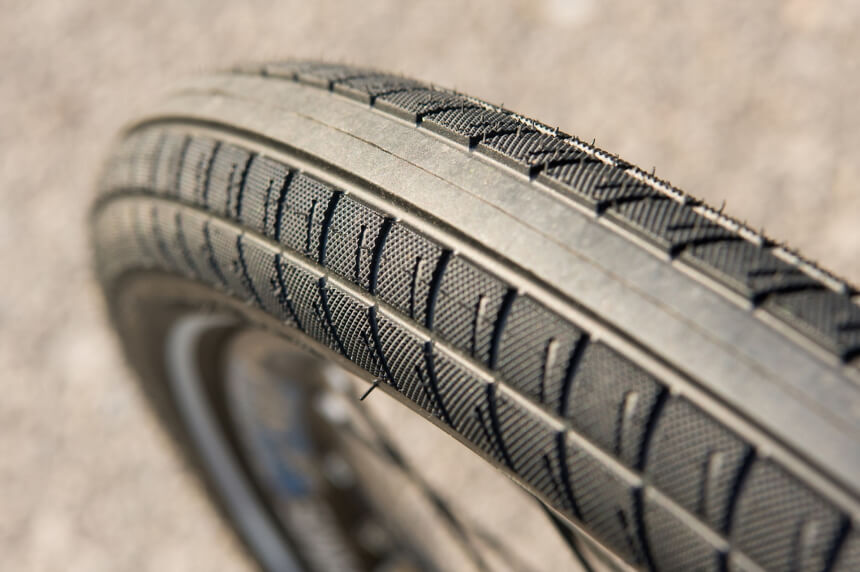 The wheels on a bike will determine how comfortable you are and how fast you can go. A cruiser bike will have thicker tires than a hybrid bike. The thickness will allow you more comfort as they will absorb any shocks, especially if you ride over bumps or small rocks.
A hybrid bike doesn't have tires that are as thin as road racing bikes, but they are thin to medium thickness. This allows them to travel over both roads and some trails.
As you can see from this list of the best gravel bikes, as soon as you get into more active terrain, you will need a tire that is thicker and more durable.
Handlebars
At first glance, a cruiser bike's handlebars can look a little strange. This is because they are longer and curved, which makes it easier to reach them. Comfort is key for a cruiser bike, and this is reflected in the handlebars.
Thanks to the setup of a cruiser's handlebars, there is plenty of space for a basket. You can easily clip one on to store all your essentials.
In contrast, hybrid bikes have simple straight handlebars. The purpose of a hybrid bike is to travel faster over different terrain, so you will need to have more gripping power and control with the straight handlebars.
Frame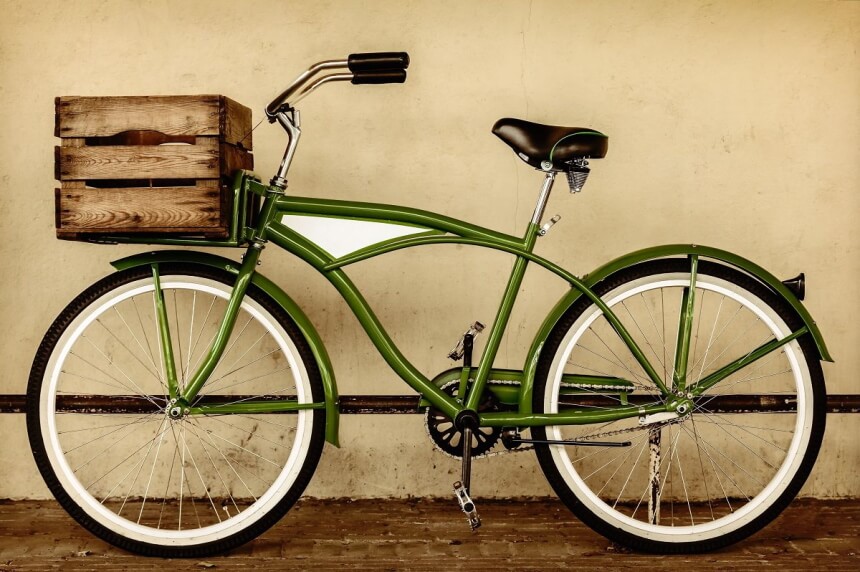 The frame of a cruiser bike is made so that you can sit upright and not have to bend over to reach the handlebars. In contrast, a hybrid bike will necessitate you to bend over slightly, although not as severely as with a true road bike.
However, when discussing the frame, you want to look at individual bikes. For example, this list of the best bikes for tall men includes both hybrid and cruiser options.
While there are usually plenty of bike options for taller individuals, it can be hard for shorter people. Not wanting to be stuck with an adolescent bike, finding an adult bike with a smaller frame can be a challenge. If you are looking for the best bikes for short females, this list has plenty of good options.
Gear system
A major difference between cruiser bikes and hybrid bikes is the gear system. In fact, cruiser bikes don't have any gears. You simply pedal as fast and as hard as you want to propel your bike. This is why cruiser bikes are really only meant for easy rides on roads or pathways. It would simply be too hard to try to pedal them over different landscapes.
Hybrid bikes have many gears, depending on the model. They can range from 10 to 20 gears.
Which type of bike you get, and how many gears you need, will depend on if you want to focus more on road biking or trail riding.
Riding application
Cruiser bikes are made purely for recreation. They are meant to transport you at a leisurely rate to a nearby area, preferably on a flat surface.
Hybrid bikes, on the other hand, have more possibilities. They are faster and more durable so you can regularly commute to work or even explore some local trails.
Brakes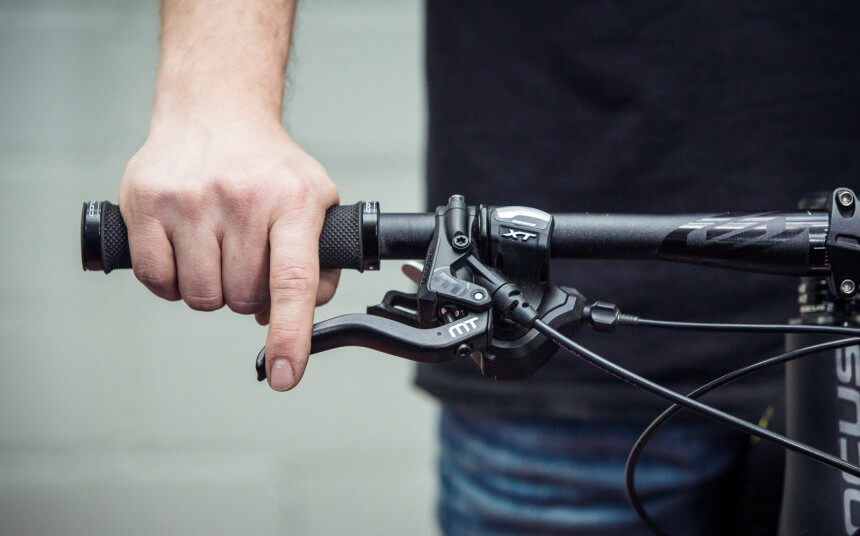 A big difference between cruiser bikes and hybrid bikes is the braking system. With a cruiser bike, you usually have coaster brakes, which react when you pedal backward. These are similar to what you can find on a kid's bike.
In contrast, hybrid bikes will have hand brakes. To activate them, press on the brake on the handlebar and a brake pad is then engaged on the side of the wheels. You normally have both a front and a back brake on a hybrid bike.
Prices
Both hybrid bikes and cruiser bikes come in a range of choices. You can start as low as $300 for either one, and go upwards of $1000. Most bikes, in either category, seem to fall around $500. However, they are priced differently for different reasons.
Hybrid bikes become more expensive as you make them more durable. If you want a better braking system or more gears, this will add up. The frame can be lighter if you want a speedier bike for on the road.
As for cruisers, they become more expensive the more you customize them. There are many brands that will actually allow you to pick the paint style, which can add to the price. If you add in a back storage system or a basket, this will also increase the price.
Easy assembly
If you order a hybrid bike or a cruiser bike online, it will come shipped partially assembled. How easy they are to be fully assembled usually comes down to your mechanic skills. The good news is that most manufacturers try to make the process as simple as possible.
Cruiser bikes might have a slight advantage here because they have slightly fewer parts. However, each brand will differ, especially when it comes to their instruction manuals.
If you are stuck, do a quick online search for video tutorials as this should help you. You can also call the company's customer service to help with any issues. While this should get you on your bike quickly, if you are stuck, you may need to see a local bike shop which will be able to get your bike on the road.
Which should You Choose?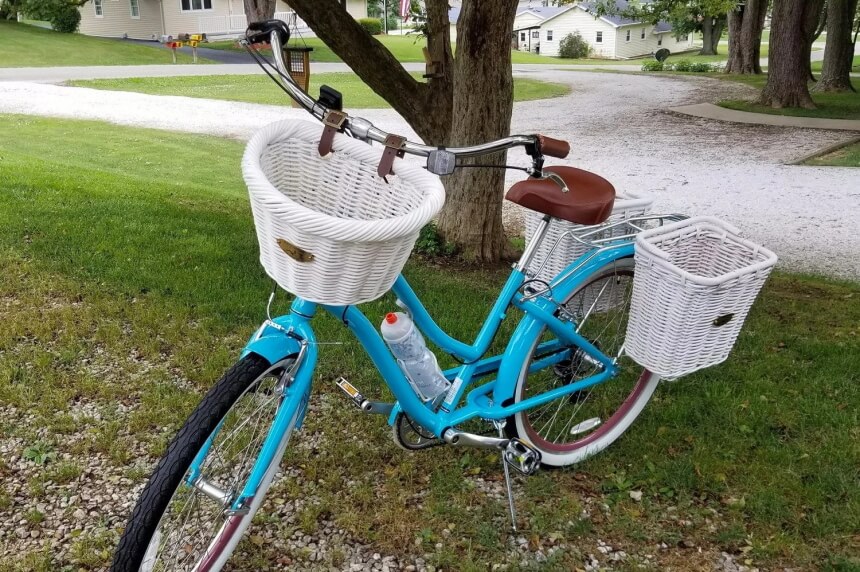 Bikes serve many different purposes so you want to find one that will fit with your lifestyle. Some people even end up purchasing multiple bikes to fit all your needs. Here's a quick recap of which bike, a cruiser or a hybrid, you should purchase and for what reasons.
Cruiser bike
A cruiser bike is perfect if you live in a small town or are visiting one on vacation. If you want some exercise but don't want to walk very far, you can simply take your cruiser bike out and get to your destination.
You can easily attach a basket to your cruiser bike which will allow you to store groceries, library books, or beach towels. You can feel like you're truly on vacation as you sit upright on this type of bike.
Hybrid bike
A hybrid bike is an excellent option if you want an all-around bike that will let you achieve multiple scenarios. While they aren't ideal if you are fully committed to road racing or heavy-duty mountain biking, a hybrid bike will let you explore both options.
With a hybrid bike, you can travel around town, ride to work, or just enjoy an evening ride. You can hit up some trails and still feel comfortable.
Final Thoughts
Riding a bike is one of life's pleasures. Not only is it good exercise but it can help you get around more quickly and efficiently. Whether you've always wanted to bike ride more, or like so many others, were inspired by the recent pandemic to purchase a bike Trusted Source The great bicycle boom of 2020 Throughout lockdown, rusty bikes were dusted off in garages around the world and sales of new bikes surged. The question is now: can it last? www.bbc.com , there's a real thrill in actually riding one. What type of bike you ultimately choose will be dependent on how you want to use it.
If you simply want to travel around town or head to the beach, then a cruiser can get you there in style. If you want to keep your options open, including having the ability to bike to work or hit up some easy trails, then a hybrid bike is the way to go. Ultimately, choosing between a cruiser vs hybrid bike can take a bit of thinking but once you picture how you want to spend your days, the choice should be a lot clearer.