It is concerning that very few owners pay attention to a bike serial number yet identifying it can help them track and recover their bike in case it has been stolen. According to Bicycle Law, at least 80 percent of bike owners do not know this number which normally consists of six to ten digits. The unique identification number that is also known as the bike frame number is typically carved into the frame. It is important to check your bike's serial number and register it as soon as you purchase the bike because it can also be useful in notifying other bike owners if your bike has been stolen.
In this article, we have discussed how to find the number, how to register it and the various benefits that come with registration. We have also explained how you can check whether you have purchased a stolen bike.
What are Bicycle Serial Numbers?
The USC Department of Public Safety recommends registering your bike serial number as your best chance to retrieve your bike if it has been stolen since police use these numbers. Manufacturers assign these unique numbers that are between six to ten digits to help identify the bike and its compatible components.
Each bike has a unique serial number, and it serves as its unique ID. These digits are the key to identifying your bike. The serial number is the bike's body number and it has between six and 10 digits assigned by the manufacturer. In the next section, we will explain where to find bike serial numbers so you can register them as a safety precaution.
Where are they placed?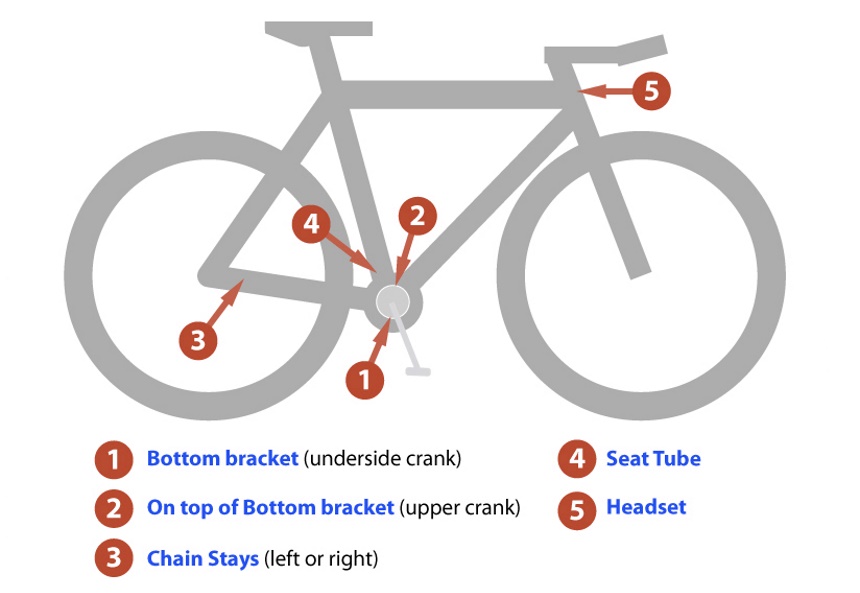 To do a bicycle serial number check, you need to know where to find it because it can be found in various places that might depend on the age of your bike. While all bicycles have serial numbers, the identification system varies according to the brand and manufacturer. The series of digits might indicate the model code as well as the month and year of production that helps manufacturers know when you bought the bike to confirm warranty.
Bottom bracket: This is the housing that holds the bearings in place and the axle that the crank arms attach to. For newer models, the most common place to check the bike frame serial number is the area that joins the two pedal cranks.
Rear dropout: This is also referred to as rear stays because it joins the seat stay and the chain stay. It is the part of the frame with two small notches that are attached to the rear derailleur hanger. This is the first place you should check to identify BMX bikes by serial number. Older Schwinn bikes will also have the number on the non-drive side dropout while bicycles made before 1999 will have the serial number on the drive-side dropout and you have to remove the wheel to find it.
Head tube: This is the place where the front fork of a bicycle is mounted to the tubular frame. The length and angle of the head tube which typically features bearings has an impact on how you handle the bike. This is especially important for individuals looking for the best bikes for tall men that are equipped to fit their longer or larger body physique. The head tube is the most common location for Rad Power bikes and Schwinn bike serial numbers.
Seat tube next to crank: In some models, you will find the bike identifier by serial number at the rear or bottom of the seat tube.
Top of the crank: This is yet another location to perform a bicycle serial number check  if you cannot find it in the other places we have mentioned.
In rare cases, your bike will not have a serial number embedded in their frame. This applies to bespoke or vintage models. Further in this guide, we have explained how to register your bike in case it does not have a serial number. For bicycles with serial numbers, we recommend making copies by taking photos and then email it to your email account or save it to your iCloud or Google drive account for future reference.
Do electric bikes have serial number?
Yes, these eco-friendly bikes Trusted Source Research: E-Bikes | Transportation Research and Education Center Under the leadership of TREC's sustainable transportation program manager, John MacArthur, TREC has developed a wealth of research around electric bicycles (e-bikes) to understand the potential for e-bikes to address mobility needs, increase access to active transportation options, and the potential of e-bikes to address sustainabilty goals. Findings from this research have been used in policy discussions at the local, regional, state and federal level. trec.pdx.edu have a serial or VIN (Vehicle Identification Number). Electric bikes have serial numbers engraved in the same locations where you will the unique number in traditional bicycles. These areas are the top or underside of the crank, the rear wheel stays, the seat tube next to the crank, or underneath the headset handlebars.
Electric bikes are a subcategory of motorized models like the 26-inch Switz Cruz + BBR Tuning motorized cruiser bike.
Benefits of Bike Registration
In case of theft, police across the nation find bikes by serial numbers allocated by manufacturers. Other bike owners can also help to track down a stolen bicycle if the bike frame serial number has been registered with the relevant organizations. Once you identify bike by serial number, you can use this number to prove ownership when filing insurance claims.
Insurance claims
We have explained the different places where the serial number on a bike is located because you will need this number and the model number for insurance claims. The make, model and serial number of a bike is also required to process warranty.
It helps manufacturers to establish the production and shipping dates as well as the time frame of purchase, especially for discontinued products, and determine whether you are eligible for warranty.
Bike track down
Bike theft still happens at a high rate because you are likely to leave yours unattended every once in a while. Most thieves steal bikes to disassemble them and sell the components.
Knowing where to find bike serial numbers will also help the police to retrieve a stolen one and return it to the owner, especially in cases where the device tracker has been removed or disabled. The identification number serves as proof of ownership and it can help you to track down a stolen or missing bike if you had registered the number with the appropriate bicycle organizations.
Next, we will list the organizations where you can register your bike frame serial number.
How to Register Your Bike
If have purchased the best BMX bike under $300  and you wish to keep it safe, the next step after a bicycle serial number check and backup is to register as its owner on a bike database such as the BMX serial number database as soon as possible. Fortunately, the process is easy because there are several national or international registration services. The following are some organizations that provide bike identifier by serial number registries.
Helpful services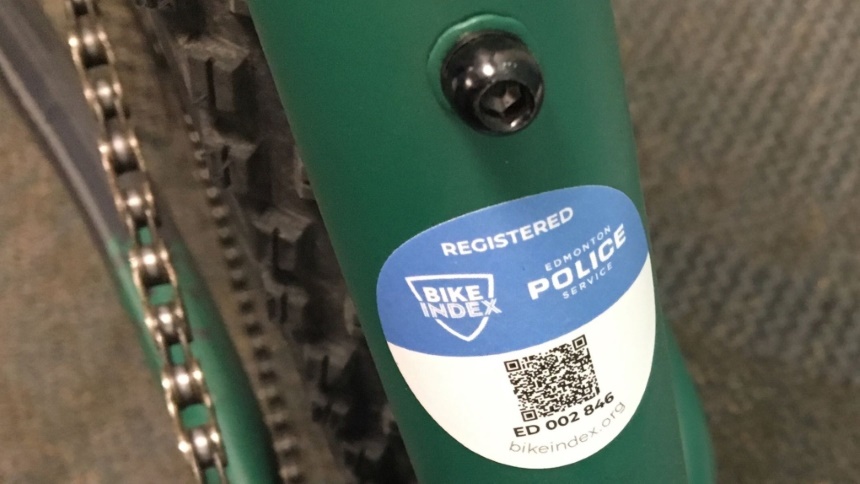 Bike Index: This free and non-profit bicycle registry is probably the most popular in the world. Although it is US-based, the registration service has universal reach because it partners with at least 600 organizations across the world. The bike frame serial number registration service also boasts of a large database of more than 250,000 registrations by individuals and organizations, and an impressive rate of recovering stolen bikes. Marketed as a service by cyclists for cyclist, the registry recovers stolen bikes at a rate that is five times higher than the average rate of national recovery. Users can upload new images, edit their information and transfer ownership without any charges. This serves to keep the database accurate and updated. The registry features new upgrades such as internal messaging, QR stickers, mapping, and improved search features and data management tools.
To register your 3-crank Elite BMX Bicycle or Schwinn bike serial number, you will need to submit your name as well as the manufacturer, component information and serial number of the bike. This data will help other users to identify and contact you if they come across a bike that you had marked as lost or stolen.
529 Garage: A group of cyclists working 9-to-5 jobs created a therapeutic mountain biking team and named it "Project 529" to counterbalance their day jobs. This was later renamed 529 Garage, a free bike registration service that reduces bike theft by helping owners to track down their stolen bikes and also helping potential buyers to check whether their intended purchase has been reported as stolen or missing. You can register and find bikes by serial number in this registry that consists of a diverse community of law enforcement agencies, bike clubs and shops, and individual users. After performing a bike serial number check, back it using the methods we mentioned earlier and then register the details on 529 Garage which can be accessed via the website service or the Android/iOS mobile application. You can send this information to police and insurance and alert the community on this international registry in case of theft. Missing bikes are listed in the Hot Sheet section which you can also use to check bikes for legitimacy before purchase.
Bike Register: When you add the serial number on your bike in the database which is also used by all UK Police forces, you will benefit from lifetime registration and a registration logbook that will identifies you as the owner of the bike. Apart from free registration, the bicycle database with more than 1 million registered bikes also offers security marking kits for purchase to protect your bike and deter thieves. These kits include Membership Plus Kit with a unique QR code on a warning label that is resistant to tampering, a blue Permanent Marking Kit and a UV Covert Kit with microdots that are uniquely numbered.
Police departments: Some U.S cities such as New York, Milwaukee and Chicago allow you to register your bicycle with the police department. Once you register, they issue you with a sticker that proves your bike is registered and this can act as a deterrent for thieves.
How to Look Up Serial Number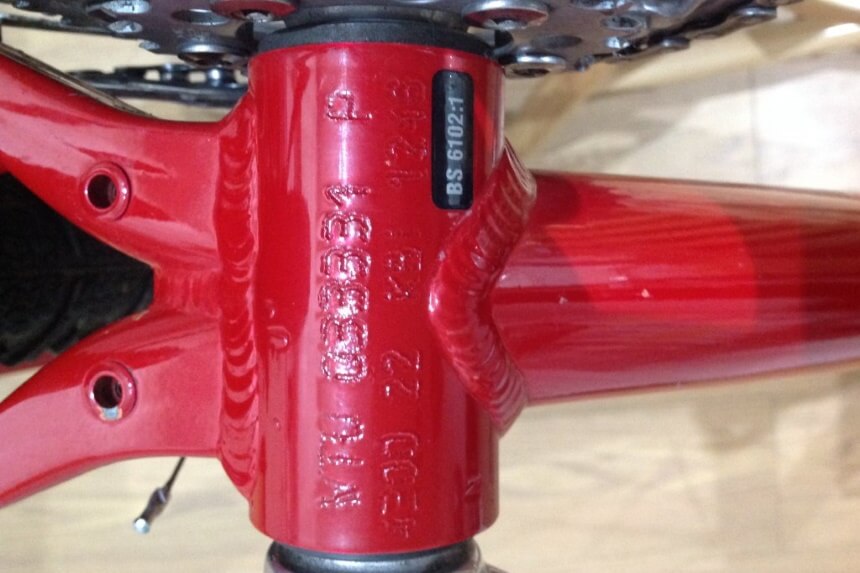 The frame and components of a bicycle will influence pricing, especially when purchasing the best steel gravel bikes that are equipped to handle that terrain. Models with advanced features are not cheap. Therefore, you need to make sure that the bike you are buying is not stolen. We have detailed the locations where you can find the bike frame serial number to crosscheck it. For instance, check the digits under the bottom bracket for Trek bike serial number lookup.
Below we will list other methods you can use to check whether a bike is stolen.
How to check if you've purchased a stolen bike
If you do a bicycle serial number check and notice that it has been filed or scratched out, it means that the bike was stolen Trusted Source Bike Thieves Are On A Roll During The Pandemic. Here's How To Protect Your Ride : NPR The "bike boom" of the COVID-19 pandemic, which resulted in a shortage of bikes nationwide, has also led to a significant rise in bike theft in multiple cities across the country. www.npr.org and the thief tried to erase it to avoid getting tracked down.
You can also use the identification bicycle serial number chart, if available, to search for bikes registered on services such as 529 Garage.
Before committing yourself, confirm that the seller has provided enough information and pictures that will help you make your decision. Limited photos and details can be a sign that the seller is not the genuine owner of that bike.
Bikes vary in cost. So, if you find a premium bike on sale at a ridiculously low price, there are high chances that the thieves are trying to sell it quickly before they are caught.
Final Thoughts
Identification bicycle serial number charts are useful in providing proof of registration, claiming insurance and warranty, alerting the police and other bike owners of a missing or stolen bike, which in turn might help to retrieve it. Although few, there are bikes that might require you to buy a registration kit with a unique tamper-resistant identifier if they do not have a serial number. Fortunately, most bicycles come with serial numbers that you can look up in registries such as Bike Register. We have detailed the common locations where you will find the serial number on a bike, how to back up the information and the international services where you can register your bicycle for free. We have also included tips on how you can conduct a bike serial number check to identify stolen bicycles.