Bike The Site is reader-supported. We may earn a commission through products purchased using links on this page. Learn more about our process
here
Whether you've bought a new bike or you're maintaining your existing cycle, ensuring you have the best groupsets is crucial for maximum performance. Any experienced rider will tell you it's the one aspect of your bike that will require continuous care and maintenance.
Essentially groupsets are the circuits and components that move your bike forward and stop it when necessary. A quality groupset is generally compromised of the gears, brakes, cranks, chainrings, chain, cassette (rear cogs), derailleurs, and shifters. But, this list can vary, depending on brand and growing diversity in road groupsets.
It's important to note that some brands are considerably better than others. Shimano Sora vs. Tiagra are two of the more popular comparisons to consider. But is one better than the other? Does your groupset influence your bike's performance? Read on to find out!
Why You Should Upgrade Your Groupset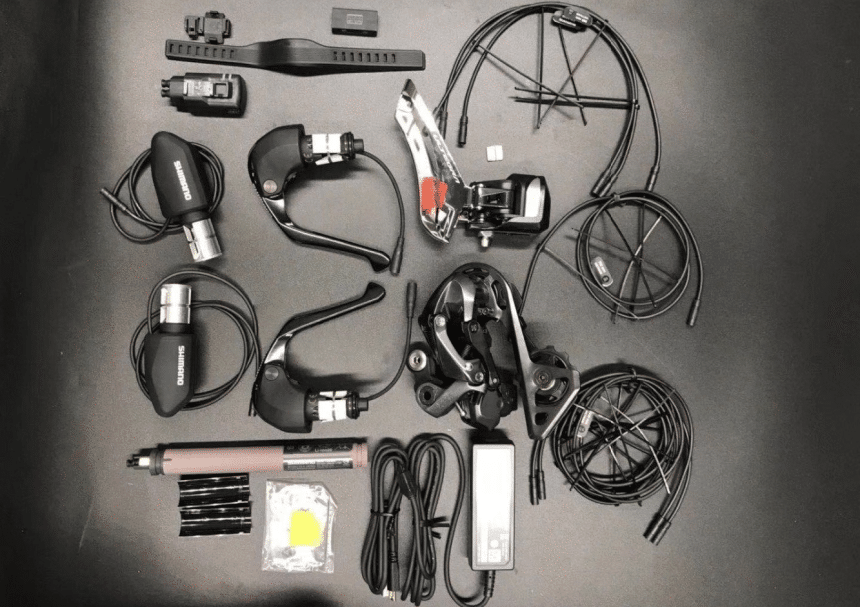 There are several plausible reasons to consider upgrading your groupsets. As your road racing/cycling skills improve, you'll want to improve the aspects that can give you an edge. Some of the more prominent reasons to upgrade include the following:
Upgrade your performance: Minor differences between entry-level and high-end groupsets can provide riders with crisper, lighter, and even more precise gear shifting. Ultimately this improves and sometimes even increases performance.
Reduce bike weight: Upgrading certain components can shed some weight off your bike. While these small upgrades might not make a significant difference to your bike's total weight, even a 5% reduction could benefit performance levels.
Keep your bike updated: Road groupsets have evolved considerably in recent years. Changes from 10-to-11 speed transmissions and the inclusion of electronics have changed the sport. Additionally, it has become easier to replace an entire groupset than to find replacement parts for the individual components.
General wear and tear: Riders who ride regularly or practice for road races or other sport races will undoubtedly put a lot of wear on groupset components. Aside from that, riding conditions will also affect the intended lifespan of these components. At some point, you'll have to replace some components. You might as well upgrade to a better option.
Quick Overview Table
If you're replacing or upgrading your groupsets, it's important to know what you want to achieve. That way, you'll be able to select the right option. Both Tiagra and Sora are from the well-known Shimano brand. For the most part, even the brand's cheapest Shimano groupset components are quite decent, making it a well-respected brand.
As one of the top three component manufacturers, you're most certainly guaranteed well-made and well-priced groupsets. A quick comparison of these two options will give you an idea of the key specs.
| | | |
| --- | --- | --- |
| Features | Shimano ST-R3000 Sora | Shimano Tiagra ST-4700 |
| Clamp band | 23.8 – 24.2 mm | 23.8 – 24.2 mm |
| Reach adjust | Screw | Screw |
| Rear speeds | 9 | 10 |
| Laver type | Dual control | Dual control |
| Weight | 2.2 lbs. | 1.35 lbs. |
|   | VIEW ON AMAZON | VIEW ON AMAZON |
Shimano ST-R3000 Sora Groupset Review
The major difference between the Sora and more expensive groupsets is the non-changing 9-speed. As a 9-speed, the Shimano Sora groupset is primarily found on entry-level bikes. Additionally, this groupset is available in two sizes: Standard double as well as wide-range triple cranksets.
Impressively, the dual control levers boast an integrated optical gear display with a sleeker, more user-friendly design. There's also a variable reach with an easy adjustment and two spacers. This allows riders with smaller hands to use it quite easily!
Main features
The most prominent features include the following:
Dual Control gear shifters that have a brake lever changing down the Sora cassette as well as a smaller lever changing to a higher gear
Double and triple chainset choices
The technology is adopted from higher-level groupsets
A rear derailleur accommodates an 11-32t cassette as well as a 50/34t chain set that's quite compact
Durable, 9-speed groupset
Anatomically shaped to allow easy braking and comfortable shifting
Precise shifting created by the Shimano indexing system
Comes complete with SP41 gear outer as well as high-end OPTISLICK inner cables
Product dimensions: 1" x 0.39" x 0.39" and 2.19lbs
Dual-pivot disc brakes
Pros
Compact as well as triple chainsets
Reliable shifting
Chainsets are compact
Quality product
Looks neater since cables are under the bar wrap
Easy to install
The shifter is quite easy to use
No added tension after installation
Cons
Only 9-speed
Brake blocks are mediocre quality

Shimano Tiagra ST-4700 Groupset Review
For many riders, Tiagra is the groupset jumping-off point for road cycling. With the introduction of the new 10-speed groupset, the Tiagra has become the new favorite on the block.
While it's not really the go-to groupset for competitive racers, there are still plenty of options with their triple chainset variants.
Main features
An impressive feature is that the Tiagra offers three chainset options which include 52/36t, 50/34t, and 50/39/30t. Additionally, some of the other key features include:
Hydraulic STI units that offer better lever shape as well as improved shifting
Brake power is increased by 30%
Technology from Dura-Ace is included
10-speed groupset with a considerably wider frame
Tiagra hydraulic disc brakes or Dual-pivot rim brakes
Triple-option included: 50-39-30t
Easy to install
Product information: 3.6" x 3.5" x 6.6" and 1.35lbs
Improved cable routing efficiency
A lever can be adjusted to any hand size
Pros
Reliable shifting
Ideal for beginner cyclists
Durable
Affordable
Cons
Requires frequent tuning and maintenance
Not ideal for strenuous road races
Upshift often sticks
Shimano Tiagra vs. Sora: Difference
While these two groupsets are essentially very similar, there are a couple of differences that set them apart.
Tiagra is a 10-speed groupset, while Sora is a 9-speed
The Tiagra is considerably lighter and, as a result, is a much quicker groupset
Sora will provide you with a combination of value and added performance
Sora's design has also been upgraded to provide a smarter finish
It's important to note, internal cabling keeps the wires tidy while a four-arm chainset keeps everything up to date. Both these units aren't as lightweight as the premium options available but still provide a reliable level of performance.
So, Which to Choose?
If it's a mix of performance and value, you're looking for, and you might want to lean toward the Sora. On the other hand, if you don't want an 11-speed groupset but still want the performance that goes with it, then Tiagra is the option for you.
Final Thoughts
Irrespective of your reason for planning a groupset upgrade Trusted Source Bikepacking and gravel bikes: new concepts in off-road cycling, or marketing fad? | Cycling | The Guardian The world of leisure cycling is nothing if not inventive when it comes to ways to sell bikes and associated bits of kit, and two of the most popular new – or theoretically new – concepts are bikepacking and gravel bikes. www.theguardian.com , both Sora and Tiagra are decent options. Consider what you currently have compared to what you hope to achieve with your bike. Look for the groupset that ticks the most boxes.
It's worth mentioning, though, if you have a 9-speed, changing to another 9-speed isn't really an upgrade, then is it? You might want to consider the Tiagra, which, although it is only a 10-speed, will give you the performance of an 11-speed. According to Shimano, both options are more suited to endurance racing rather than time-trials or competitive riding. Both are good options, though! So, upgrade and enjoy the ride!
References
1.
Bikepacking and gravel bikes: new concepts in off-road cycling, or marketing fad? | Cycling | The Guardian
The world of leisure cycling is nothing if not inventive when it comes to ways to sell bikes and associated bits of kit, and two of the most popular new – or theoretically new – concepts are bikepacking and
gravel bikes
.