Bike The Site is reader-supported. We may earn a commission through products purchased using links on this page. Learn more about our process
here
Shimano's Alivio and Altus group set belong to the lower tier range of the company's collection. Although not as popular as the more expensive offerings from the company, there are preferred by bike enthusiasts in search of low-cost group sets for their bikes. Of course, the lower price means compromises have to be made, but both Alivio and Altus work quite great for their target market segment. We'll compare how they perform against each other in this Shimano Alivio vs. Altus review.
The Shimano Alivio is ranked one slot below the Shimano Deore Trusted Source Deore M6100: (Almost) The Only Drivetrain That Matters The price is plebeian and the promised performance is premium. A longer look at M6100 | M6120 Shimano 12-speed Deore drivetrain. nsmb.com , which is one of the most popular in the mid-range tier. But it still ranks higher than the Altus, which is second to the last in that category.
Both groupsets offer 9-speed gears and are similar in several other ways. But there are a number of subtle differences between them as well. In this article, we compare the Shimano Altus vs Alivio rear derailleurs to determine which of these two budget groupsets will be a better option for you.
Shimano Alivio
Shimano Altus
Speeds
9
9
Crankset
Double
Triple
Crankset Options
36-22T
40-30-22T
Bike Type
Mountain
Mountain
Warranty
1 year
1 year
VIEW ON EBAY
VIEW ON EBAY
Shimano Alivio Groupset: Quick Overview
The Shimano Alivio groupset is built for casual town riding and in a light trail environment. It is perfect for cyclists who are looking to upgrade older bikes with more advanced group sets without breaking the bank. It features a 9-speed gear set and a not-so-aggressive V-braking option. It's not the most feature-packed groupset out there, but it works just great for casual riders and light exercise bikes. The latest iteration of the Alivio groupset, which is the M4000 series features significant improvements, including a wide gear range and improved tire clearance, which makes it perfect for entry-level mountain bikes that have become quite popular in recent times.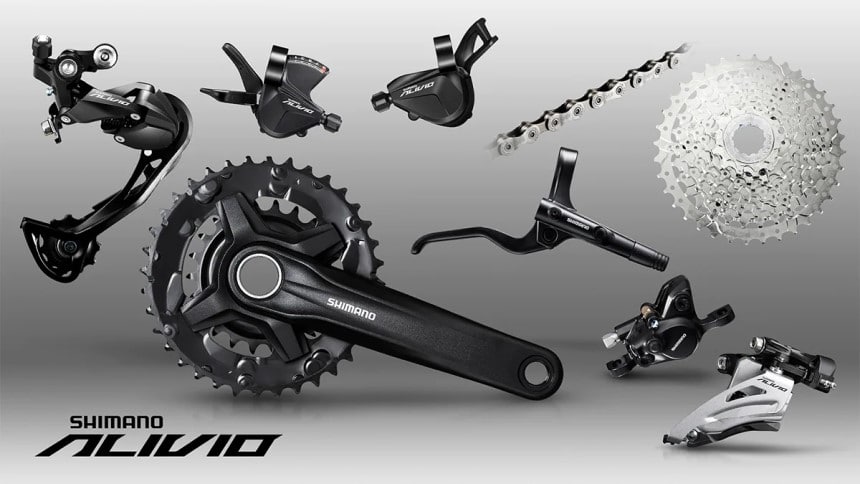 Pros
Affordable
Durable components
Lighter components
Better gear shifting
Cons
Brake performance is not as great as the Altus
Not very suitable for trail biking
Shimano Altus Groupset: Quick Overview
Like the Alivio, the Shimano Altus groupset is compatible with 9-speed cassettes too. It is the lower cost of the two options. You will find it on many city bikes where it actually performs as expected. The material and construction are not the most advanced, but that's expected considering the price point. Don't expect to get a super-fast gear shift. It is also not very exceptional under heavy load, but it has impressive braking potential.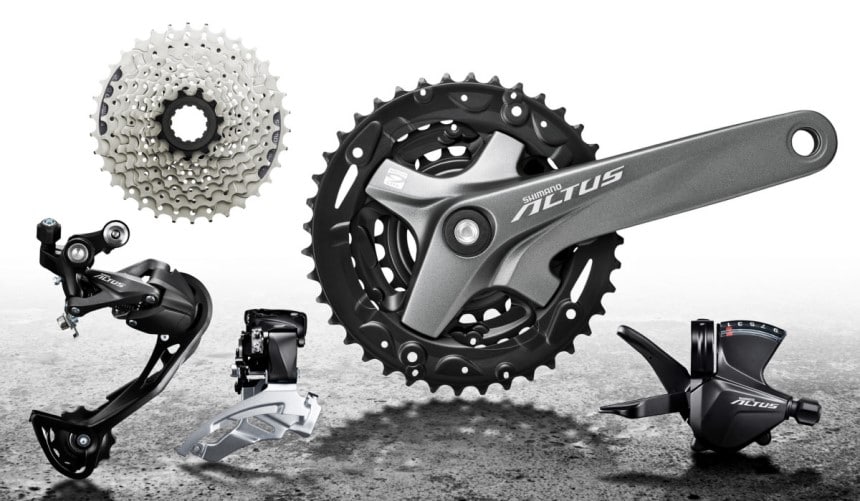 Pros
It is Affordable
It can be easily combined with other groupsets
Smooth and efficient braking
Cons
It is quite heavy
It has a lot of plastic components
Shimano Alivio vs. Shimano Altus: The Difference
These two budget groupsets from Shimano belong to the lower tier. This means you can't expect them to be feature-packed like the top-range alternatives. However, they still offer the impressive value and reliability that Shimano group sets are known for their price. Here's how these two group sets compare against each other.
The Quality of Frame
It features Shimano's signature Hyperglide technology with special tooth profiling. This ensures better chain retention and more precise shifting. The Altus, on the other hand, lacks a double chain option and does not have as much crankshaft configuration as the Alivio. Many of its components, including the jockey wheels Trusted Source Jockey wheel - Wikipedia The term jockey wheel predominantly refers to a wheel-based mechanical system used for steering or guidance. en.wikipedia.org , are made from plastic materials which makes it quite noisy and reduces its durability.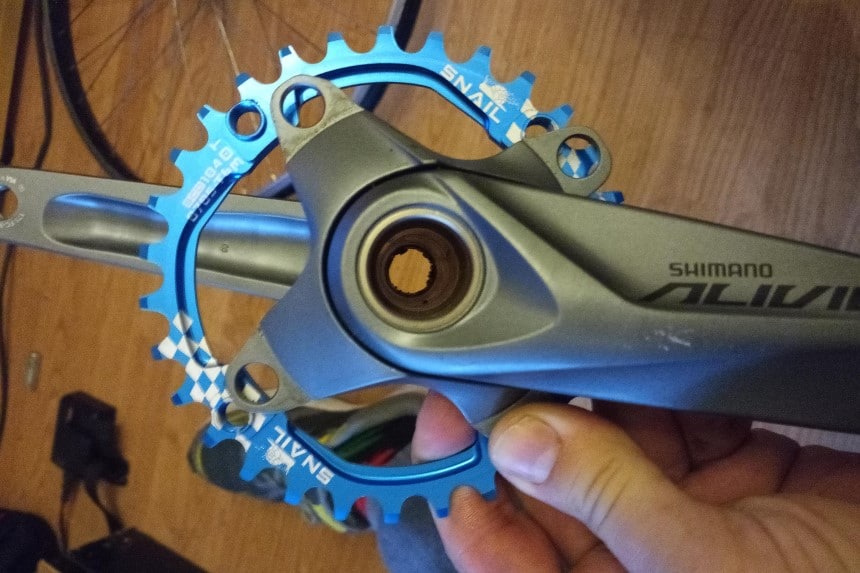 Ease of Use
When comparing Shimano Altus vs. Alivio 9-speed cassette, this is one area that the Shimano Altus groupset really shines. One of its most superb highlights is the flexibility of its performance, especially when braking. At the same time, the Alivio has an impressive braking system as well. That of the Altus is superior.
Durability and Warranty
Both groupsets are more recommended for city bikes where they will be less stressed and are more likely to last longer. For mountain bikes or rougher trails, you are better off with higher specs group sets. Of these two, the Alivio groupset is more durable. It features the Shimano Shadow technology, which is more commonly seen in higher-tier group sets. This helps to tuck the derailleur away, protecting it from getting struck by objects on the trail when you ride. Although the Altus has this technology as well, its components are not as high quality as the Alivio.
Price
Both groupsets belong to the more affordable end of the spectrum. However, the Altus is slightly cheaper (about 15%-20% cheaper) than the Alivio brother.
Compatibility with Cycles
The Alivio features a front derailleur with swing options for the top, down, and side. This allows it to match bikes with different frames and designs. The cable routing of the Alivio is also better than that of the Altus and other lower-ranked group sets. So while both groupsets are suited for city bikes, you may be able to use the Alivio for some type of mountain bike.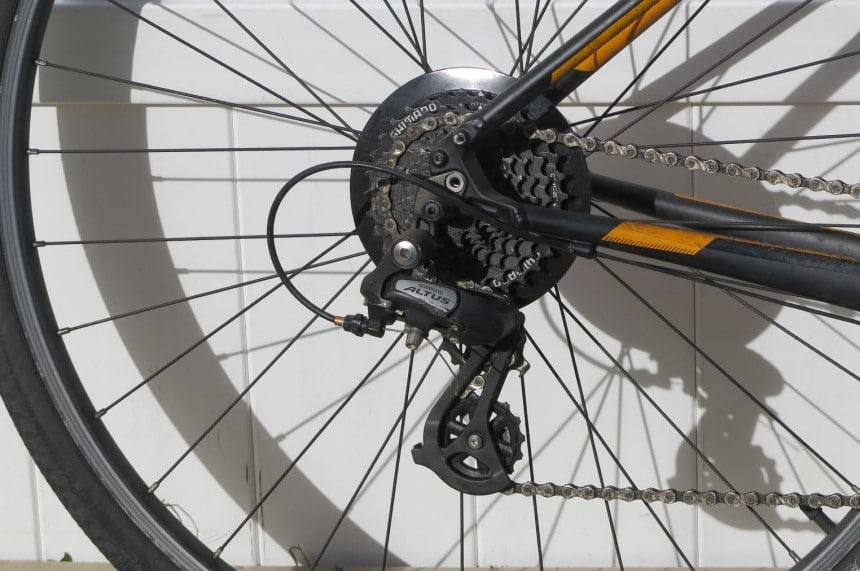 Which to Choose?
The Shimano Alivio and Altus group sets are quite similar in their design, and they feature several identical components. The main difference between these two is the Alivio offers some additional crankset components that are not present in the Altus. There are also variations in their weight and overall build.
The Altus groupset is slightly cheaper so if cost is a concern it might be a more suitable choice between these two. If you intend to use your bike for city cycling, any of these two group sets would work great. But if you intend to do some occasional trail biking, you may want to stick with the Alivio despite the slightly higher cost.
Final Thoughts
That's it with our Shimano Alivio vs. Altus review. At the of the day, both of these group sets are quite similar. In fact, they are so alike that many of their components are cross-compatible. Your budget and intended use will determine which of them to go for. But be rest assured that either of these two group sets will deliver impressively until you're ready to upgrade to higher-end alternatives for your bike.
References
1.
Deore M6100: (Almost) The Only Drivetrain That Matters
The price is plebeian and the promised performance is premium. A longer look at M6100 | M6120 Shimano 12-speed Deore drivetrain.
2.
Jockey wheel - Wikipedia
The term jockey wheel predominantly refers to a wheel-based mechanical system used for steering or guidance.