If you love riding, a little rust can shatter your heart, especially if you spent a good dime on your bike. Your bike is likely to get rust on its metallic parts if you don't use it for a long time. The rust can discolor your bike and even render it useless if you don't catch it on time. There are a couple of other causes of rust on your bike, from condensation during storage to sweat during rides.
In most cases, bike rust is usually just surface level, so learning how to remove rust from bike, is pretty easy.  Better yet, there are several maintenance practices that you can do to keep your bike in top shape and prevent it from getting rust. This article provides a proper guideline on how to remove rust from a bike with different methods and how to clean the rust off of it.
What Can Remove Bike Rust
Here are some of the most effective items and methods that you can use to remove bike rust:
WD-40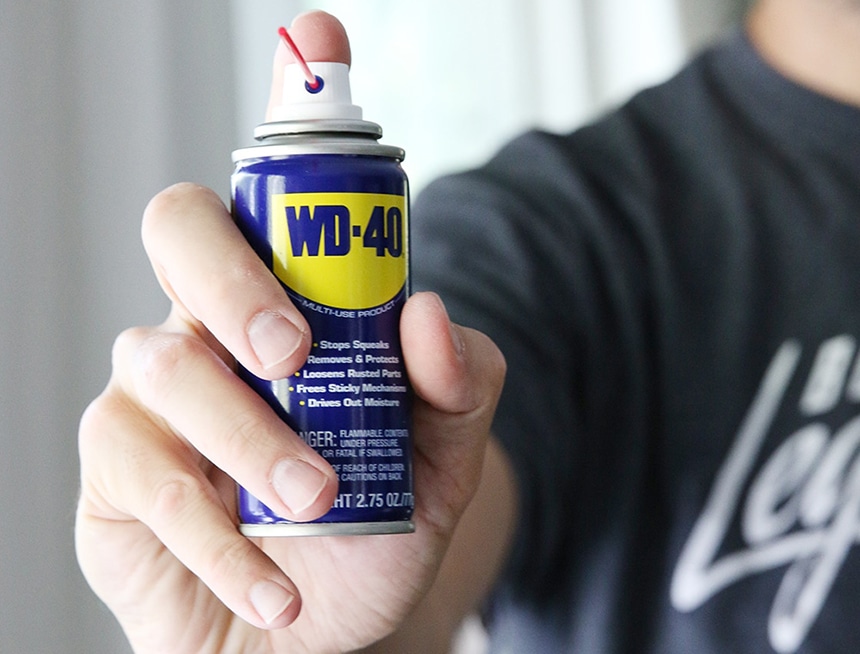 This is a fantastic chemical rust remover that every bike owner should have. It is an effective cleaning agent meant for cleaning bikes. The multi-purpose chemical is more of a cleaner than a lubricant.
WD-40 works well if you are dealing with surface rust, and it is pretty easy to use. All you have to do is apply it on the bike's surface to remove rust and dirt. Ensure the rusted area is entirely covered by the chemical, then wipe or scrub off using a sponge or piece of dry cloth. Once you are done cleaning, apply some lubricant on the area to prevent another formation of rust.
If you have no idea where to get WD-40, check out this Multi-use aerosol spray by WD-40. It is like a toolkit in a can and is safe for all of your bike parts.
Alternatively, you can go with the popular Finish Line 1-step cleaner and lubricant. It cleans fast and easy, as well as provide maximum protection against rust.
Baking soda + water
Baking soda with water is a great solution if you have a minor rust case. Baking soda is one of the best domestic cleaning agents and is preferred by many because it removes dirt without damaging surfaces.
You need a bowl, water, baking soda, lime juice, a clean cloth, scrub pad and brush for this technique. Put all the ingredients in the ball then mix thoroughly until you have a paste. You can use extra lime juice to get the perfect paste consistency.
Check all the bike parts to see all the rusted areas, then apply the paste with a brush or sponge. Leave the paste on for about 15 minutes so that the rusted surface can absorb the mixture. Ensure all the rusted surfaces are fully covered with the paste for easy removal.
The amount of paste you apply should be determined by the severity of the rust. Apply just enough baking soda paste if the rust is on the surface.
After 15 minutes, scrub off the paste with a scrub pad. You should be able to see the rust coming off. You can repeat the entire process if there's rust left. Clean your bike to remove the paste, then lubricate it to prevent rust from forming again.
Cola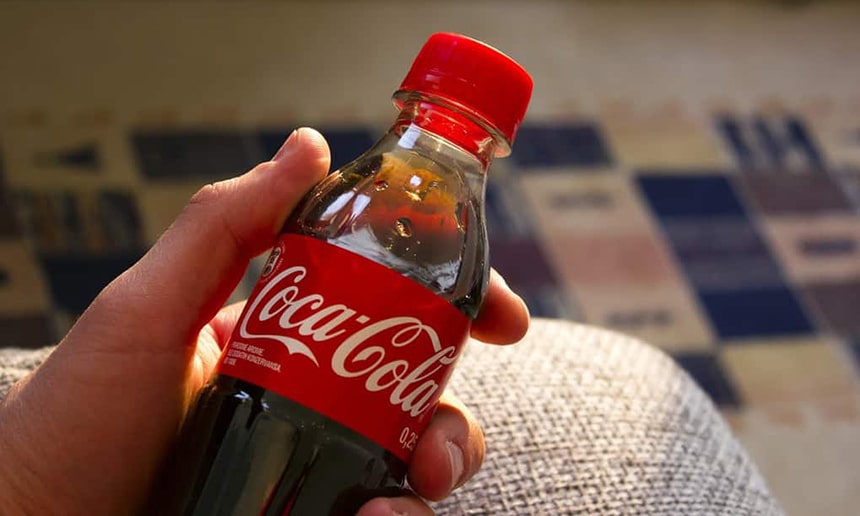 Coca-cola works effectively on rust because of its strong acetic properties. This method is very straightforward. All you need is a pair of gloves, tinfoil, a spray bottle and a brush or scrub pad. Put on the gloves, then fill up the spray bottle with cola and spray it over the rusty areas on your bike. Use the brush or crab pad covered with tinfoil to scrub the rust off. If the rust is not coming out, spray more coca-cola and scrub harder.
Vinegar
Vinegar has similar acetic properties with coca-cola. It is one of the easiest rust removal methods because you can easily grab it from your kitchen or get it in the nearest store. For this method, like the Cola one, you will need a spray bottle, a pair of gloves, white vinegar, dry cloth, a sponge, baking soda, and water. The baking soda will act as a supplementary cleaning agent.
Mix the vinegar, baking soda and water then fill up the spray bottle with the mixture. Spray the mixture on the rusted surfaces on your bike then let it sit for about 20 minutes. The rust will absorb the mixture and begin to breakdown. After 20 minutes, you can use the dry cloth or sponge to clean the rust.
Safety tips
Your safety should always come first whenever you are working with chemicals as they can be harmful to your skin. If you are using commercial chemical rust removers, put on a pair of gloves and glasses to protect your eyes and skin. In case your skin or eyes are exposed to the chemicals, rinse with plenty of water then seek medical attention.
Always ensure you read the instructions on the packaging before using the product.
Open the chemical rust remover in a well-ventilated room. You can open the windows to let air flow in.
How to Clean Rust off a Bike
Here are simple ways of cleaning rust off Trusted Source Factors Associated with a Rust Infection (Sphenosphora saphena) in an Epiphytic Orchid (Tolumnia variegata) The interaction of a rust infection (Sphenosphora saphena) with the orchid Tolumnia (Oncidium) variegata was studied in northern Puerto Rico to determine which intrinsic and extrinsic factors are associated with the development of the infection. www.jstor.org different parts of a bike:
Handlebars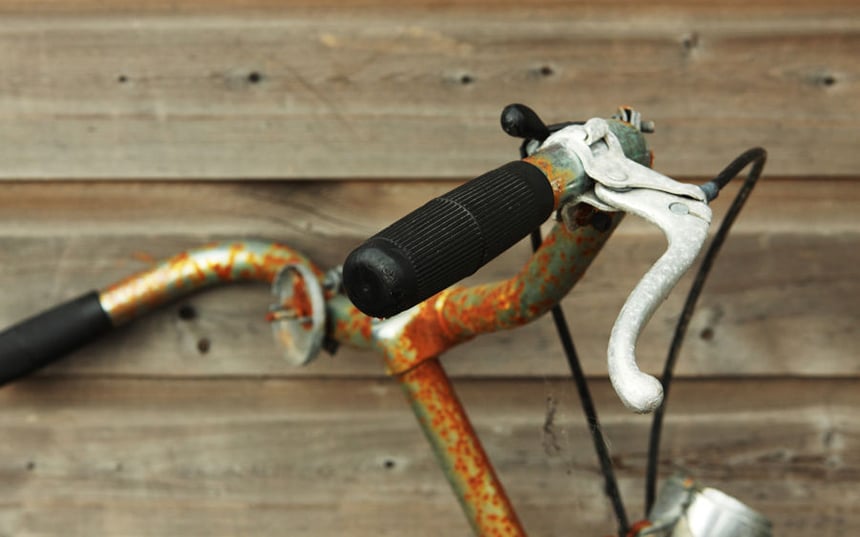 Cleaning rust off your handlebars should be a breeze. For the task, you will need table salt, lime juice, a dry rag, a cup, and tablespoon.
Step 1: add 6 tablespoons of table salt and 2 tablespoons of lime juice to the cup then stir to form a thick paste.
Step 2: coat all the rusted parts of the handlebars with the paste, then let it sit for 20 minutes. Ensure the paste has a thick consistency that won't drip off.
Step 3: Use the toothbrush to brush the rusted areas. Brush in different motions and continuously until you see the rust stains fading off. You can use a dry cloth or scrubbing pad if the toothbrush is not working for you.
Step 4: After removing all the rust, use clean water to rinse the handlebars then pat them dry with the dry cloth. To prevent rust from forming again, use wax to polish your handlebars once every two weeks. You can also spray it with a coat of varnish.
Chain
For the bike chain, you need a link removal tool, brushes, scouring pad, lime juice, lubricant, dry rags and a bowl.
Step 1: lift the rear end of the bike, then spin the foot pedal in a backwards motion to check for dirt, grime and dust on the chain links. Be careful not to get any splashes in your eyes.
Step 2: Use the dry cloth to wipe off dirt and grime so that you can see the rust. For stubborn grime, you can use a brush.
Step 3: dip the scouring pad in the lime juice, then use it to scrub off the surface rust on the chain. If the rust is too much, get the chain off with the link removal tool. Soak the chain in a bowl of lime juice for 2 hours. Remove it and pat it dry with a dry cloth. Finish by lubricating the chain with high-quality lube.
Frame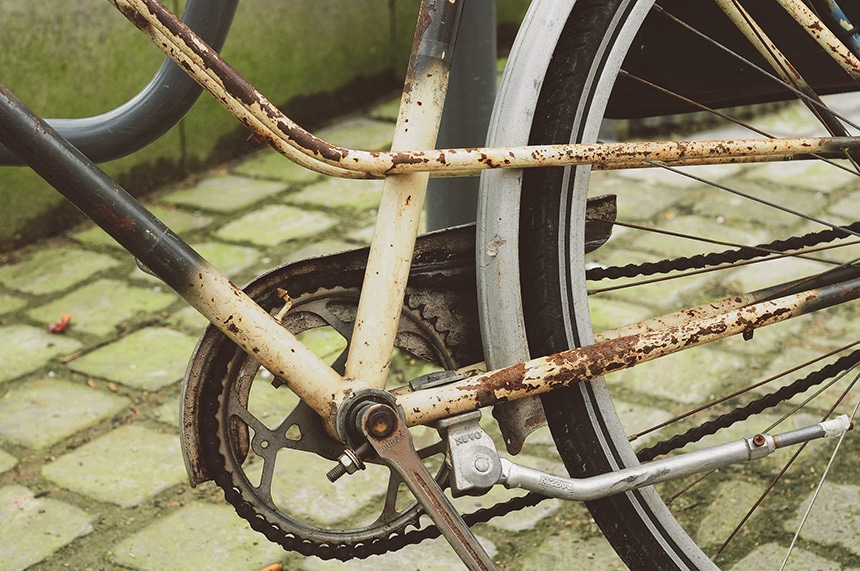 Get vinegar or baking soda, water, bowl, sponge, scrub pad, and dry rag.
Step 1: create a thick paste of baking soda and water in the ratio of 1:1 in the bowl. Add some lime juice to enhance the mixture's rust removal properties.
Step 2: Scoop the paste with a sponge, then apply it evenly on all the rusted surfaces of the bike's frame. Let it sit for 15 minutes, then scrape it off with the scrub pad. Finish by wiping the bike's frame with a dry cloth.
Spokes
To clean rust off your bicycle spokes you need wax, dry cloth, steel wool, and elbow grease.
Step 1- put some elbow grease on the steel wool pad, then use it to scrub each of the bike spokes until you see the rust breaking down.
Step 2- wipe the spokes with a dry cloth.
Disc brakes
All you need for the brakes is Aluminum foil. Roll the foil into a ball then use it to rub of the rusted spots. It may take time but it is the simplest and safest method for your bike's disc brakes.
Rims
For the rims, get a degreaser, Aluminum foil, and a dry rag.
Step 1: Get the tire, inner tubing and spokes off the rim.
Step 2: Soak the aluminum foil in a bowl of degreaser for a few seconds, then use it to scrub the rims until all the rust stains fade away. When done, pat the rims with a dry cloth then apply wax on them to prevent rust from forming again.
Other parts
All the methods discussed above can work for all the other parts of the bike including a bike rack and suspension Seatpost which we have not covered.
Rust Preventing Tips
Here are pro tips for preventing any bike type from getting rust;
Store your bike in a climate-controlled area like a shed or storage area that doesn't have the elements that facilitate rusting.
Wipe your bike with a dry cloth if it gets rained on.
Oil or Lubricate your bike with the best quality lube.
Clean your bike every time Trusted Source Maintaining your bicycle Follow our tips on keeping your bicycle in good working order for safer riding. Regular maintenance schedules and repairs are important. www.nsw.gov.au you come back from a long trip to remove all corrosive elements.
Final Thoughts
Any bike owner should know how to remove rust from bike because it is almost inevitable. If you are an avid rider, your bike is less likely to suffer damaging rust unless you expose it to corrosive elements. The good news is that there are loads of rust removal techniques, and for some, you may not have to spend a penny. You can easily grab baking soda or vinegar from your kitchen to remove rust from your bike.
If you choose to go the chemical route, ensure you read all the instructions on the packaging for the correct usage. Also, gear up with gloves and glasses to protect yourself from the harmful substances in them. All in all prevention is better than cure. If you maintain your bike well, you might never have to worry about rust.