Thanks to advancements in technology, mountain bikes come in different designs and dimensions suited for maximum fun on different terrains. On the flip side, choosing a mountain bike from the sea of options is daunting, especially if you know nothing about bikes. There are multiple types of mountain bikes with endless variations. For you to choose right, you must consider your riding style and the kind of trail you'll be riding on.
Mountain bikes are generally grouped into three categories; hardtail, rigid, and full-suspension. There is something for every occasion, whether it's a leisurely ride through the mountain or a competition on a daring trail. Once you have settled on the correct type of bike for your needs, you can dwell on other crucial factors like price, parts, and ease of maintenance. This article contains information about the differences between mountain bikes to help you choose one that best suits you.
Mountain Bike Categories
There are three main categories of mountain bikes;
Hardtail
This is a mountain bike with no suspension on the front fork or rear. It is more affordable, and it offers excellent value for money. Its components are much better yet lighter and easier to handle than entry-level full suspension bikes. The lightweight and rigid nature of the bike makes it an excellent cross-country and racing bike. It is suitable if you want to bike on flat tracks and forest roads or if you want to bike at top speed on the road.
Full suspension
These have front and rear suspensions that enhance comfort and allow you to ride on more technical terrain. They are heavier and more expensive. If you are a beginner rider, you may want to wait until you have enough experience to buy your first suspension bike. The bike is best suited for high speeds, jumps and drops, and challenging steep terrain. If you consider a full suspension bike, keep in mind that it is maintenance-intensive and heavy. It is also pricey because of the heavy components used to make it.
Rigid
These have no suspension on the front fork or rear. They are comfortable and versatile bikes for riding on the pavement. They compare favorably with road bikes as they are safer and more user-friendly. However, they are not the ultimate option for a beginner looking for an off-pavement bike.
Mountain Bike Types
There are different types of mountain bikes suited for different disciplines. Even hunters can get the best mountain bikes for hunting to increase their chances of catching prey. Here are the different bike types that fall under the three bike categories:
All-mountain or Enduro bike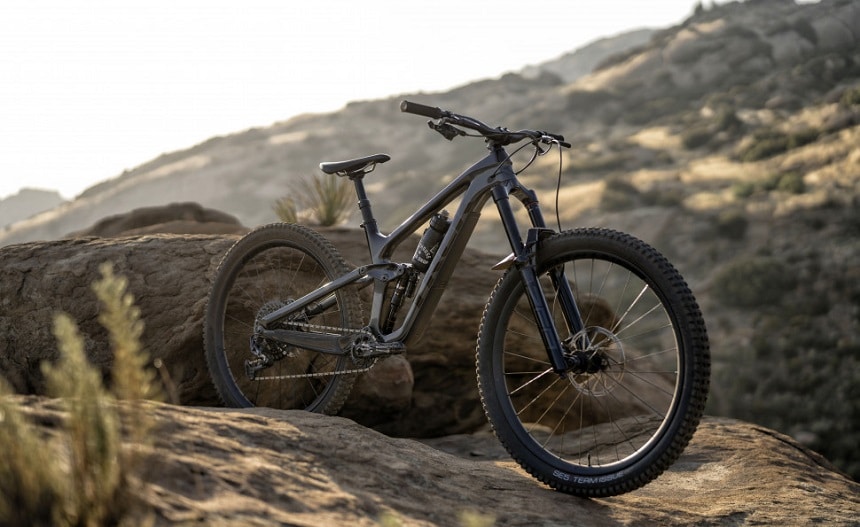 Enduro is a term used in the moto racing world to describe a competition involving timed downhill sections and untimed uphill sections. As the name suggests, All-mountain or Enduro bikes are more efficient going uphill than downhill bikes. Although they are less versatile than CX and trail bikes with wider tires, they have more travel in the front suspension and are much beefier.
An all-mountain bike is an excellent option for a rider that wants to skip pedaling and do a couple of laps on technical terrain. They come with 27.5 or 29-inch wheels. You may get a mixed mullet size with 29 inches in the front and 27.5 inches in the rear.
The bikes' geometry favors descending more than climbing, and the tires are built to offer aggressive knobs for cornering and traction.
Cross country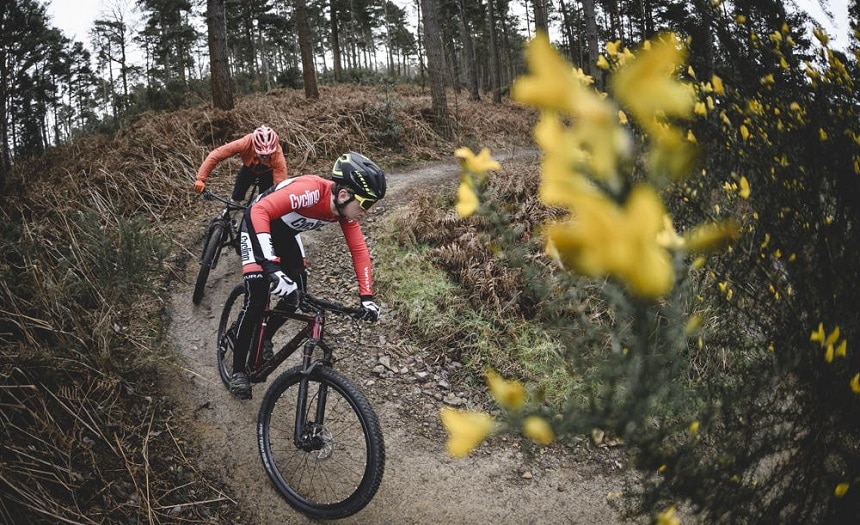 These bikes are meant for climbing and riding at top speed for longer in the backcountry. Cross country bikes have incredibly low weight and efficient shifting. They are the best for technical terrain sections.
Moreover, these bikes are built for riders mainly interested in pedaling performance. They are long-busting machines built for uphill crushing with unmatched endurance and efficiency. Their geometry is pretty similar to that of road bikes, but they perform poorly downhill. If you intend to put in long miles pedaling and climbing, a cross country bike is your best bet.
Modern cross-country bikes with wheel sizes as large as 29 inches and an ultra-lightweight build of up to less than 24 pounds. The bikes' tires are made to favor reduced weight, efficiency, and faster rolling resistance instead of maximum traction, control, and durability.
Downhill or Freeride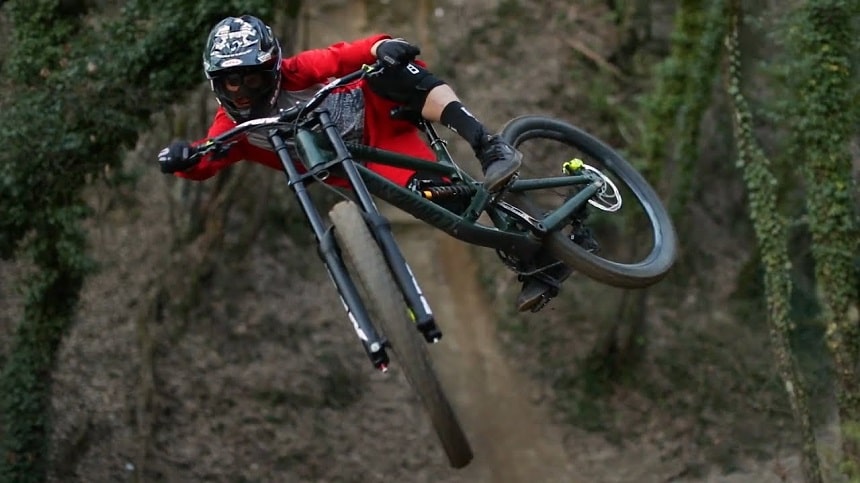 These are full-suspension bikes with a maximum suspension of 200mm+ in the front and rear. They are made for steep terrains, speed, jumps, and big drops. The bikes are not made to go any other direction except down. Downhill bikes are best suited for riders who are not interested in pedaling uphill and have the trails and terrains that can support high speeds.
Downhill bikes have a slack geometry with less than 65 degrees head angle. Also, they have a low center of gravity to provide you with confidence on steep terrain. What's more, their tires are geared for traction and durability. According to New York Times, Trusted Source How to Ride Downhill on a Bicycle As she prepared for the 2016 Olympics in Rio de Janeiro, the United States triathlete Gwen Jorgensen knew that she faced one particularly daunting liability. www.nytimes.com tires matter a lot if you are going to be riding downhill. When choosing a downhill mountain bike, ensure that its tires are wider so that you wouldn't have to use a lot of pressure to inflate them. Plus, wider tires make better contact with the road.
A Freeride mountain bike is a cross between a downhill and cross country mountain bike. It is designed for technical obstacles and trails, very steep terrain, and long, high jumps and drops. Although it is slightly lighter than the downhill mountain bike, it is not a featherweight. It is made with durable components to ensure it can withstand extreme jumps of up to 20 meters. Unlike downhill bikes, some Freeride mountain bikes are suitable for uphill riding.
Fat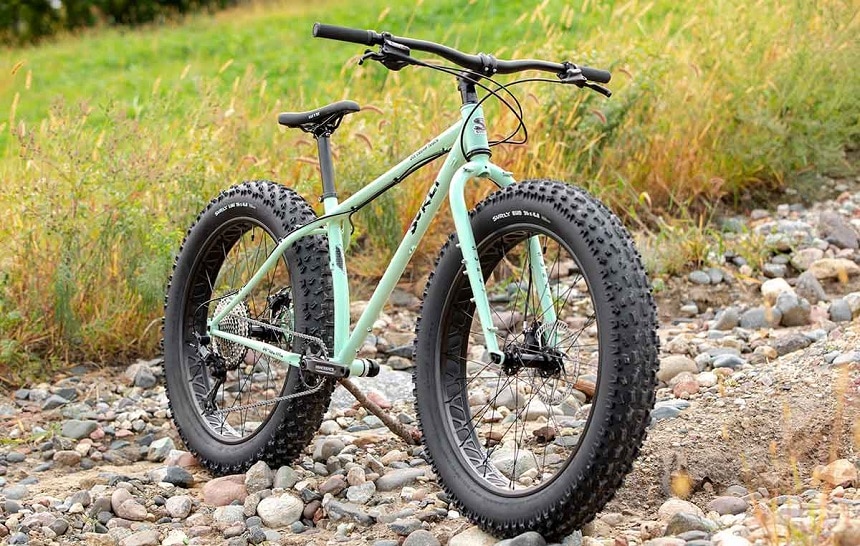 Fat bikes are designed for tough surfaces like ice, sand, snow, and any other surface with bad traction. The bikes sport wide tires measuring 4 to 4.8 inches which is twice as wide as the standard mountain bike tires. Fat bikes don't feature a suspension system. Instead, the wide tires are kept below the normal levels to absorb most of the shock. If you want a bike you can ride on all 4 seasons, a fat bike is your best bet.
Trail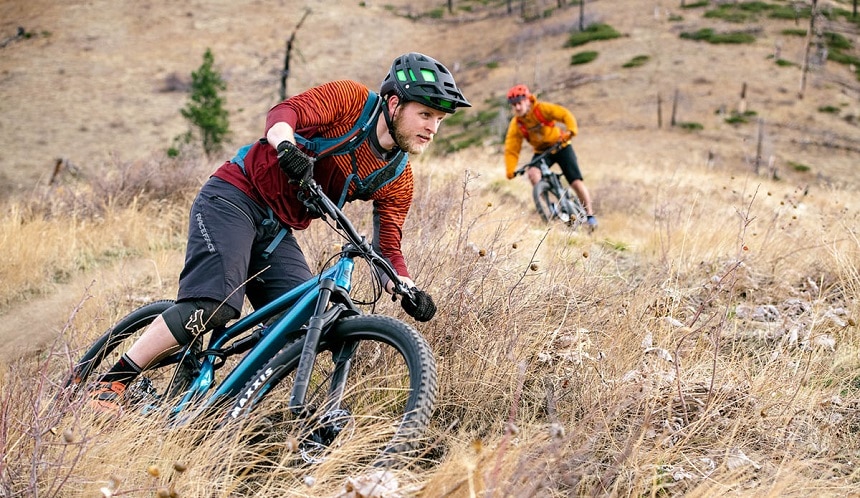 Most people relate to trail bikes when they think of mountain bikes. They are the most popular option for mountain biking because they are excellent climbers and descenders. Trail bikes are more capable than cross country bikes on virtually all kinds of terrain because they have more suspension and gravity-oriented components. They also have a more relaxed geometry that makes them efficient on different terrains.
Trail bikes come with suspension between 4.7 inches per 120mm and 6 inches per 150mm. Their wheel range from 27.5 inches to 29 inches and their geometries vary widely to suit different riding styles. The bikes' tires strike a balance between rolling efficiency, traction and durability.
The Mongoose impasse men's mountain bike is one of the most popular trail bikes on the market. It boasts a lightweight build with a medium aluminum suspension frame that maximizes comfort and performance. Further, the bike sports an element suspension fork that smoothes bumps and increases control.
Which Fits Your Purpose?
Before choosing a mountain bike, you have to decide how and where you want to ride it. For instance, if you need an amplified pedaling power so you can go further and faster, you can invest in the best electric mountain bike. Here are a few scenarios with suitable bike suggestions;
Snow or sand trail
It is possible to ride a bike on snow and in the sand. A bike with fat tires that can offer maximum grip on the sand or ice is best recommended. Therefore, a fat bike should be your top priority. Moreover, you don't have to reserve your fat bike just for winter and summer, you can ride it all year round because it works for mud and loose rock as well.
The Mongoose Dolomite Mens Fat tire mountain bike remains the most acclaimed fat bike because of its durable and adjustable build. It features beach cruiser pedals that have front and rear disc brakes for maximum safety. Plus, its lightweight alloy rims keep its weight down for added speed and performance.
Alpine crossing trail
If you are going for a long tour in the mountains, you need a mountain bike that can handle any terrain or slope.
The bike should be reasonably lightweight so that it doesn't slow you down.
That said, an all-mountain or Enduro bike is a prime choice. It will allow you to earn your ride by pedaling uphill even if you only have a fun descent in your mind. You can also skip the pedaling on a flat terrain.
Steep trail
If you are looking for the ultimate adrenaline kick without riding uphill, you should consider a downhill bike. A downhill or Freeride bike is the best way of having fun down a steep, gnarly terrain if you are just about the thrill of speed. The bikes are designed to only go downhill, therefore, you would have to find another way uphill either through shuttling, chairlift or hiking. The steep trails and terrain should be able to support high speeds and airtime. You should consider a Freeride bike if the gradients are extreme or the trails are too technical.
Tough mountain trail
For a tough mountain trail, you will need a bike that can traverse uphill just as well as downhill. In this case, the trail mountain bike is the ultimate option. It is both an excellent climber as it is a capable descender. You can use a trail mountain bike for an all-day backcountry epic ride or banging around on your local trails. The durability, traction and rolling efficiency of the bikes are unmatched.
Another suitable bike choice for ascending the mountain at a leisurely pace is Enduro. You will also enjoy an exciting downhill run.
Final Thoughts
Very few people know that there are different types of mountain bikes that serve different purposes. Even women can enjoy cycling with the best affordable bikes best suited for their anatomy. Before choosing a bike, you need to establish your riding style and the type of terrain you'd want to ride on. For instance, you can't ride any other type of mountain bike besides a fat bike on a sandy beach or on snow during winter because it is designed for such tough surfaces.
Bike components Trusted Source Bicycle Requirements Business Guidance This regulation increases the safety of bicycles by establishing, among other things, requirements for assembly, braking, protrusions, structural integrity and reflectors. Bicycles that fail any of the requirements are banned under the Federal Hazardous Substances Act. www.cpsc.gov are a crucial consideration when choosing a bike. The wheels, suspension, tires and frame build contribute a lot to the final package. As you gain more riding experience, you will be able to tell which parts matter to you. Generally, as you move up the price point, you get lighter bike parts that offer better adjustability and performance. Further, before you buy the bike, test it and do a demo on trails that you are already familiar with.