Bike The Site is reader-supported. We may earn a commission through products purchased using links on this page. Learn more about our process
here
Both the Alivio and Deore groupsets are from Shimano, meaning they have the manufacturer's stellar reputation for quality right off the bat. They're well suited for mountain bikes, with both options coming with similar components, including a right shift lever, rear derailleur, rear cassette, and a chain. However, there are some differences. For instance, the Shimano Alivio cassette is a nine-speed, while the Deore cassette is an eleven-speed option. There are also cost differences, and for buyers, the Shimano Alivio vs Deore comparison is one they must find an answer to before they can commit to the purchase. After all, it's natural to wonder whether they should spend the extra money on the Deore instead of the Shimano Alivio. Well, here's how they compare.
Shimano Alivio vs. Deore: Overview Table
Here's an overview of the two options:
| | | |
| --- | --- | --- |
| | Shimano Alivio | Shimano Deore  |
| Speeds | 9 | 11 |
| Crankset | Double, Triple | Double |
| Cassette Options | Shimano CS-HG400-9 9 Speed | CS-M5100 Cassette 11-51T |
| Bike Type | Mountain bike | Mountain bike |
| Warranty | One year | One year |
| | VIEW ON EBAY | VIEW ON EBAY |
As seen above, both options work well with mountain bikes.
Shimano Alivio Groupset: Quick Overview
With the Shimano Alivio, you get the SL-M3100-R which is the rapidfire plus shifting lever compatible with a nine-speed cassette. It provided responsive shifts, and as implied by the name, it's set to quick shifts, often allowing riders to downshift one to three gears in a single stroke.
It's also designed with an optical gear display, so you always know what gear you're on. This should help you decide whether to upshift or downshift and by how much, depending on the terrain in front of you. Naturally, it also comes with a shift lever cable.
The Shimano Shadow RD -9-speed derailleur offers a low-profile design, allowing mountain bikers to ride aggressively and minimize interruptions when shifting gears. Finally, the cassette provided ensures close gear steps between the primary sprockets, allowing for smooth, comfortable pedaling at all times.
The last piece is a nine-speed super narrow hyperglide chain that meshes well with the low-profile design of the derailleur.
Pros 

Cons

Affordable
Smooth shifts
Low profile
Can shift up to three gears in a single stroke

Not ideal for technical trails
Shimano Deore Groupset: Quick Overview
With the Shimano Deore groupset, you get the Shimano SL-M5100 11-speed shifter, and just like the SL-M3100-R, it's a rapidfire model allowing for quick lever access and responsive gear shifts. This shifter works well on any trail, with the cockpit optimized for easy use. It also features an optical gear display telling you your current gear position at all times. Also, just like the SL-M3100-R, it can shift three gears at a time.
It's matched up with the Shimano RD-M5100 SGS rear derailleur, a 1×11 speed model that makes full use of the shadow rd design to deliver consistency on the MTB trains, especially on rough terrain.
The low-profile design is particularly effective at avoiding damage from rocks, so technical trails shouldn't be much of a problem. It reduces your chances of chain drop by including a chain stabilizer. Also, with the decreased rear derailleur and minimal chain tension in low gears, the setup ensures a quiet drivetrain no matter what gear you select.
The Shimano Deore groupset cassette works well for single and double mountain bike drivetrains with optimal gear steps for controlling your cadence. Furthermore, with hyperglide shifting, gear shifts are as smooth as possible.
Similarly, the narrow directional chain allows for smooth shifting with increased durability thanks to the manufacturer's SIL-TEC treatment on the chain's inner plate surfaces allowing for low friction.
Pros 
Cons

Smooth-shifting;
Durable and avoids damage from rocks;
Quiet drivetrain;
Full cadence control;
Can shift up to three gears in a single stroke.

Twice as expensive as the Shimano Alivio groupset.
What is the Difference?
As a buyer, you'll likely notice the price difference before anything else. However, in the sections below, we've highlighted the differences between the shifters, cassettes, front derailleur, rear derailleur, etc., so you know how to choose.
Shifter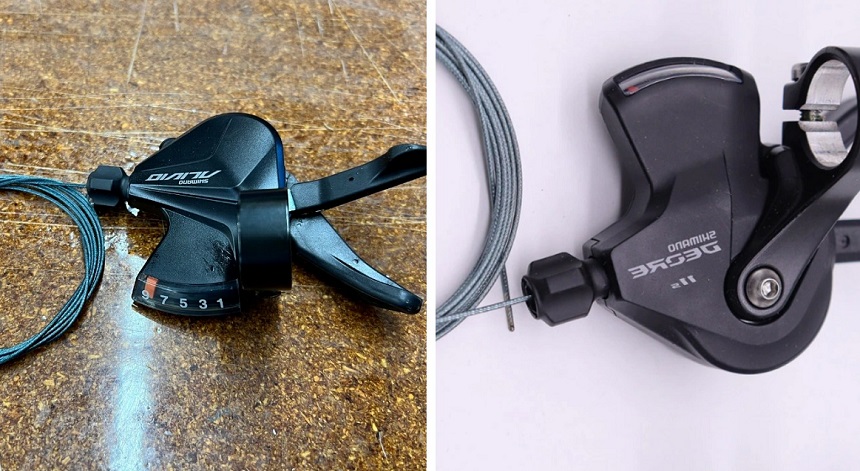 The Shimano SL-M3100-R shifter for the Alivio groupset and Shimano SL-M5100 for the Deore groupset are both rapidfire models with some similarities. For instance, they're both rapidfire models that can shift gears smoothly and responsively. They also both have optical gear displays.
What's different is the branding on the shifters and the design of the levers. The Deore shifter is more ergonomically designed and reflects the higher price tag. Furthermore, the SL-M3100-R is configured for a nine-speed cassette and rear derailleur combo, while the SL-M5100 is for an 11-speed setup.
Cassette
Cassette-wise, you get a Shimano nine-speed MTB cassette with the Shimano Alivio. It features a lightweight design, and the sprockets are placed as close to each other as possible. This cassette also allows for quick and easy assembly, given it's provided with a sprocket cap.
On the other hand, Shimano CS-M5100 is an 11-speed Deore cassette that can easily work with single-speed and double-speed drivetrains.
Notably, both options are hyperglide Trusted Source HYPERGLIDE | Shimano MTB Revolutionising shifting performance, Shimanos HYPERGLIDE+ shift technology delivers the worlds smoothest, most precise shifting in all riding conditions. mtb.shimano.com options allowing for near-seamless gear shifting, although as highlighted above, one is a nine-speed while the other has 11-sprockets.
Front Derailleur
Concerning the front derailleur, you can pick between two and three-speed options for the Alivio, although you only have two-speed options for the Deore. As such, if you go for the Alivio model, you can have between an 18 and 27-speed bike gear setup.
With the Deore system, your only option is a 22-speed setup.
Rear Derailleur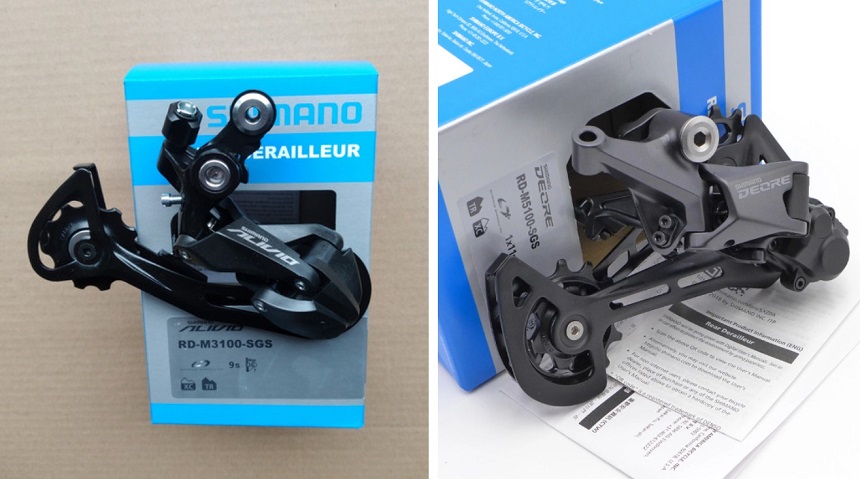 The nine-speed RD-M3100-SGS for the Shimano Alivio system has an aggressive low-profile design that allows for some reckless riding. However, it may not be as resistant to damage as the RD-M5100-SGS available with the Shimano Deore system. If you're not riding around rocks and technical trails, the RD-M3100 should be enough.
However, if the MTB trail you frequent has rocks all over the place, the sturdiness of the RD-M5100 as well as its shadow design, may come in handy.
Brakes
Also, the Alivio system is typically paired with the Shimano Alivio V-Brake Calipers. At the same time, its counterpart works with Deore hydraulic disc brakes that come in two-piston and four-piston variations.
Naturally, with disc brakes, you also need rotors which can drive the cost a little higher, so if you're strapped for cash, it may not be the ideal option.
Deore I-Spec EV
The Shimano Deore groupset also uses I-Spec EV Trusted Source NEW TECH I-SPECEV I-SPEC EV creates a clean and action-optimized cockpit that provides greater focus and flexibility for a wider range of riders. bike.shimano.com , something that's conspicuously missing from the more affordable Shimano Alivio option. This optimizes the cockpit for flexibility and, in the process, caters to a wider variety of riders.
The shifter levers are more ergonomically designed, allowing for easy reach and access, light operation, and comfort in use. Also, its design moves the brake clamp position inward, creating an extra point of contact with the additional bracing, increasing both bike control and braking engagement.
Additionally, it caters better to a wide array of cycling anatomies.
Bottom Brackets
Also, the Alivio has a wider range of brackets that it can be used with, including the Shimano BB-UN300 square type series, Shimano BB-UN101 square type series, and the Shimano Deore BB-MT500-PA press-fit model.
The Deore groupset, on the other hand, is much more exclusive, and as such, in addition to the press-fit bottom bracket mentioned above, it only works with two other threaded options.
Which to Choose?
From our Shimano Alivio vs. Shimano Deore groupset comparison, the former should make a great option for novice mountain bikers. It can handle rough terrain on the less technical trails without damage and is sufficiently affordable. As such, it should leave you some money for other equipment you might need. You can also check out our Shimano Alivio vs. Shimano Altus groupset comparison, as these two are both affordable options. Nevertheless, the Shimano Deore groupset should be ideal if you're graduating to more difficult trails with rocks where you need extra control and durability.
Final Thoughts
Both the Shimano Alivio and Shimano Deore are great options for the right buyer. It just depends on where you are on your mountain biking journey. From our Shimano Alivio vs Deore comparison, the former seems like a great starter, while the latter is the option to upgrade to once you're ready to take on more challenging trails.
References
1.
HYPERGLIDE | Shimano MTB
Revolutionising shifting performance, Shimanos HYPERGLIDE+ shift technology delivers the worlds smoothest, most precise shifting in all riding conditions.
2.
NEW TECH I-SPECEV
I-SPEC EV creates a clean and action-optimized cockpit that provides greater focus and flexibility for a wider range of riders.