Is your rim jumping back and forth between brake pads? There's need to worry because bent rims are among the most common causes of bike accidents. The risk of crashing aside, a bent rim will leave you frustrated because it will keep slowing down your bike every time it brushes against the two brake pads.
You should know how to straighten a bike rim because the procedure is incredibly simple but important. Fixing it yourself will save you a lot of money that you'd have used if you were to seek the help of a mechanic. Besides, it will prevent the brake pads from wearing out due to increased friction.
What You'll Need
Rims get bent when you hit potholes with huge force, so it's usually not a complex problem. However, they might deform if you don't correct them as quickly as possible. Fortunately, you only require two basic tools – a spoke wrench and a trying stand (optional).
Does bike type matter?
Straightening is meant to fix a bent rim to give them perfect shape. It therefore doesn't matter what bike you have. After all, any bike can hit a huge pothole and deform the rims.
However, wheel type matters to some extent. Dealing with aluminum rims Trusted Source Aluminum - Advantages and Properties of Aluminum Properties described are light weight, corrosion resistance, electrical and thermal conductivity, reflectivity, ductility, impermeability, odourlessness and recyclability. www.azom.com isn't as complicated as fixing steel rims; the latter doesn't break easily. In this case, you may need to talk to a professional mechanic to heat and fix the rim.
You might find it challenging to disconnect the wheels from the rim of the bike, but this video should help you with the problem:
Tools and preparation
As we have mentioned a moment ago, straightening bike rims only requires a wrench and a truing stand.
Truing stand isn't much necessary but utilizing it will complement your work. For the spoke wrench, you can find it in many bike tool kits or in any local repair shop. If you opt to buy one, you won't go wrong with the DT Swiss DT Till Spoke Wrench which, thanks to its small size, makes your straightening work a breeze.
On preparation, start by assessing the nature of the damage. If the wheel is not even, impact was the likely culprit. If it's only the spokes that are bent, the damage probably emanated from leverage. In this case, plan to tighten them. If, however, the problem is beyond your ability, seeking the help of a mechanic is a good idea.
How to Fix a Bent Bike Rim
Once you have gathered the tools and figured that you can fix the bent tyre on your own, start repairing like a pro. Tyre straightening is some sort of an art or a DIY task you can tackle unaided. Remember, before the Mudder 5 Pieces Bicycle Tools kit became a household item, a lot of people used locally available basic tools to straighten rims. We're talking about tools like:
Wood blocks
Metal hammer
Rubber hammer
Regular bike tools kit (Pliers, spanners, e.t.c.) and
Trash can
You may still use these tools. All you need to do is to place the bent rim between two straight wood blocks and hit the bent spots using the hammer. That aside, let's talk about how to straighten a bent rim.
Check the rim and spokes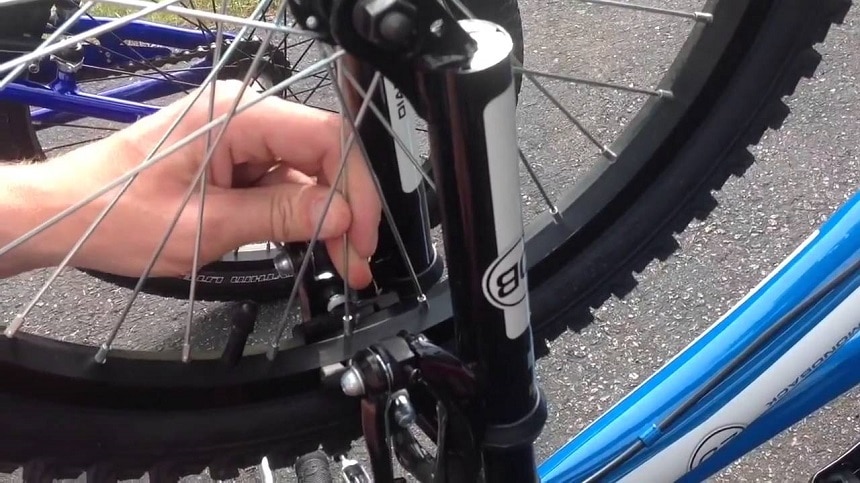 Mount the bent rim on a truing stand if you have one, or simply keep spinning. This will allow you to assess all the problem areas without much hassle. Do you notice any bent or broken spokes? If a spoke is damaged beyond repair, find a replacement.
Next, confirm that the brake pads are working properly, and that they're sitting where they should.
Find proper alignment
Wheel alignment Trusted Source Researchers explain why bicycles balance themselves Scientists and engineers have been trying to explain bicycle self-stability ever since the 19th century. Now, a new analysis says the commonly accepted explanations are at least partly wrong. news.cornell.edu boosts tire performance and durability. All wheels after having spinned for many kilometers are supposed to be aligned.
If the wheels are aligned, each wheel will drive in a straight line without pulling to the sides. The most common causes of misaligned wheels include height modification and heavy pothole impact.
Check whether the parts near the brake pads are perfectly sitting between the brake disc and the wheel.
Look for problem spots
Turn the wheel while carefully observing its behavior especially around the brakes area. Where does it catch the brake pad? Doing this will help you to figure out if the wheel is bent towards the right or to the left.
Spokes tightening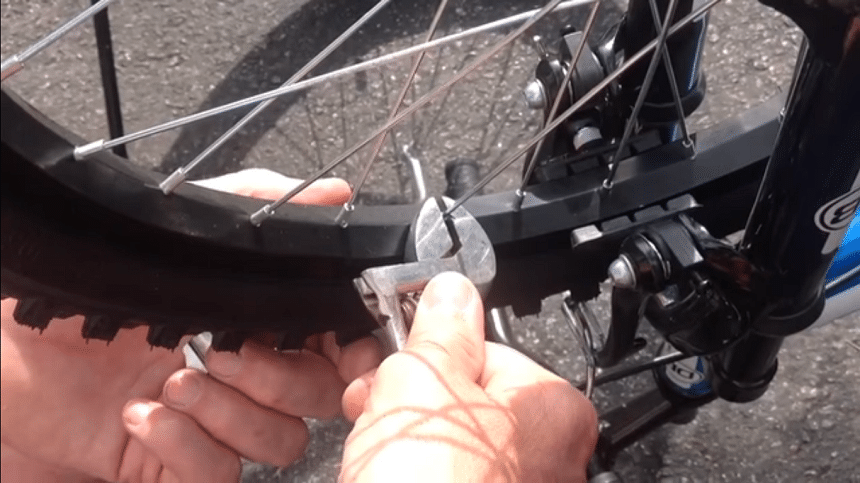 Tightening the spokes that are opposite the bent areas will make the rim bend back towards the center of the rim. For example, if the wheel is bent towards the right, you will tighten the spokes on the left of the damaged area.  To make things easier for you, you may use a permanent marker to circle the spokes in the bent areas.
Make it true
Check if there is a dent or ding on the rim. Remember, a ding isn't a good thing to keep riding on as it collects dirt and other harmful substances from the pavements. The spokes around the dent are usually loose and need tightening to correct the mess.
For some people, a dented rim isn't an issue as long as there is no cracking. Unless it's making the tube lose air pressure, you may just trust your guardian angel.
To fix dings, tighten the spokes across the affected area and that's it! Now check if the rims are rolling straight.
Finishing up
At this point, almost all the bent areas are fixed. Spin the wheel and keenly watch if there are any more bent areas. It's easy to spot such areas by just observing the behavior of the wheel around the brake pads. Some damages are so minor that you won't need a simple pressure application using your hands.
Pro tip: Learning how to straighten bike rims isn't as straightforward as you think. It's time consuming and frustrating at times, but regular practice will help you to do it best.
How to Avoid Bike Rim Damage
That repairing bent rims is more demanding than preventing damage is a no-brainer. You can prevent damage by simply understanding your environment. If you must ride on a rough road, using the best gravel wheels gives you stability and comfort at the same time.
You may alternatively opt for the best women's road bikes especially if you are a beginner. We are talking about bikes that feature string alloy rims and offer a comfortable riding experience on rough terrain.
Here are five things you can avoid:
Driving on flat tires: Properly inflated tires allow the rims to rotate normally. When you ride on flat tires, it means that the rims will have extra pressure to deal with, causing them to get into contact with the road as they try to support your weight.
This change in pressure causes the rims to bend especially if you are riding for a long distance on a bad road.
Potholes: When it rains, there are areas that collect water, giving us problems maneuvering a road. Such areas are obstacles that stick in our minds. If you can, avoid them or they will damage your rims. Oftentimes, the nature of the bend on the rims depends on your speed you're traveling at before hitting a pothole.
Better yet, you may decide to choose three-wheelers over bicycles. Since two-wheeler bikes seem to have limitations, choosing the best tricycles for adults is a better idea because they offer more stability and toughness regardless of the terrain. While three-wheelers aren't entirely immune to rim damage, they have proved to be a better alternative.
Final Thoughts
This guide will go a long way in helping you to learn how to straighten a bike rim on your own. Of course it won't be easy but rest assured you will be a pro over time. As long as you have a few basic concepts of bike repair, the other thing you need is a simple tool called a spokes wrench and you're good to go!