WD-40 has been around for over five decades now. WD stands for water displacements, and 40 references the number of times Rocket Chemical attempted to create it. People have different opinions on whether to use WD40 on bike chain or not. Most cyclists and reputable organizations claim that it is not a lubricant and is only meant to remove water and keep things rust-free. As such, it is not recommended for gears or drivetrains, especially for bikes that have a chain that rapidly moves in outdoor environmental conditions.
On the other hand, some cyclists swear by WD-40 if only used in dry conditions. They claim to have used it primarily as a lubricant and cleaner for their bikes, and it worked pretty great. This article provides facts about WD-40, its uses, the good, and the bad. Read on to see if you really need it for your bike maintenance.
WD-40 Overview
WD-40 is a popular multi-use product that can clean and lubricate. It is said that if something doesn't move and it should, WD-40 is the solution Trusted Source How WD-40 Became Rust's Worst Enemy The history of WD-40, a chemical substance with an unusual origin story and a rust-fighting ability that has become a standby of workbenches the world over. tedium.co . It is primarily a solvent and can therefore dissolve contaminants to get parts clean. You can also use WD-40 as a degreaser whenever you want to clean your drivetrain or bike chain.
What's in it?
According to the WD-40 website, the WD-40 multi-use product is a special blend of lubricants. Its formulation remains a secret until date, but the company states that it contains anti-corrosion agents and ingredients for water displacement, soil removal, and anti-corrosion agents.
Can You Put WD40 on Bike Chain?
WD-40 is primarily a cleaner but also a lubricant, and while many bike repairmen and reputable organizations are against using it on the bike chain, it is a safe and efficient product. Here is the good and bad of the solvent;
The good
WD-40 is a great product for cleaning your bike. Contrary to popular opinion, it will not ruin your bike if you use it correctly. You can even use it as your main lubricant on any type of bicycle, including best dirt jump bikes. As a cleaner, WD-40 will do an excellent job removing dirt, grime, and gunk from your bike parts. Plus, it is pretty simple to use. You only need to spray it onto your chain then clean it with soap and water to achieve a sparklingly clean look. The best thing about WD-40 is that it will keep your bike chain clean for longer than most lubricants because it is less oily.
WD-40 is also compatible with the best electric gravel bikes, which need extra careful maintenance.
The bad
You have to be extra careful if you choose to use WD-40 both as your cleaner and lubricant. It is a light lubricant and can come off quickly if you are riding in wet conditions Trusted Source The great bicycle boom of 2020 Throughout lockdown, rusty bikes were dusted off in garages around the world and sales of new bikes surged. The question is now: can it last? www.bbc.com . Since it is a solvent, WD-40 will not only leave your chain clean but dry as well. If you use it in dry conditions, WD-40 will only provide a temporary solution as a lubricant, and after repeated cycling, your bike chain will pick up dirt and grime. This can shorten your bike chain's lifespan significantly and cause a loss of power due to increased friction in the drivetrain.
FAQ
Does bike type matter when using WD-40?
General bike maintenance remains the same for all types of bikes. How often and what you use your bike for are the only factors determining the frequency and level of bike maintenance. For instance, if you ride the best road bike to work every day, you would use WD-40 to clean and lubricate more than the occasional cyclist who rides their mountain bike leisurely in the yard. Also, if you are in search of budget models, we've got the best road bikes under $3000 listed here.
Does WD-40 remove rust?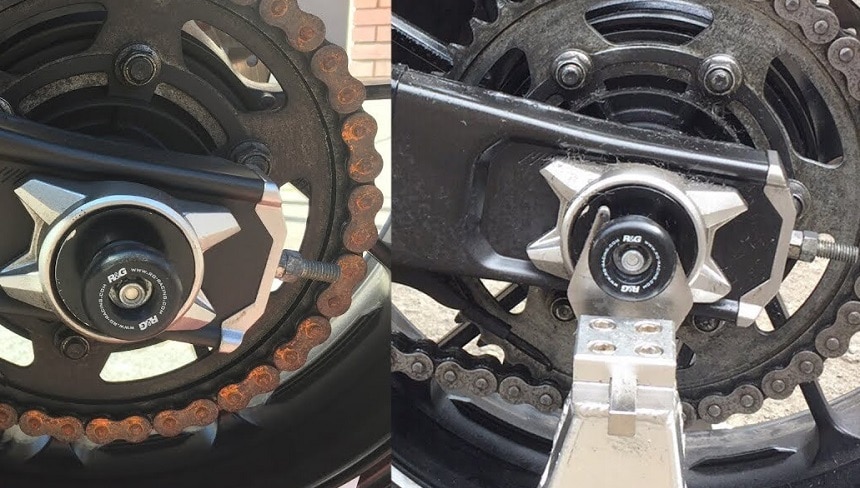 Besides being an exceptional cleaner and lubricant, WD-40 is a quick and easy way of removing surface rust from metal. Here is a little fun fact; WD-40 was originally used by the aerospace industry as an anti-corrosive to prevent rusting on spacecraft. It can remove rust from metals like chrome, iron, and stainless steel effectively without removing paint or damaging the surface. To remove rust, you simply spray WD-40 on the surface then let it rest for 10 minutes before scrubbing it off with something abrasive. Its lubricating properties loosen the bonds between the metal's surface and rust. Further, since it is a water deterrent, it offers temporary rust protection.
What are the alternatives?
Besides WD-40, you can use a cleaner and lubricant designed for drivetrains on your bike chain like 3-IN-ONE. It has a quick-drying formula that is 100% dry to the touch and does not attract any dirt or dust.
WD-40 also produces WD-40 BIKE which they specially designed for use on Bike chains. The WD-40 BIKE comes in 2 options to suit different climatic conditions. For wet and muddy conditions, you can get the WD-40 Bike wet chain lubricant which will protect your bike chain against corrosion and mud build-up. For dry conditions you can get the WD-40 Bike Dry chain lubricant that will do a great job preventing dirt from sticking to your bike chain.
Can I put WD-40 on disc brakes?
You can use WD-40 on your bike's disc brakes as a degreaser. It is a specially formulated solvent that can remove dirt, mud and grime from your brake disc rotors easily. Once you have applied, the liquid dissolves the grease and oil on the brake discs and lifts them off easily. If you are an MTBer or use your bike for competitive racing, be sure to apply a fresh coat of bicycle lube on the brakes afterwards.
Final Thoughts
You can use WD-40 on bike chain as a cleaner and a lubricant. Despite the controversy surrounding the use of WD-40 on bicycle parts as a lubricant, the multi-purpose product is an excellent degreaser and light lubricant. You can use it on any type of bike, including dirt jump bikes, road bikes, and electric gravel bikes. The only caveat with using WD-40 is that it can come off quickly in wet conditions as it is a light lubricant. In dry conditions, it can lubricate your bike chain for as long as 12 hours.