If you don't know anything about bikes, you may think that the single speed and fixed gear systems are the same since they each have only one speed option. Though they sound the same, these two gear systems aren't identical and have some very specific differences that may have you choosing one over the other. This includes the cog connection, riding style, and even the price.
Of course, there are also some similarities when comparing single speed vs fixed gear systems, including the customizable options or the weight of these specific pieces. If you're trying to choose between a fixed speed vs a single speed bike but aren't sure which is right for you, check out the following sections to see what each one has to offer.
Fixie Overview
Fixed gear bikes, also referred to as fixies, are bikes with only a single speed. These have no freewheel, which means that the wheel only turns when you're actually using the pedals. When your pedals are in motion, the back wheel moves along with them. Even if you are pushing the bike without your feet on the pedals, both they and the back wheel continue to turn in unison. If you slow or stop the movement of your feet on the pedals, the back wheel follows suit.
Types
There are a few bike options to choose from if you're interested in a fixed gear option. For instance, all track bikes are fixies. The 6KU Track is a popular one since it has the capability of using the fixed gear system or freewheel, thanks to the Flip-Flop Hub, making it a fixie and a single speed bike at the same time. Road bikes and gravel bikes are also options for those looking for a fixed gear model.
Single Speed Overview
Like a fixie, the single speed bikes only have one speed option, so you can't change gears as you're riding. The difference between fixed gear and single speed bikes is that a single speed model has a freewheel on its back hub. This means that when you stop pedaling, the back wheel continues to turn, so you can coast for as long as your momentum allows until resuming pedaling or braking to stop.
Types
There are several options to pick from when choosing a single speed bike. This includes road, gravel, mountain, or even dirt jump bikes, so you can pick whichever option fits your lifestyle. The single speed option is also great for those who have some limitations. For instance, bikes for overweight females use the single speed to give you a break now and then.
Difference Between Fixed Gear and Single Speed
Despite both options having only one speed, these two bike options aren't identical in their makeup. Let's look at the differences between single speed and fixed gear bikes.
Cog connection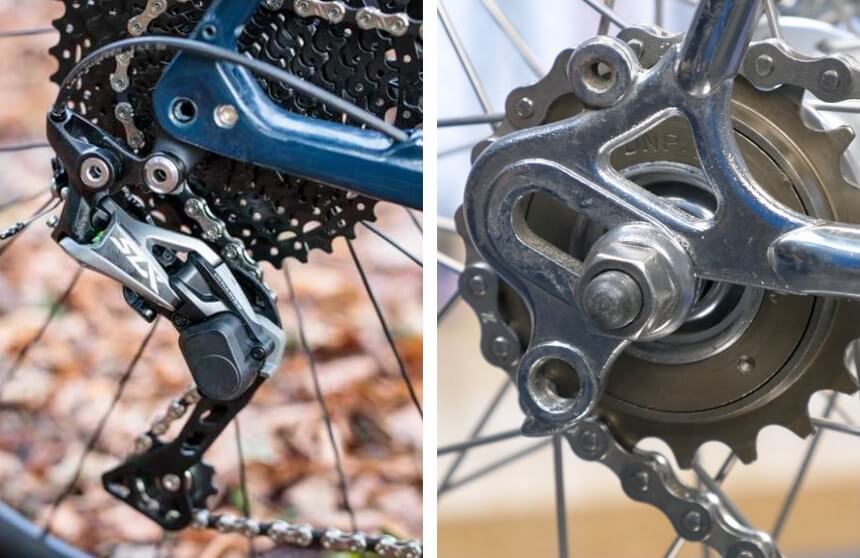 The cog connection Trusted Source Basic Bicycle Anatomy 101 - Back End - South Carolina Bike Shop - Greenville Spartanburg Andersen www.trekbikessouthcarolina.com is one feature to consider when comparing fixie vs single speed bikes. A fixie bike uses a rear cog that is connected to the rear hub, turning along with the wheel as you pedal. The single speed bikes include a freewheel cog that rotates on its own, so even if you stop pedaling, the wheel continues to move.
Price
Single speed bikes tend to be somewhat cheaper than fixies since there are fewer parts to them. This means you can usually get a budget-friendly option without looking too hard.
Riding style
Your riding style will determine whether you choose single speed versus fixed gear bikes. Single speed bikes allow you to coast along at your own pace, plus they are a better option for those who are new to cycling, out of shape, or have knee issues.
Fixies require you to be more fit and alert during your ride since you constantly need to pedal to keep the bike moving.  Your stopping distance is also doubled, so you need more room to halt the bike.
Brakes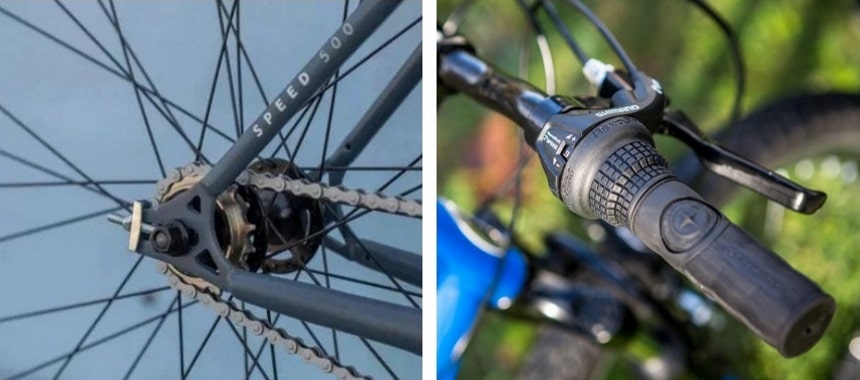 The brake system Trusted Source Understanding Bicycle Braking Systems | Infolific Bicycle brakes perform the obvious vital function of slowing or stopping a bike. Naturally, a rider needs brakes that are not only in good working order, infolific.com on a single speed bike is the same as geared bikes, meaning they use rim brakes on both the front and back tires, like what's available on the Schwinn Kedzie. Fixies have one of two brake options, including a single brake on the front and the pedals and back wheel as the back brake or no brakes at all, using the halting of the pedals to stop the bike.
What's in Common for Single Speed Versus Fixed Gear
There are some common features to consider when choosing between a single speed and a fixed gear bike.
Customization
Both fixies and single speed bikes are quite basic, though you can customize them as you see fit. This allows you to get the look you're looking for in a bike.
Weight
You may think that there would be a substantial weight difference when comparing a fixed gear bike vs single speed but this isn't the case.
Despite having fewer parts, the single speed models can be as heavy as a fixie, depending on the frame material and other features.
Maintenance
Due to the basic design that fixed gear and single speed bikes share, including the lack of features like shifters, derailleurs, or multiple chains, they are relatively easy to maintain, even for beginners.
Beginner-friendly
There is a very small learning curve needed with both single speed and fixie bikes. You don't need to fuss with shifters and multiple gears, plus they allow you to ride at your own pace until you're ready to try more difficult terrain and higher speeds.
Final Thoughts
Though they are similar in several ways, there are some single speed vs fixed gear differences that may have you choosing one of these bike options over the other. These differences include the cog connection, brakes, price, and even how you ride the bike since single speed models let you coast while fixies need constant pedaling to keep you moving.
Of course, there are also some similarities, like the weight of these bikes and how easy they are to use and maintain. There is no right option for every rider, so if you're choosing between single speed vs fixed gear bikes, be sure to consider how and where you plan to ride it and pick the best bike to meet your needs.