If you're like most people, you probably didn't focus much on aesthetic appeal when you were buying your bike. It was mainly about functionality, durability, and how easy it would be for you to use it on multiple terrains. Then one day, you look at your bike, and it looks kinda old and boring. It still functions fine, but the paint job is chipped & faded, and the bike looks kinda rusty.
If you're in this predicament, we've created this guide on how to paint a bike without taking it apart to take you through the process. It's time you gave your bike a makeover and added some character to it without taking apart the mechanical components. In this article, we'll cover everything you need to know, including how to spray paint it and the tools you'll need. Let's dive right in!
What You'll Need to Paint a Bike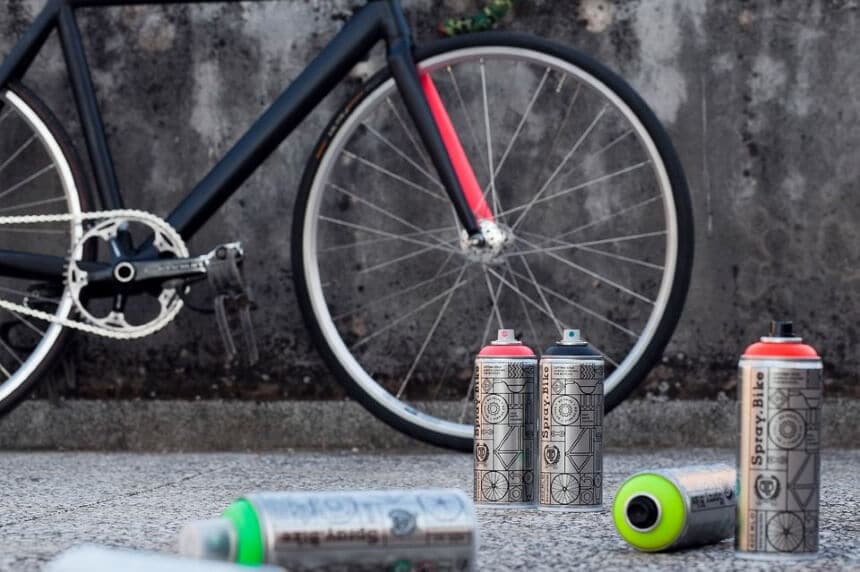 According to Science Daily Trusted Source Global bicycle ownership has halved in 30 years New data could help policy makers boost cycling as sustainable transport. It's time for us to get on our bikes if we want cycling to make an impact as a sustainable mode of transport. New research shows that the proportion of households that own bikes has declined globally, with the average over 148 countries falling by half in the last few decades. www.sciencedaily.com , more people are embracing biking as a sustainable mode of transport, and around 42% of households globally own at least one bike. When your bike becomes old and rusty, you don't have to discard it for a new one. Yes, it is possible to spray paint your bike without taking it apart. This is because most of the bike's surfaces are easily accessible, and if there are some parts you'd love to leave untouched, you can easily cover them.
If you also don't have a bike and are wondering what your options are, then you're in luck. There are various types of road bikes, and you can easily find one that fits your budget. For instance, there are road bikes under $3,000, road bikes under $2,000, and even road bikes under $500.
Before we get started on how to spray paint a bike without taking it apart, you first have to collect the tools you'll need.
Bike paint spray: according to multiple reviews, the Dupli-Color MC200 is one of the best. It's an enamel paint type, produces an anodized color effect, and is heat resistant to around 500F. It also comes with a touch fan spray nozzle and is high gloss.
Dry cloth
Soap and water
Coke soda
Aluminum foil
Respirator: experts recommend the 3M 07192 respirator, which has been specifically designed for spray paint applications. The design is highly convenient, and it is maintenance-free, which means that when you send your organic vapor cartridges, you can discard it.
Trash bags or newspapers
High grit sandpaper
Degreaser
Bike hanger
Cover material such as tape: the Amazon Basics Painters Tape comes highly recommended. It comes as a 6-pack, and you can use it for other indoor applications such as protecting walls when painting. It tears easily as it's made from crepe-paper, but the adhesive is strong enough. This tape also doesn't leave a residue and is UV-resistant.
This process will only take you about an hour and is relatively affordable.
Does the bike need sanding?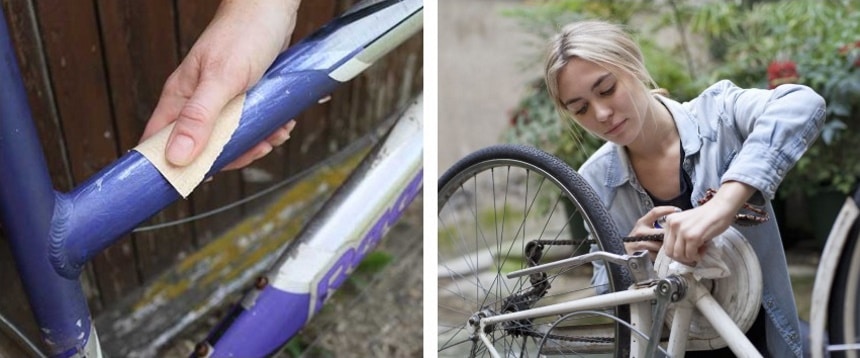 Yes. Painting your bike without first sanding it will result in an untidy job. You'll keep repeating the spray painting process because the paint won't stick evenly. When you sand the bike, it gets rid of the old paint, ultimately resulting in a smooth finish. Most people skip this process under the misguided belief that it's time-consuming. Well, bikes aren't very large, so you'll be done in no time. Besides, You can also get an electric sander if you're opposed to sanding your bike manually.
How to Spray Paint a Bike without Taking It Apart
There are various reasons why your bike may need a paint job; wear & tear, rust, and low-quality paint. In some instances, it could even be that you want to revamp your bike and give it some character. According to the BBC Trusted Source Cycle revolution: The most beautiful British bike designs Bicycles are having a moment, and today's craze for cycling shows few signs of slowing down. Alastair Sooke picks the models that have become modern classics. www.bbc.com , the cycle revolution is upon us, and bikes are more than a transportation tool. Manufacturers are now coming up with incredible designs, and this craze is unlikely to stop soon.
Here's a step-by-step guide on how to spray paint your bike without taking it apart.
Clean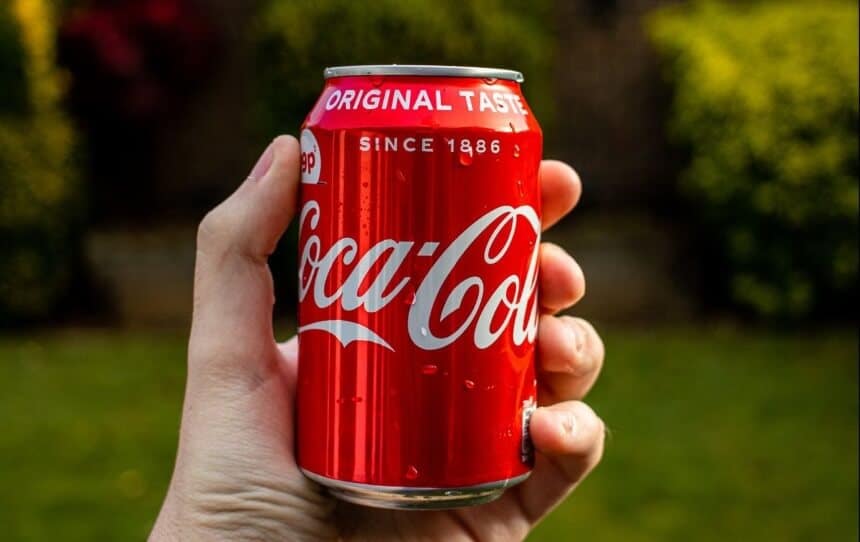 First things first, get all your paint tools and set them aside before beginning the pre-painting phase. This stage is very critical and demands loads of care. Otherwise, you'll end up with a marred paint job.
If you're going to paint your bike, then you better do it right the first time. Start by cleaning it because chances are that it has some rusty parts, and painting over them will significantly reduce the durability of your paint. The good news is that there's an easy hack you can use to get rid of the rust; Coca-Cola. Yes, we mean the soft drink.
First, crumple some aluminum foil and then pour some Coke on it. Use it to rub on the affected area, and within no time, the rust will be gone and your bike ready for the spray paint.
Sand
Don't be in a rush to get to the spray painting process. Sand down your bike to get rid of the old paint, rust, or scratches that it might have. This will make the end result neater and ensure the spray paint sticks on the bike. If you opt to go the manual sanding route, we recommend that you start with coarse grain sandpaper and then move on to finer sandpaper.
Once the sanding process is complete, clean the bike once more to get rid of the paint chips and dust. You should then use a dry cloth to get rid of the excess moisture.
Cover non-painting parts

If there are areas that you'd prefer to remain untouched, you should cover them. There are several options to choose from, and you could use aluminum foil, duct tape, or masking tape based on your preferences. You should, however, note that tape is somewhat limited, and there are areas where it might not help you prevent spillage. For instance, if you want the spikes, handles, and seats to remain untouched, using tape would be ineffective. In such an instance, you should use aluminum foil as it's large enough to cover these surfaces and is flexible enough to conform to their shape.
Position the bike
The best position to spray paint your bike is upside down, so we recommend that you get a bike mount for this exercise. You could also use ropes, but they are less reliable. It's best to paint your bike outside, but if your garage is well ventilated, then you could use it. Before positioning your bike, don't forget to lay down newspapers on the ground to protect it from the paint.
Prepare for painting
There are several things you need to do to prepare for the spray-painting process;
Put your bike on a firm and even terrain. This will keep it steady as you paint, ensuring the end results are neat.
Cover the floor with trash bags or newspapers. This not only protects the ground from paint but also comes in handy when you don't have a bike mount or ropes to suspend the bike.
Put on old clothes. The painting process can get messy, and you don't want to ruin your good attire.
Use safety equipment: this includes gloves to prevent your hands from coming into contact with the paint and a mask so that you don't inhale toxins.
Spray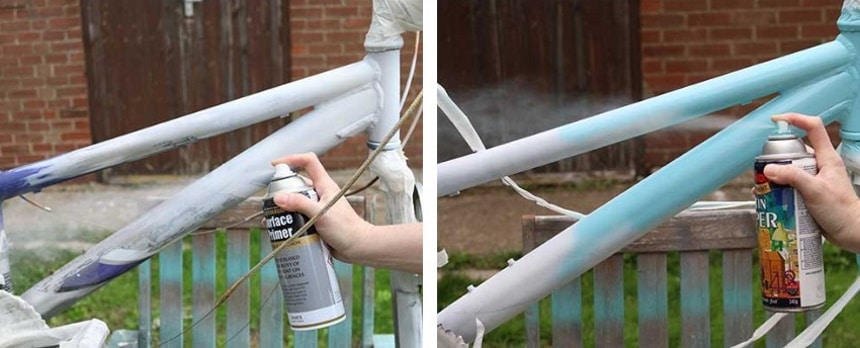 It's now time to spray paint your bike! For this process, you should adopt a very methodical approach. Here's a quick step by step guide;
Maintain a 1-foot distance between the bike frame and the spray can and start spraying.
Move the can regularly. This prevents you from spraying too much in one area and causing ugly drip marks.
The first layer should be very thin. Keep spraying the bike until the old layer of paint is completely covered.
Allow the first coat to dry for about half an hour before applying another coat.
Apply the second coat until the old coat is completely invisible.
Spray at least 3 coats for the best results, and once the final coat is dry, you can apply a clear coat for that glossy effect.
For a clean and even paint job, make quick transitions from side to side, as this movement will help you achieve an even layer. If you spray one area for long, it will end up being thicker and more colored than the other parts.
Don't forget to get creative at this stage. This is your opportunity to give your bike character and make a statement. Don't be afraid to go bold and add some decor or gradient effects.
Let it dry
Your bike is not ready for use just yet. You need to be patient and give it enough time to dry. If you're soaring your bike at home, we recommend that you leave it overnight before spraying the sealer. Watch out for extreme weather conditions, as they can impact the integrity of your paintwork. So, if you were working on your bike outside, don't forget to bring it indoors.
Add more paint if needed
Check your work to ensure that it's neat and that all parts have been painted. If not, you should add an extra layer of paint until you get the desired results. At this stage, you can add some flair to your bike and add more accessories or stickers. Go all out!
Once you're certain that all the paint has dried, you can now remove the foil and tape that you had previously used to cover the parts you wanted to remain untouched.
Clean parts
No matter how careful you are during the spray-painting process, the paint will likely get on some unintended areas. Make sure you clean them up for that smooth and neat finish.
Tips for Painting a Bike without Taking It Apart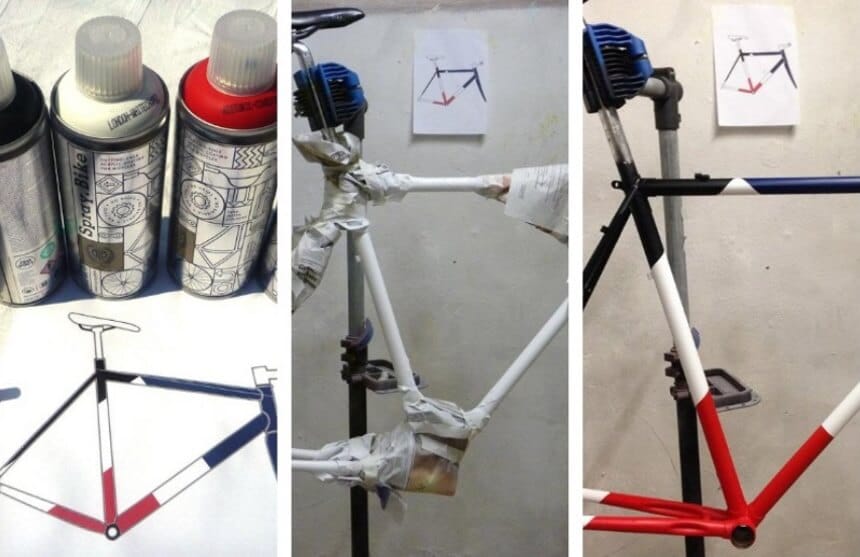 If this is your first time performing DIY activities on your bike, you're likely feeling anxious. We have compiled a couple of tips to make the entire process significantly easier.
Practice: to avoid ruining the look of your bike, start by experimenting with a cheap or old frame. This also applies if you've painted your bike before but have changed the spray paint and are unsure of what to expect.
Pay close attention to the pre-painting stage: this phase is extremely crucial and impacts the end look of your bike. So, make sure the bike is ready for painting by sanding it down to get rid of the old paint and rust. You should also ensure the frame is ready for painting by rubbing alcohol on it and patting it down with a lint-free piece of cloth.
Choose high-quality paint: the durability of your bike's paintwork is highly dependent on the kind of paint that you use. Invest in good quality can of spray paint, one that is likely to last you a long time. You should also refrain from using two different types of paint because they might react negatively and end up ruining the aesthetic appeal of your bike.
Before putting masking tape on your bike in the final stages when you're including more designs, make sure that the base layer of the paint is completely dry. Otherwise, when you take off the tape, the paint will end up peeling with it. This is why we recommend that you leave your paintwork to dry overnight before including more designs and stickers.
Set up your workstation: don't start painting your bike until your work area is fully set up. This includes laying down newspapers and trash bags, mounting the bike, etc.
Be inspired: look for some ideas online, you can use sport events, since there are plenty of custom bikes out there:
Final Thoughts
If you've been researching how to paint a bike without taking it apart, then we've compiled the above guide for you. You should note that a one-size-fits-all approach doesn't work, and you can tweak the steps to suit your needs. The good news is that whichever method you go for, the process will be relatively easy and won't cost you much. It will also take you at most one-and-a-half hours, but this is also dependent on the number of details that you'd like on your bike. Overall, this is an extremely gratifying experience, and you'll definitely enjoy it!