Bike The Site is reader-supported. We may earn a commission through products purchased using links on this page. Learn more about our process
here
Are you looking for a brand-new wheelset? It's essential that every cycler should have good knowledge concerning the set-up of wheels. There are tires, rims, and hubs, which are our focus for today.
The hubs are very vital to your wheels, and DT Swiss is one of the best brands known for making quality hubs. One common question that needs answering is which is better in the DT Swiss 240 vs. 350 comparison. Both hubs differ in their weight and ratchet system, and knowing which one suits you is vital before purchasing. Follow this article to find out more about the two products.
Quick Overview Table
When looking at both the DT Swiss 240 and the DT Swiss 350, one thing that you should be guaranteed is that they're both two different products that are very efficient. As stated previously, it is crucial to know the differences between the two before purchasing, and here is a quick overview showing that.
DT Swiss 240
Firstly, we shall be looking at the DT Swiss 240. It is known that DT Swiss makes reliable and quality products, and definitely, the 240 is one of their best. Riders who have wild ambitions will benefit from using this hub as it comes with enough features to give you the best possible experience.
It is more expensive than the 350, but this is because it comes with different outstanding characteristics. The hub's design is beautiful as it comes with red and black permanent details. One of the coolest features about the 240 is that it has a 36-tooth system of engagement, and that's its standard. It can be maintained easily without having to contact any agent or use special tools.
Once you've learned how to work on it a couple of times, you'll be used to it and maintaining it yourself. Although, what makes it more exciting is that it can be upgraded to the 54-tooth system if you're searching for something more engaging. The 350 and 240 are both quality hubs, but if you want something a bit extra, then you should go for the 240.
Another thing that makes it so eye-catching is the fact that it's lightweight. Coming in at 215g, it weighs less than the 350 model significantly. One feature that should be considered is its 36T ratchet system, which ensures that the bearings can last longer, reducing the need for constant maintenance. The engagement time is also increased, and there is a reduced chance of wear out due to the presence of a straight spring.
If you're looking at maximizing your performance, then you should go for the DT Swiss 240. It's suitable for high-end bikes that ride through complex terrains like hilly areas.
MT Bikes especially will match well with this hub. If you're interested and want an excellent bike to pair with the DT Swiss hub, you should check out our list of the best mountain bikes.
DT Swiss 350
The DT Swiss 350 is also a fantastic product that you can look into. Although it is cheaper than other hubs, it also looks equally as good in appearance. It has a beautiful design with shiny black and white details, and unlike the 240, it can be removed when you want.
It comes with a ratchet system of about 36-tooth, which is sophisticated and straightforward. The 350 is a very user-friendly product, and if you're not satisfied, it can easily be upgraded to the 54-tooth system. Maintaining it isn't complex at all, and it can quickly be done without the use of unnecessary tools. It also has awesome rolling power, so it improves performance.
It's the heaviest hub under the DT Swiss hub series, weighing about 249g. Although it seems to be lightweight, it's still heavier than other hubs.
One thing you should know is that it makes use of the older ratchet system, and this is why it's cheaper. It's the most basic hub, and sometimes simple is good.
It offers impressive performance, and it comes at an affordable price.
DT Swiss 350 vs 240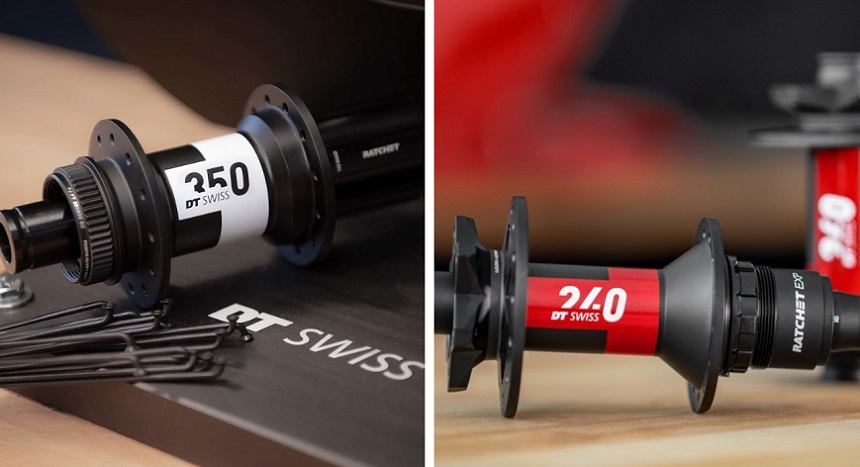 Now that you have understood both the DT Swiss 350 and the 240 and their specs, the argument for which is better for you remains. They're both excellent products to use, and both have their own strengths and weaknesses. The 350 is cheaper, simpler, and heavier but has an outstanding design, it's a beautiful hub, but the details can be removed to make it appear very neat, unlike the 240, which has permanent details.
The DT Swiss 240 hub, on the other hand, is more costly, and this is because it has advanced features that focus on maximizing performance and getting the most out of your wheelset. It also uses a better ratchet system and is lighter in weight. Ultimately, they're both fantastic products, and whichever you prefer is down to personal preference, but you should look at which one suits you better.
DT Swiss 180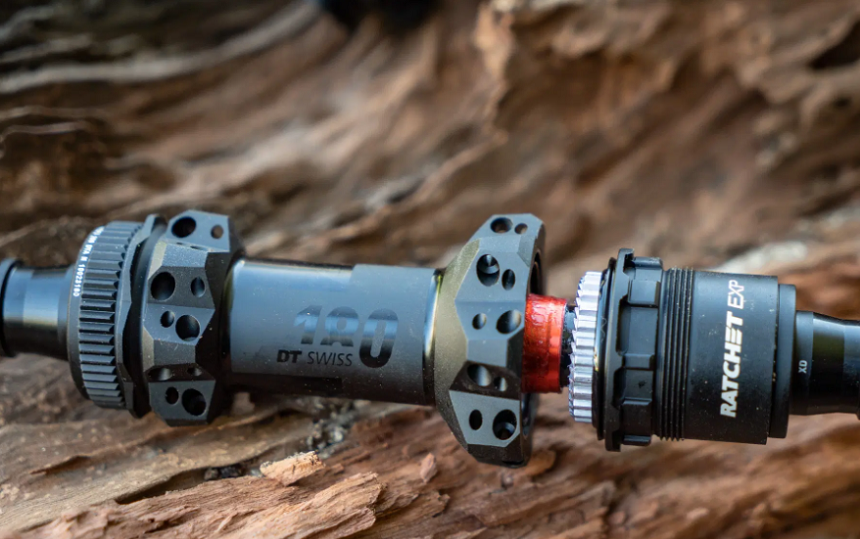 Apart from the 350 and 240 DT Swiss hubs, there is also another one that's worth discussing, and it's the 180.
Like other hubs, this also has a sleek black appearance with its helpful ratchet system. You can be guaranteed an improved performance. Similar to the 240 hubs, it has a 36-tooth as its standard, and it can also be adjusted to the 54-tooth. It is very light as it weighs about 186g, and it can be said to be very stiff. It makes use of SINC bearings made from ceramic, and this reduces its rolling resistance.
Using this hub makes your wheels move faster, and most riders prefer to use the DT Swiss 180 hubs for competitive purposes. The reduced weight on the wheelset makes riding more convenient.
Dt Swiss 180 vs 240 vs 350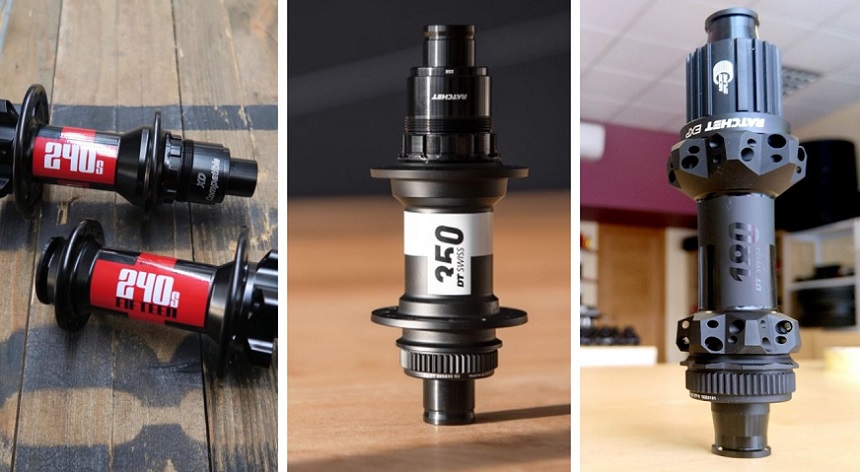 When comparing the three DT Swiss hubs Trusted Source DT Swiss: manufacturer of bicycle components | DT Swiss We develop high-end, lightweight bicycle wheels, forks and shocks which are known for their precision and durability. www.dtswiss.com , the first thing you should know is that the brand puts loads of effort into making these products as helpful as possible and giving them all enough features to maximize the performance of your bike.
If you're looking for overall quality performance, then the next option for you is the 180, and this is because the rolling resistance is reduced when you use this hub, and also, it's the lightest. The main disadvantage of this compared to other hubs is that it's more expensive. It's almost three times more expensive than the 350.
So, if you're not looking at spending too much for a hub, then you should go for the 350 as it is the cheapest. Although it is the heaviest and makes use of older ratchet systems, it also increases the rolling resistance to it'll slow you down, but it will still give you good performance.
But suppose you're searching for something in the middle of the 350 and 180, then the 240 hub is the best option. If you want very high performance and, at the same, low cost, then you should definitely get this. It is lighter than the 350 but heavier than the 180. The 240 hub is a fantastic option for both performance and cost.
Which to Pick
Now that you've gained knowledge of DT Swiss products and understood their advantages and drawbacks, you have to choose the best option for yourself. There are multiple factors that you should look at before making your choice so you won't choose the wrong one. When determining which hub you should pick, it is essential to look at your biking style before choosing one.
If you prefer riding through hilly areas and need something with good features, then the 240 is good. The 180 is perfect for situations where you're trying to maximize speed, and if you're getting a hub for causal biking, then you should go for the 350. It's important to know that they all go for different prices, so you should also look at one that matches the amount you're willing to spend.
Final Thoughts
The hubs are one of the most critical components of the wheelset, and using quality one is the best thing you can do for yourself. If you're looking to get new hubs, they should be durable, stiff, strong, and light. DT Swiss has the best hubs around, and you can choose the best option for you.
If you followed this article attentively, you should now understand the DT Swiss 240 vs. 350 differences better and should be able to know which is the ideal option for you. Any you pick should be chosen based on your riding style and how much you're willing to pay for it.
References
1.
DT Swiss: manufacturer of bicycle components | DT Swiss
We develop high-end, lightweight bicycle wheels, forks and shocks which are known for their precision and durability.