If you are taking a bike along with you for travel, you need to make sure that it is safe and secure when not in use. For example, if you decide to stop for a bathroom break or for a bite. Some people use a cable lock to thread the bike to the tow hook welded to a car's frame. The best way to secure a bike is to lock it to the car rack.
In this article, we will be discussing how to lock bike on car bike rack correctly to prevent crimes of opportunity when you leave it unattended. There are various types of car racks for bikes that cyclists can use. We have explained how to place them on your car and how to lock the bike on them securely.
Types of Car Bike Racks to Use
Learning how to lock a bike on car bikerack will keep your bike safe and give you peace of mind. Bike racks come in various types that differ in how they are installed and how they lock a bike. We are sure that you will find a bike security solution from the following options that will suit your needs.
Trunk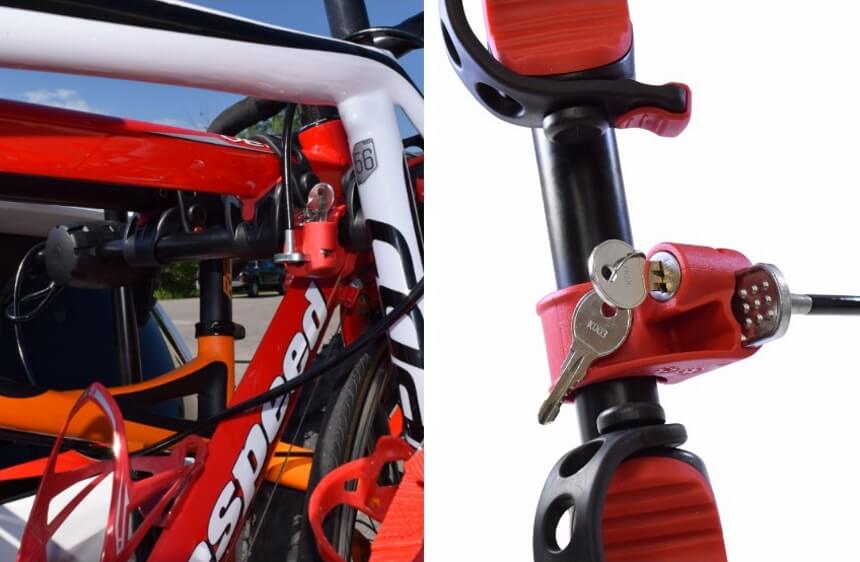 We will start off with the easiest and most affordable way to lock your bike to a car rack. It is referred to as passive strap or trunk lock method. This method uses a strap that is usually a long cable that loops around the bike. The strap is crafted from a thin material. You create a loop that fastens the bike's frame, tighten it and then put the stubbed end of the strap in the trunk of your car.
The trunk lock may not be the most secure means of keeping your bike safe, but it has its advantages. Apart from affordability and ease of use, it provides additional security for roof-mounted bike racks. The only difference when using the strap for roof racks is that you put the rounded puck of the strap through the passenger door to lock the bike in place. Another plus of a trunk rack is that it can secure up to three bikes, although this will depend on the type of bikes.
Roof
These are racks that are mounted on the roof of your car. Fans of this method of car bikerack believe that the bike's high position, unlike when using the tow hitch lock, serves as a great deterrent to potential thieves. Besides that, it will not block you from accessing your car's rear entrance. Depending on the type of roof-mounted bike rack you are using, you may either keep both wheels or have to remove them. The main drawback of this method is the effort it takes to place and remove the bike from the roof. You will also need to park the car in a place with sufficient clearance to accommodate the extra height.

Spare tire
This rack is mounted on the spare tire attached on the rear entrance of your car. It is a safe way of transporting your bike to a particular location safely while preventing scratches on the bike or car. This method of locking a bike on car bikerack does not take much effort to mount and remove the bike. The rack is easy to assemble and it allows you to access the rear door of your car. Lastly, it does not require a trailer hitch.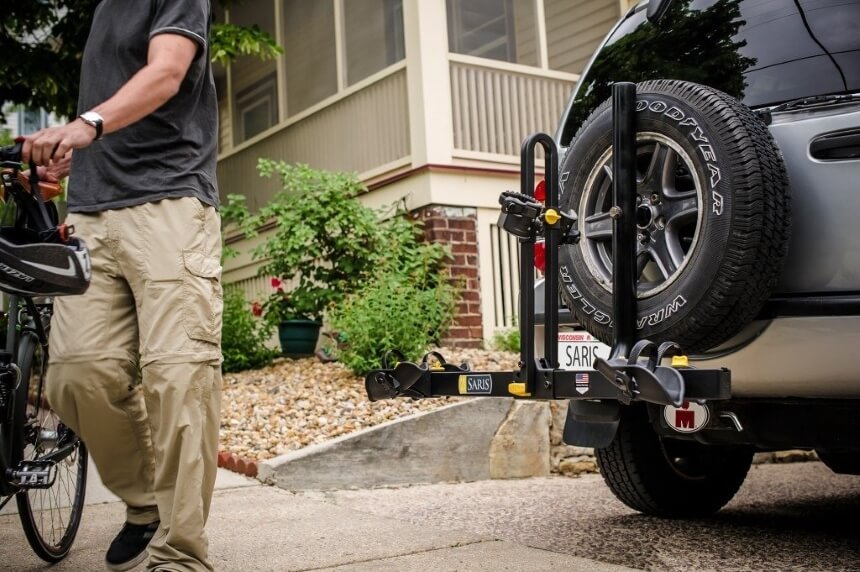 Confirm the bike rack capacity to ensure that it can support your bike's weight. If you overload it, it may fail to secure the bike and even cause damage to the car and bike. A great spare tire rack is Allen Sports Premier which has maximum weight capacity of 100 pounds to accommodate up to 3 bikes.
Hitch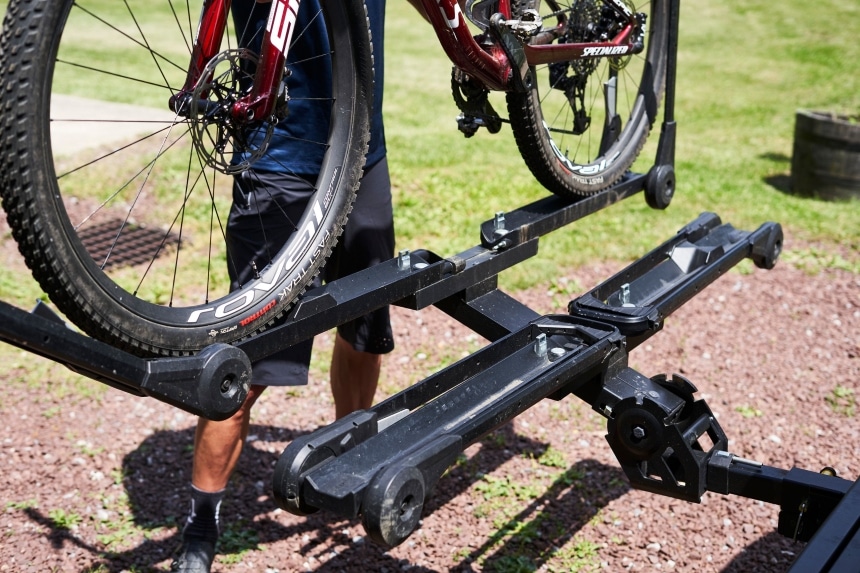 This form of locking your bike to a car rack uses a tow hitch or tow loop rack. You use a sturdy cord to create a loop that goes around your bike, and then through a tow loop or tow hitch to secure the bike. You may also secure the bike by locking the cord with a padlock.
This is a more complex method of locking a bike with a car rack. It is also costly because it requires an external tow hitch mechanism. This is why some cyclists choose to loop the cord to the hooks found under the bumper or cover of a car, or to non-removable parts under the car. If using the latter, ensure to attach the bike to immovable parts to prevent thieves from stealing your bike and also damaging your car in the process.
Tow hitch racks are popular because they are easy to install and it is more convenient to place and remove the bike. The loops are strong and durable because they are designed to hook up the car if need be. This is ideal because you can lock a heavy bike to the car rack by using this method. Racks indicate their capacity because they are made to hold a particular amount of weight.
However, it might be harder to back up your car since these types of racks increase its length because they are mounted on the hitch. If your rack is not the kind that can be pulled away from the car or tilted down, you will not be able to access the rear entrance of your car.
What if the Bike's not Secured?
Bike theft is a prevalent issue Trusted Source The Best Ways to Protect Your Bike From Theft - Bloomberg Bay Area bike pros explain how to save your ride from being picked apart like a free Thanksgiving turkey. www.bloomberg.com going by the number of cases recognized by the FBI and BikeRegister UK Trusted Source Normally, she sells electric bikes. But one night in July, while she partied in Camden, her bike was stolen. www.bbc.com . The cases could even be more considering that victims usually don't report such a crime. Although no bike rack is completely theft-proof, they do serve as a deterrent by adding extra security as long as you lock the bike on a secure rack. You stand to gain more when you lock bikes to car rack.
Car bike racks provide a security solution that will ease your mind knowing your precious bike is safe from thieves. They achieve this with straps, cable locks, tie-down cradles, and locking mechanisms for bolt-on racks.
You can take your car as well as your bike with you on on- and off-road adventures, and not have to worry about the bike falling off.
Since you won't be placing the bike in the car, bike racks help to save space in the car for more occupants and other items.
There are various car bike racks with varied weight capacity so you can choose the one that is compatible with your bike. For instance, there are racks for mountain bike vs road bike. There are versatile racks such as Thule Insta-Gater Pro which is compatible with mountain bikes, ebikes, carbon frames, and downhill bikes, among others.
Final Thoughts
Car bike racks come in various forms that vary according to how and where they are installed, the type of compatible bikes, and the security features they use to keep your bike safe from theft and damage. Looking at the types of bike racks we have reviewed, you will notice that each type has its own strengths and drawbacks which we have detailed so you can choose the best option for your unique needs. We all agree that it is important to learn how to operate a bike properly to ride it safely, extend its lifespan and keep it in top condition. Similarly, it is just as important to learn how to lock bike on car bike rack so you can transport it safely and deter thieves from stealing it.