If you live in the city, commuting can be a hassle during peak hours and you may find yourself running late to your destination. As a result, city dwellers are resorting to using electric bikes for their day-to-day commuting. If you're looking for an electric bike to suit your needs, then this is it as you will learn in this G-Force ZM fat tire electric bike review.
The G-Force ZM Fat Tire Electric Bike touts itself as the "perfect all-rounder electric bike, " but you're probably wondering if it makes good on any of these claims. Stick around to learn about the G-Force ZM Fat Tire electric bike so you can be informed about your next electric bike purchase.
Specifications
Battery
48V 20Ah/ 13.5Ah Samsung Battery
Hub Motor
750W, brushless
Throttle
Half twist throttle
Total Payload Capacity
400 lbs.
Recommended Riders Height
5'3"-6'5"
Brake
180mm hydraulic brakes
Overview
The G-Force ZM Fat Tire is a powerful electric bike with a 750W Bafang motor that will allow you to reach speeds up to 28 MPH on paved roads or dirt trails. A 7-speed Shimano drivetrain gives you reliable shifting when going uphill or downhill. 20 "×4.0" wide fat tires provide excellent grip on off-road terrain and wet roads alike, thanks to their large surface area.
Construction
The G-Force ZM Flat Tire electric bike's frame is constructed out of aluminum alloy, which gives it the strength and durability to handle rugged off-road excursions, while remaining light enough for comfortable riding. Aluminum alloy is a lightweight material that's extremely strong and durable! It's also rust-resistant, making it a great choice for an electric bike frame.
The front fork is made of high-strength aluminum alloy casting, a durable metal that can handle the stress of riding on off-road terrain. This strong material is complemented by adjustable front and rear suspension for a smooth ride experience. As a result, you can maintain control of your bike at all times while still enjoying an active lifestyle.
The G-Force ZM Fat Tire comes with an adjustable high-power LED head lamp, providing wide and narrow light beams. This helps you see what's ahead of you in dark or limited visibility riding conditions. On the rear end, this bicycle features a super bright taillight with two modes: steady and flashing. So, you can be sure that other road users will see you even in low-light conditions, maximizing safety.
Finally, its fat tires come with thick sidewalls designed to withstand punctures and keep your ride going even when things get rough.
Motor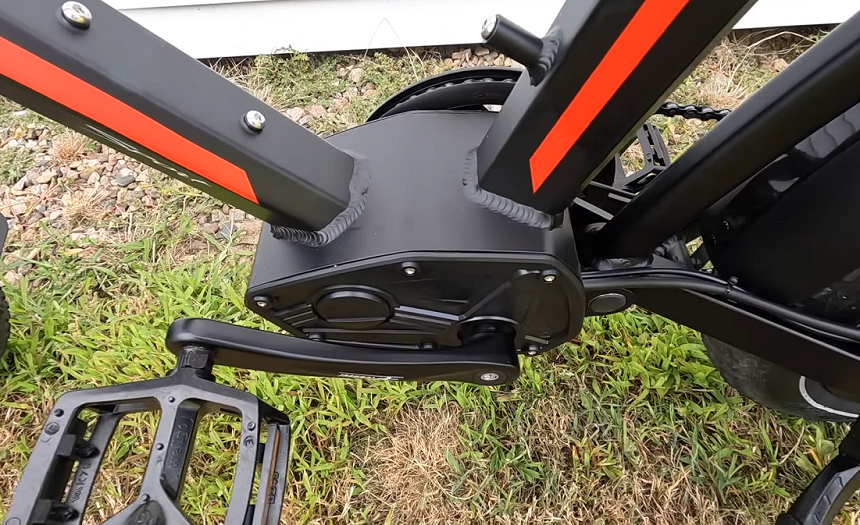 The G-Force ZM Fat Tire electric bike is equipped with a powerful 750W Bafang motor that is capable of reaching speeds up to 28 MPH. 63.4 lb-ft torque and 1300W peak power ensure the bike can rapidly accelerate and decimate even the meanest inclines.
The bike also comes with a 7-speed Shimano drivetrain, which means you'll have complete control over your speed when traveling in any situation. Shimano boasts a stellar reputation for making high-quality and reliable bicycle parts for over 100 years. Therefore, you can never go wrong with such a drivetrain.
Battery and Charging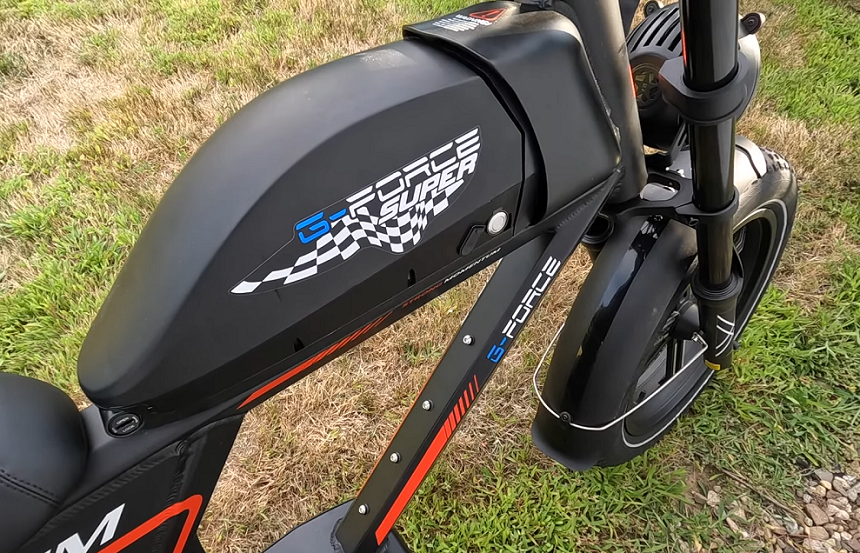 The G-Force ZM Fat Tire Electric Bike comes with 48V 20AH and 48V 13.5Ah batteries designed to provide long-lasting power and more range. The bike also has two chargers, the 13.5Ah, 2 AMP version, and the 20Ah, 3AMP fast version charger.
Additionally, there is a LED battery level indicator and an LCD screen that displays the current speed, distance, and estimated time remaining.
The bike has a 2.0A USB port connected to the LCD display on the handlebar that you can use to charge your phone or other devices. So, there is no need to worry about running out of power before you get back home or office.
Charging the G-Force ZM Fat Tire is pretty straightforward even for new users. However, if you need more clarity, here's more information on how to charge an e-bike.
Recommended Riders Height
The electric bike has a comfortable frame designed to fit riders between 5'3″ and 6'5″ in height. Anyone from beginner to experienced riders within this height range can enjoy riding it. While it is possible to ride the electric bike if you're not within the recommended height range, the experience may be unpleasant or even difficult.
Load Capacity
With a load capacity of 400 lbs., the G-Force ZM Fat Tire electric bike can comfortably haul you and your luggage to your destination. However, more load on the bike translates to a relatively lesser range.
Suspension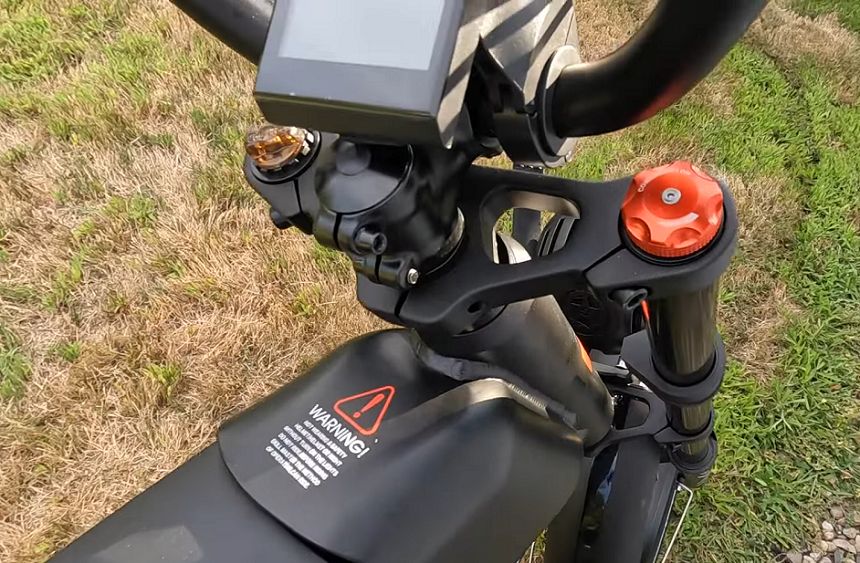 The bike has a front suspension fork and a rear shock absorber. This ensures that the bike rides smoothly and comfortably over all types of terrain. Also, the front suspension is adjustable to suit your riding preference.
Throttle and Pedal Assist
The G-Force ZM Fat Tire Electric Bike has throttle and pedal assist options. The half twist throttle allows the rider to control their speed, while the pedal-assist helps increase speed without having to use as much energy.
Brakes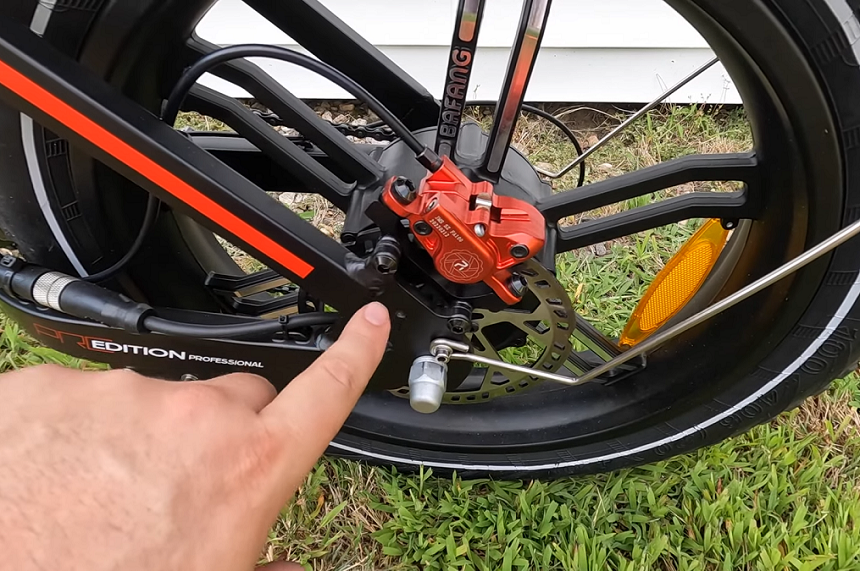 The bike also comes equipped with dual hydraulic disc brakes for superior stopping power and control over your bike in any weather or terrain.
It is important to note that the disc brakes are more powerful and reliable than the typical rim brakes. These brakes work well in wet weather because they eliminate the chances of slipping on hard surfaces unlike rim brakes.
The same goes for muddy conditions: disc brakes can handle heavy loads better than rims, so you won't have to worry about them locking up and slowing down your ride when it's raining. Furthermore, snow isn't an issue with disc brakes; they're built to handle slippery conditions without skidding off the course (and they look badass).
Finally, the hydraulic disc brakes work in sync with the anti-skid tires and integrated motor cutoff capability that enhance your safety on the move. Therefore, no matter the terrain or season, the G-Force ZM Fat Tire electric bike will traverse it comfortably and with unmatched agility.
LCD Display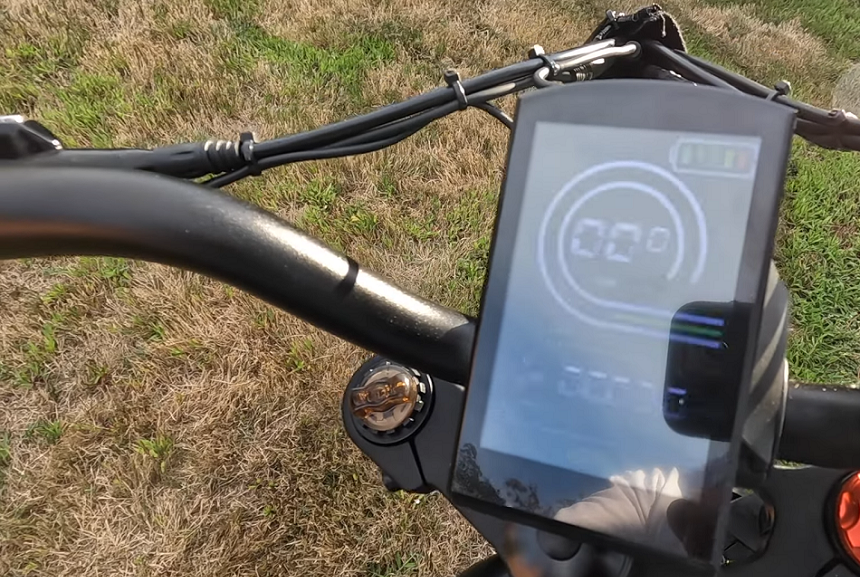 The G-Force ZM Fat Tire Electric Bike comes with a full-color LCD display which also has a built-in speedometer, odometer, trip meter, and clock. It also lets you view information such as battery life, gear selection, and current speed.
You also don't have to worry about dealing with glare since the display comes in high resolution and with better readability in sunlight.
Price
Pricing for the G-Force ZM Fat Tire electric bike is affordable considering the tons of convenience and performance features it comes with. You can opt for additional accessories, but these will set you back a couple of dollars. Nevertheless, the electric bicycle is an excellent fit for anyone looking for an electric bike that's capable as it is aesthetically pleasing and easy to operate.
There are other models of the same price range on our list of the best electric bikes under $2,000, but we doubt they'll come close to the G-Force ZM Fat Tire electric bike.
Other Features
The G-Force ZM Fat Tire electric bike comes with additional features that spruce up your riding experience. These features include:
Kickstand Heavy duty aluminum
KMC chain
Alloy wheels
Alloy pedals with reflectors
Pros

Cons

Easy to assemble and operate
Lots of opportunities to accessorize the bike
Capable and aesthetically pleasing

Locks out individuals outside the 5'3″ and6'5″ height range
The bike is shipped out while it's 85 percent assembled, which may not be ideal for everyone
Conclusion
As you can see from our G-Force ZM Fat Tire Electric Bike review, this is a great option for anyone looking for an electric bike that can accommodate a wide range of riding styles. The battery provides plenty of power, the frame is made from durable materials, and the bike features hydraulic disc brakes to make it easy to stop on a dime.
Overall, this is an excellent option for those looking for an electric bike that is both powerful and easy to use. Whether you plan on using this bike for commuting or recreational cycling, we highly recommend it.