If you have been looking for a great trail-riding bike, you will enjoy this Marin Bobcat Trail 3 review . You will be able to learn all about this mountain bike and find out if you think that it is the right choice for your riding adventures. We will discuss all the features and functions of this mountain and trail-riding bike so that you can learn all about it before ordering one for yourself.
There are many bikes on the market that are made for this kind of purpose, so being sure that you have the right bike for your needs can be tough. This guide will help you narrow down the features and options that make the bike the right fit for you with ease. We will also give you some main highlights of our review here to help you to make a quick choice about the things that the Marin bobcat can offer you.
Specifications
Recommended Riders Height
5'2
Brakes
160mm hydraulic disc brakes
Shifter
Shimano Altus 2 x 8
Front Suspension
SR Suntour XCM HLO fork w/120mm travel & hydraulic lockout
Overview
This mountain bike is made to fit both average and tall riders, and you will get the benefit of a variety of upgradeable features that will allow you to customize this bike as needed to suit your needs. This is one of the bikes that you will want to look at if you are looking for the best full suspension mountain bikes under $2000 because you can make it your own with ease. You can also check out the benefits of the best suspension seatposts as you are looking into this bike. The comfort and performance that are offered by this bike can make it the perfect choice for your challenging riding needs as well as simply riding for fun.
Construction and Frame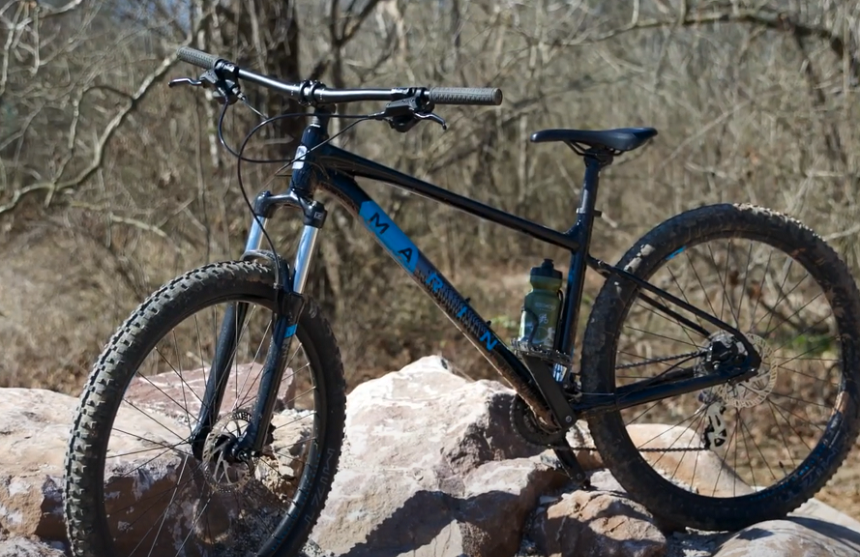 The throwback looks of this bike have made it really popular with people who love a classic-looking bike. You will still get the benefit of an upgraded bike frame but with the classic design that you have probably loved since you were a kid. This bike's frame has internal cable routing, and a low standover height, and you will also get the benefit of a chainstay-mounted rear brake as well as two sets of bottle bosses for your use.
The reach for this bike frame is really excellent as well, with 465mm on the large, and you will enjoy a 67-degree head angle. The bigger wheel size is offset by the 440mm chainstays and a 311mm bottom bracket as well.
When you choose the 650b bike, you will get a steeper head angle at 67.5-degrees, and the stays come in at 425mm with shorter reaches.
Recommended Riders Height
The recommendation for medium-sized riders is from 5'5″ to 5'9″. Large riders can be 5'9″ to 6'3″. There is no recommendation for smaller riders than 5'5″ which indicates that this bike is probably too tall for people who are shorter than this medium height range. This is not uncommon for trail riding and mountain bike models, and you might have to look for a specific bike model if you are shorter than 5'5″.
Tires
The tires on the Marin Bobcat Trail 3 are 27.5″/29″ x 2.25″, and people love the classic look of the black tires with tan walls. You will get mid-level performance from these tires, which makes them acceptable for use on smooth surfaces and grippy enough to help you to deal with tougher terrain. They are also strong enough to take on rocks and other debris on the trail without popping.
Brakes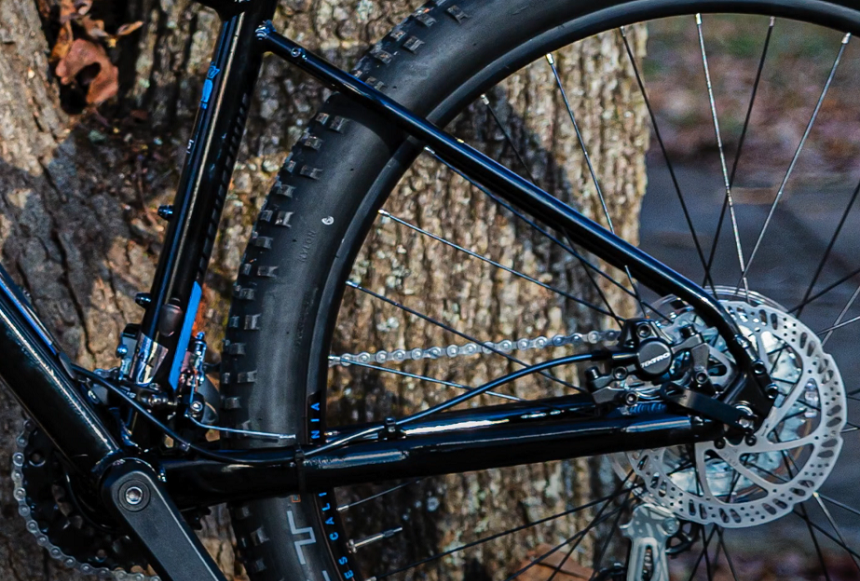 The brakes, both front and back, are Tektro HD-M275 Hydraulic Disc, 160mm Rotor brakes, and the brake levers are Tektro M275 Hydraulic Disc levers. These are excellent brakes for the kind of tough riding that people might want to engage in when using this bike and they are made to last through hours of this kind of use.
Gear Shifter
The gear shifter for the Marin Bobcat Trail 3 is Shimano Altus 2 x 8, which offers reliable shifting and enough hardiness to take on the trail with ease. This is one of the areas where Marin did not pull any punches and you will get a lot of benefits from this part of the design that is not usually offered for bikes at this price point.
Suspension Fork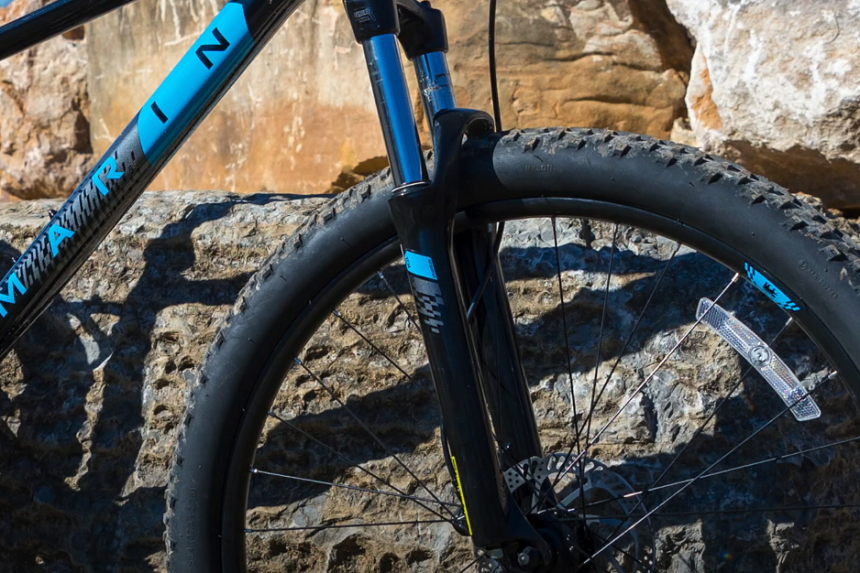 The Suntour XCM32 HLO coil fork is in the front of this bike's frame, and it offers lockout and 120mm of travel. Many people state that you can upgrade this part of the bike with ease for added performance, but the included fork is more than up for the challenge of regular trail riding. Some users have mentioned that the frame can feel a bit wobbly without the upgrade, but that is not always the experience of mid-level trail riders using this bike.
Price
The Marin Bobcat Trail 3 Mountain Bike will set you back about $566 dollars. This is a really reasonable entry-level bike price and you get a lot for your money when you choose this mountain bike. If you have never been a trail rider and you want to be able to get your feet wet and have a lot of fun doing so, then this is a great bike for you to choose to meet that goal.
Other Features
There are some other features that you might enjoy about this bike, particularly for the price point. The sharp and crisp handling is one of the key benefits of this bike's design, and one of the things that makes this bike feel a lot more like a top notch product than an entry-level mountain bike. The wide bar shape offers you lots of steering leverage as well, which is great for steep riding conditions and tough trail terrain.
You will enjoy being able to adjust the height of the seat as needed when you choose this bike as well, which makes it perfect for people of various heights and proportion. It is also really simple to swap out some of the parts for upgrades if you want to make your bike even more enjoyable when your riding skills improve. Add the best MTB knee pads to your gear as you start to ride harder so that you can enjoy your bike in safety.
PROS
CONS

Great value
Lightweight frame
Two water cages
Modern and sleek design
Quality tires
Tough enough for hard trail riding

Slightly wobbly feel in the frame
Could have a better fork for the price point
Shock is not up to par for truly tough terrain
A bit heavy for some beginner cyclists
Conclusion
If you have been looking to get a mountain bike to enjoy trail riding for the first time, or you want a mid-range bike that is perfect for mixed riding, this is a great product to choose for your needs. There are many key benefits to making this purchase, and the price point, along with the quality design make this an excellent choice for those just starting out and for people looking to diversity their riding options.
This Marin Bobcat Trail 3 review should have helped you to understand what the bike can offer you. Knowing more about this well-crafted, entry-level bike can help you to determine if it is the product that you have been looking for when you head out to enjoy some trail riding fun!